Los Angeles Dodgers: Projections for the Pitching in the Second Half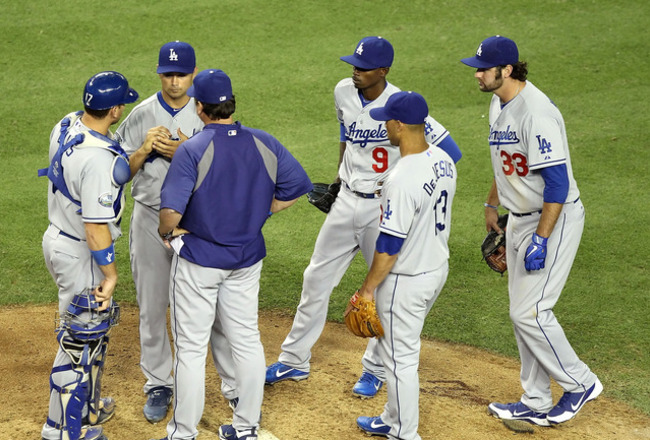 For the first time all season, the Los Angeles Dodgers are no longer in first place in the National League West.
As injuries have ravaged the Dodgers lineup, leaving it to resemble a spring training split squad roster, the Dodgers can say they have been fortunate on one front: pitching.
While the big guns on offense have gone down repeatedly, the Dodgers pitching staff has sustained just one injury thus far this season (Ted Lilly) and has gotten some outstanding production from unexpected places.
As the Dodgers approach the all-star break in the next couple of weeks, the talk around Chavez Ravine will surely center on one question: Can the Dodgers compete?
After an unexpectedly hot start placed the Dodgers among the top teams in baseball for most of the season's first half, the doubters are licking their chops at the team's recent 1-9 stretch. While the return of Kemp and Ethier will surely help pick up the morale around the team, it's the pitching staff that will determine how far this team goes.
While back-end guys like Chris Capuano, Aaron Harang and Nathan Eovaldi have been pleasant surprises, it will be their ability to contribute down the stretch that will either bring the first-place Dodgers back to life or allow this slide to continue.
With that said, here are our projections for each starter's second-half production.
Clayton Kershaw
There aren't many guys in the league who can post an ERA under three and a WHIP under 1.05 and still be classified as disappointing, but unfortunately for the Dodgers ace, he has reached that status.
The reigning NL Cy Young Award winner has shown flashes of brilliance this year that have lasted longer than most pitchers will ever see in a year, and yet, a 3.44 June ERA has many fans worried.
Among the biggest issues with Kershaw are rumors of plantar fasciitis that began to swirl in early June, an ailment some believe has limited Kershaw's production.
With all this said, however, the Dodgers ace has posted a 2.77 ERA and a 1.04 WHIP in the first half of 2012, placing him among the top 11 pitchers in the national league in both categories.
As for what the second half of 2012 will bring for Kershaw? I expect major improvements in consistency from the 24-year-old due in large part to his extreme competitiveness.
After a massive coming out party in 2011 placed him among the league's elite, Kershaw must have been relishing the opportunity to finally play for a competitor in the beginning of the season.
The thought of a playoff berth and divisional title both being on the line as the season winds down has me believing Kershaw will do everything he can to make sure his team finds the postseason.
First half: Five wins, 2.74 ERA
Second-half Predictions: 10 wins, 2.40 ERA
Chad Billingsley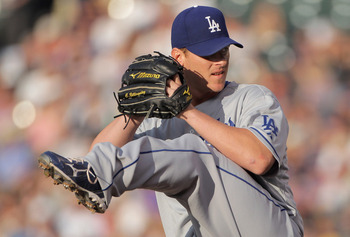 If "disappointing" is the word to describe Clayton Kershaw in the first half of 2012, I don't know if there's a word in the dictionary that could accurately describe the feelings many fans have for Billingsley.
After years of ups and downs spent waiting for the ace many people believed Chad Billingsley would be come, 2012 has been one of the most disappointing. With a 4.18 ERA and a 1.44 WHIP, Billingsley has been far from impressive.
To make things worse, Billingsley teased fans in the first month of the season, pitching arguably his best baseball in a few years in the month of April. In his first five starts, he posted an ERA of just 2.64, and that included a start in which he gave up five earned runs in just 3.1 innings. Aside from that one start, he had allowed just four runs in 27.1 innings.
Since then, things have gone downhill.
After a 5.52 ERA in May, he has posted a 4.35 ERA in June as his confidence has plummeted.
While I truly believe that Billingsley gets a bad rap most of the time, it's hard to argue with the inconsistency he has shown in 2012. While anyone who has followed his career knows he has the stuff to be an all-star pitcher, whether he can ever string together more than a few good starts remains to be seen.
Ever the optimist, I'm going to give Billingsley the benefit of the doubt. When the pressure is removed from the pitching staff with the return of Kemp and Ethier and as the playoffs loom, I'm expecting Billingsley to shift into a new gear and establish himself as the true number two starter. Then again, it's not like I haven't said that before...
First half: Four wins, 4.18 ERA
Second-half prediction: Six wins, 3.30 ERA
Chris Capuano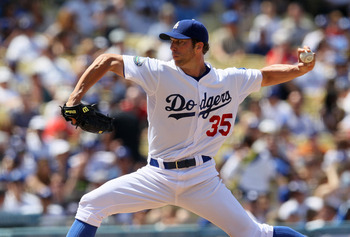 Chris Capuano, all-star.
While it may not exactly roll off the tongue quite yet, Capuano has had a first half as deserving of an all-star bid as anyone in the league. Like Kershaw, Capuano is among the league leaders in ERA (2.69) and WHIP (1.10) and he is also among the top 10 in wins (Nine).
Coming into the season, Capuano was the definition of a question mark. Having pitching sparingly in the past few seasons (and with mixed results), general manager Ned Coletti's decision to bring Capuano to town was underwhelming at best.
After a few good starts, my belief was that Capuano would eventually come back down to earth and fall more in line with the 4.00 ERA I was expecting.
Then, he kept pitching well. He kept winning. And suddenly, I was a believer.
In 16 starts this season, Capuano has allowed no more than four runs in any game, and he's only done that three times. In half of those starts, Capuano has allowed one or fewer runs as the Dodgers are 11-5 in games while he's on the mound.
With all this success, however, he has come to personify the Dodgers 2012 season. While unexpected, his success has seemed to indicate it's not a fluke, which makes us wonder: can he keep it up?
For me, one of the best indicators of a player's true ability is his consistency. With a guy like Kershaw, the Dodgers can expect a quality start every time he takes the mound as shellackings are few and far between.
Unexpectedly, Capuano has quietly entered that realm. It's not like some nights he's throwing a shutout and the next he's getting shelled, instead, he has been the model of consistency on a team that has desperately needed it.
While I think his numbers will come back to earth a bit, don't expect his ERA to get anywhere near four.
First half: Nine wins, 2.69 ERA
Second-half predictions: Seven wins, 3.30 ERA
Aaron Harang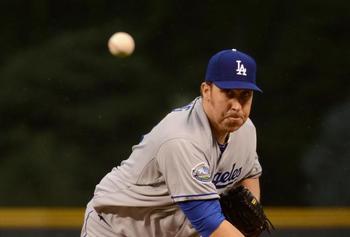 As the man I affectionately refer to as "The Harangatang" approaches the second half of 2012, I think it's fair to see he's the only guy in the rotation who has stayed just in line with expectations.
Like Capuano, Harang was brought in as a back-end starter to fill out a pitching staff inexpensively. Like Capuano, I expected his ERA to hover right around 4.00, and unlike Capuano, he's been pretty much right there all season.
So far this season, Harang's ERA stands at 3.81 as he has posted a 5-4 record. A look beneath those numbers, however, seems to indicate that those numbers may only get better over the next few months.
While adapting to a new situation, Harang struggled in the month of April with an ERA of 5.72 as he failed to surrender less than three runs in any of his five starts. Fortunately for the Harangatang, his last 10 starts have yielded much better results.
In the months of May and June, he has posted an ERA of 2.89, going 4-2 over that stretch. Like Capuano, Harang has also been impressively consistent, allowing more than three runs only one time over that stretch.
With the trade deadline approaching, it would seem that Harang's job is the one in question should Ted Lilly return to the rotation eventually, but at this point Harang has done an excellent job in justifying his role every five days.
As for what the second half holds for the Dodgers fifth starter, I tend to believe it will look more like the months of May and June than April.
First half: Five wins, 3.81 ERA
Second-half predictions: Six wins, 3.50 ERA
Nathan Eovaldi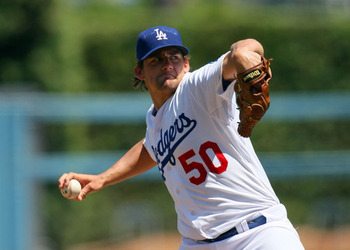 It's been a tough year to be Nathan Eovaldi thus far, but unfortunately for him, most of it isn't his fault.
Called up to fill in for the injured Ted Lilly, Eovaldi picked up right where he left off in his impressive 2011 debut. Unfortunately, in six starts this season, the bats behind him have scored just five runs (including one game in which they were no-hit).
With such little run support, Eovaldi is 0-4 on the season despite allowing three or fewer runs in all but one start.
Outside of his bad luck, Eovaldi's ERA is a misleading 4.04 thanks to his last outing in which he allowed eight earned runs in just five innings. Prior to that start, his ERA was just 2.35.
With the eminent return of Ted Lilly looming sometime in the next couple of months, how long Eovaldi remains in the big leagues is up in the air, but as long as he's there, the Dodgers can expect the 22-year-old to continue his impressive development.
First half: Zero wins, 4.04 ERA
Second-half prediction: Four wins, 3.50 ERA
Ted Lilly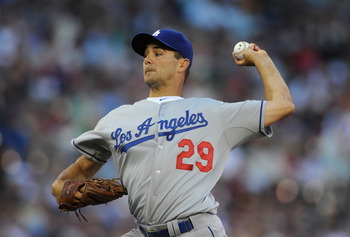 Despite the great performances by Clayton Kershaw and Chris Capuano, the most impressive Dodgers pitcher this season was definitely Ted Lilly prior to injuring his shoulder at the end of May.
In his first eight starts, Lilly had allowed just nine earned runs as he went 5-0 with a 1.79 ERA (in his ninth start in which he was injured, he allowed eight earned runs in just 3.1 innings as his ERA ballooned to 3.14).
While Lilly recently played catch for the first time in a month, his return date remains uncertain. One thing that is certain is that if Lilly can pick up where he left off, the Dodgers could use him back as soon as possible. That also begs the question, however, of just how effective he will be—something no one can be sure of.
First half: Five wins, 3.14 ERA
Second-half prediction: ????
Keep Reading

Los Angeles Dodgers: Like this team?