2012 NBA Draft: Most Hilarious Sound Bites of the Night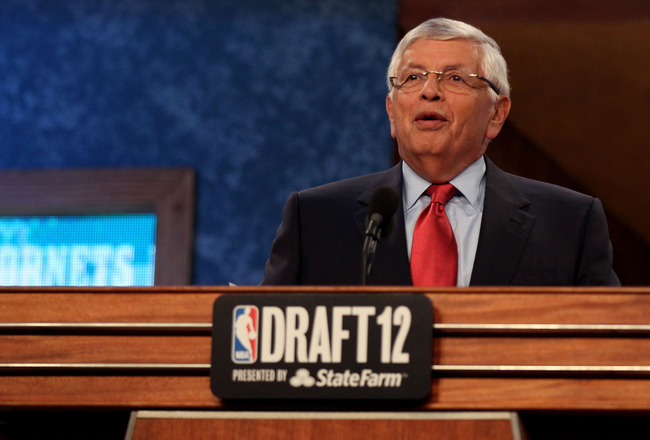 Elsa/Getty Images
And you thought the NBA Draft was boring...
Okay, so maybe it was, unless you enjoy yelling in pain/agony over your team's picks, watching teenagers become instant millionaires and/or second-round picks climbing down from the rafters to shake the deputy commissioner's hand.
In any case, Thursday's draft yielded more than a few gems, and I'm not talking about the handful of unheralded players who may or may not be the next Kenneth Farieds or Isaiah Thomases. I'm referring, instead, to the slew of "memorable" moments that made ESPN's broadcast from Newark, N.J., something of a comic affair.
Unintentionally, of course, though the Worldwide Leader deserves some credit for having its cameras tuned in to the right people at the right times.
David Stern's Boo Shower
Booing David Stern isn't a rite of response that's exclusively reserved for the NBA draft (see: just about any public appearance the commish makes), much less among the fraternity of pro sports commissioners for Stern alone (see: Bettman, Gary).
But hearing Stern hear it from the crowd—and seeing the smugness with which he reacts to it all—never gets old.
The hundreds of fans at the Prudential Center in Newark went after Stern with particular zest on Thursday, presumably for letting Mikhail Prokhorov and Jay-Z whisk their precious Nets across the Hudson River from the Garden State to the posh-again borough of Brooklyn.
Because, you know, people in Jersey love their Nets and all.
The fans made their feelings about the commish clear from the moment he stepped onstage, showering him lustily with boos and even playing to the crowd's discontent...by praising the Miami Heat for winning the title.
If Stern ever decides to step down as the league's dictator, he might well have a cushy gig as Vince McMahon's successor waiting for him.
Cheers for Adam Silver
As much as fans at the draft have always hated Stern, they've never been shy to share the love with Adam Silver, Stern's second-in-command.
Though, it's more likely that Silver hears the cheers simply for being Not David Stern rather than anything he brings to the table.
Then again, perhaps the attendant crowd in New Jersey particularly enjoyed Silver's shiny bald dome, his massive ears, his wire-rim glasses, his tall-and-skinny demeanor and/or his salute to the "great state of New Jersey."
Or, they just liked the fact that David Stern wasn't on stage anymore.
Silver can only hope he'll still be so warmly received if/when he ascends to Stern's Iron Throne.
Wait...Jared Sullinger Has What?!?!
Jared Sullinger had long been projected as a surefire lottery pick until doctors discovered that the big man out of Ohio State had a bad back. That revelation sent Sullinger "tumbling" down draft boards, where he was summarily picked up by the Boston Celtics at No. 21.
But not before sideline reporter Andy Katz, in discussing Sullinger's injury with Rece Davis, let loose the Freudian slip of the night.
Either that, or he watched Superbad one time too many times leading up to draft day.
Mark Jones and the Art of the Awkward Post-Selection Interview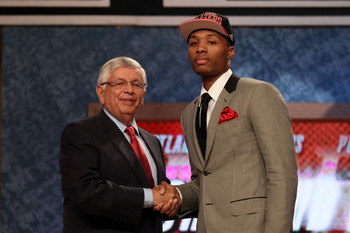 Elsa/Getty Images
It's a wonder that ESPN bothers having its "reporters" talk to guys after they've walked across the stage, shook David Stern's hand and smiled for the cameras. After all, most of these kids are so overwhelmed by the sheer gravity of this monumental moment in their lives that they can barely form basic sentences.
Perhaps that's the point, because they're human moments or whatever, though nothing on par with a Will McAvoy tirade.
Of course, there's some measure of comedic Schadenfreude that comes with watching folks from the WWL pry for meaningful and insightful responses from these kids, as if drawing blood from stones, and falling flat on their faces, as Mark Jones did during his brief encounter with Damian Lillard, the Portland Trail Blazers' choice with the No. 6 pick.
Here's how their exchange went, per Scott Horlbeck of Dime Magazine:
Jones: "Damian, you're from Oakland. That city has a great history and lineage of guards, Gary Payton, Brian Shaw, Jason Kidd—you spoke with those guys, what did they tell you about being successful at the next level?"
Lillard: "Um, GP never really talked to me about being successful, but Brian Shaw gave me a lot of pointers about being a point guard in the league."
Jones: "Alright, congratulations. Rece, back to you."
Good work, Jonesy! You just made yourself, Lillard and The Glove all look like jerks in about as long as it took Andy Katz to unintentionally flatter Jared Sullinger on live TV.
Heather Cox Turns Heartstrings into Gutwrenches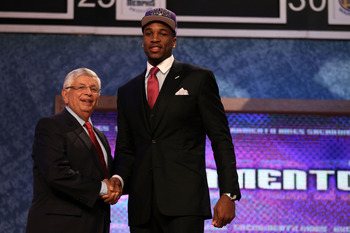 Elsa/Getty Images
Mark Jones' masterpiece would've been the best of the worst of the night if not for Heather Cox having set the bar so high just one pick prior.
Cox's charge (one would assume) was to add another layer of reality to the often-told-but-always-heartrending story of Thomas Robinson's tragic family life by bringing Jayla, his nine-year-old sister, into the fold.
Except, as it turns out, little Jayla wasn't exactly the most willing interviewee for Heather, as Scott Horlbeck recounts:
Heather Cox: "Thanks Mark, we're joined here by Jayla, Thomas's little sister. Jayla, have you ever seen your brother cry?"
Jayla: "No."
HC: "How exciting is this for you and your brother?"
J: "It's, um…it's good."
HC: (searching for anything) "Is it pretty good?"
J: "Yes."
That bit of interrogation clearly cost Cox a gold star on her next network report card.
To be fair, Jones didn't exactly set Cox up for success when he threw it to her by sharing his stunning observation that "Some things are bigger than basketball, Heather Cox."
No &$%#, Sherlock.
Jay Bilas Likes to Drink
It's no secret that Jay Bilas is creepily infatuated with long arms and "wingspans."
In fact, frat boys and miscellaneous boozers across America (Carlos included) have fashioned an NBA draft drinking game around Bilas' peculiar fetish, in which participants are implored to take a swig every time the Duke alum references a prospect's length.
Not what you might call a recipe for success, though I guess that depends on how you define "success."
To his credit, Bilas isn't oblivious to his own tendencies or the fun that fans have while playing along with them. He got the folks at home (and some at the Prudential Center) off to a running start, referring to Anthony Davis' wingspan three times in quick succession, after the New Orleans Hornets officially made the former Kentucky star the first pick in the draft.
And then, without hesitation, imploring viewers everywhere to "Tip it back three times, America!" (Skip to the 1:50 mark in the video above.)
A cheers-worthy nod, to be sure, though it was hardly the first time Bilas has acknowledged this draft-day phenomenon while on national television.
More Fun with David Stern
Have I mentioned that David Stern is an expert when it comes to navigating and manipulating the vitriol of the masses?
Don't believe me? Skip to the 2:30 mark of the video above. Stern takes his sweet time emerging from backstage, as if to allow the chorus of boos time to build up before his "Grand Entrance," as Rece Davis calls it.
And if that weren't cheeky enough, once Stern gets to the podium, he stays silent for about 20 seconds, soaking up the hatred like a penguin-shaped sponge. I can only imagine what Stern was thinking about during those empty moments onstage...
Keep Reading