Wimbledon 2012: Rafael Nadal Exit Paves Smooth Path for Novak Djokovic
November 27, 2016
Julian Finney/Getty Images
After Rafael Nadal's shocking exit from the 2012 Wimbledon, No. 1 seed Novak Djokovic should be able to fight his way through the field and hoist his second straight Wimbledon trophy.
Nadal was ousted in the second round with an incredible performance by unseeded Lukas Rosol in a 6-7, 6-4, 6-4, 2-6, 6-4 thriller that came down to the final set, played just at sundown.
After the match, Nadal said that he "just played an inspired opponent," but it doesn't change the fact that he's now eliminated from the field.
With Nadal's untimely elimination comes a gigantic sigh of relief for Djokovic. He's rarely won a major in his career that didn't require slaying Nadal in the final match. In fact, Djokovic has only won two majors that didn't have him facing Nadal in the final. 
Djokovic's first Wimbledon championship, just last year, came in a four-set beating of Nadal. The Spaniard was the defending champion, but Djokovic took his crown.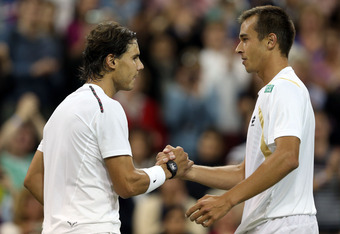 Clive Rose/Getty Images
2012 was seen as a time of redemption for Nadal. It was his chance to build off his French Open title earlier this season and state his case to be the top tennis player in the world.
Now that he's been ousted from the tourney, his worst nightmares of giving Djokovic a cakewalk to the final are now becoming more and more of a reality.
But Djokovic will still have to battle to win with the field in front of him. He'll have to face a most-likely-past-his-prime but still-hungry Roger Federer in the semifinals if both players avoid being upset like Nadal.
Julian Finney/Getty Images
Djokovic's supposed matchup with Federer will be must-see TV. The two stars have faced off 26 times in their respective careers, with Federer leading 14-12. But they've never played on grass, believe it or not. 
Already a tennis record, they've faced off eight times in Grand Slam semifinals, and they'll be fighting to make it nine. 
But with Djokovic winning six of the last seven matches between the two, it seems like Djokovic has the upper hand not only in that matchup, but across the entire field.
We've seen how top heavy tennis has become with Nadal and Djokovic seemingly facing off in every Grand Slam final, with the rare Federer thrown in just for good measure. 
All we know now is that we will be seeing at least one player not in the sport's Big Three in the Wimbledon final.
And that in itself is the best reason to watch.