Words with Frenz AFC East Mailbag, June 29 Edition
It's Friday. Time to party!
Jim Rogash/Getty Images
Who got snubbed in the NFL Network's Top 100 Players of 2012?
Have the Jets been making the right moves at wide receiver?
Who will lead the AFC East, and who will lead the Patriots in receiving?
Can Reggie Bush lead his own team in rushing?
All this was explored in this weeks "Words With Frenz" AFC East mailbag. Thanks for the questions. Let's get right to the answers.
@ErikFrenz I'll throw you a softball: Please eviscerate the NFL Top 100 list that has Jimmy Graham 14 and Rob Gronkowski 21. Ready. Set. Go.

— Zach Kruse (@zachkruse2) June 29, 2012
You put it on the tee, I'll knock it out of the park.
One look at the stats and it's not hard to see why Patriots fans were upset, and it goes beyond fan bias.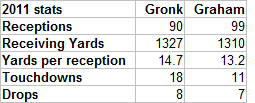 Not only did Gronkowski get the All-Pro nod at tight end, he set an NFL record for receiving touchdowns by a tight end with 17. He is constantly lauded
as a matchup nightmare
(and I'm
not the only one
saying it...
not even close
).
To top it all off, if we're going to rank Saints quarterback Drew Brees ahead of Patriots quarterback Tom Brady, shouldn't Rob Gronkowski get more credit for doing "more with less" (ironic statement, I know...just saying)?
There were a few minor discrepancies (Twitter nearly exploded when Brady was ranked No. 4 behind Lions receiver Calvin Johnson), but Gronk seven spots behind Graham is just ri-Gronk-ulous.
I may have slighted Pro Football Focus' ranking of Brady, but at least they got this painfully obvious comparison and subsequent ranking correct, with Graham at No. 21 and Gronk in the No. 6 spot.
@ErikFrenz we paid Holmes WAY too much money. A QB like Mark needs a true #1 WR. I would've rather have kept J-Co & Braylon, do you agree?

— Sanchez SB XLVII MVP (@NYJET_Prime) June 29, 2012
Totally agree, Prime.
It's a well-known fact that Jets quarterback Mark Sanchez's lack of chemistry with his receivers was one of the predominant reasons behind his struggles last year. More turnover at wide receiver from last year to this year won't help.
And it might have all been avoided had the Jets simply re-signed receivers Braylon Edwards and Jerricho Cotchery. If nothing else, they were targets that Sanchez had built trust and a rapport with, and losing both in one offseason was going to be a tough one to swallow even if Sanchez was further along in his development than he is.
But would they have even been effective with the Jets in 2011? Their numbers declined sharply last year with their new teams, but is that a result of their talents eroding, or is it because they simply didn't settle into their new systems?
The Jets clearly wanted to address their need for speed at wide receiver with Stephen Hill, and the pick makes sense from the standpoint that even if he doesn't have a grasp on running an NFL route tree just yet, he could challenge defenses vertically from the get-go.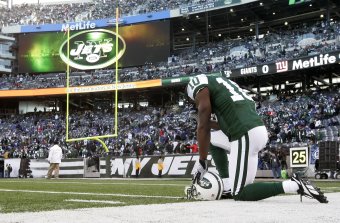 Rich Schultz/Getty Images
As for Holmes making too much money,
according to Spotrac
, his base salary will be the fifth highest at wide receiver in 2012. He'll be making more than Anquan Boldin, Roddy White,
Larry Fitzgerald
and Greg Jennings.
Anyone want to argue that Holmes is a better receiver than those four? No? Good. Moving on...
@ErikFrenz Who will lead the AFC East in receiving yards this year?

— Orion (@OrionsMark) June 29, 2012
These predictions always involve so many variables. For one, we're predicting that every player is going to stay healthy.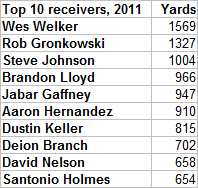 On top of that, several new receivers join the AFC East from other NFL teams, and even some through the draft. How will these receivers acclimate to their new surroundings? Their new system? New quarterback?
For me, though, it's fairly easy to assume that the AFC East's leading receiver will come from the Patriots. They pass more than any other team in the division and have the best quarterback in the division as well.
They also happen to have a bevy of receiving talent, some carrying over from last year and others joining the team through free agency.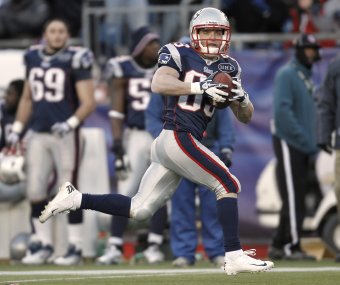 Winslow Townson/Getty Images
I really like Wes Welker's chances to lead the AFC East in receiving once again; he is one of the top targets for Tom Brady, and even if he doesn't create a lot of explosive plays, the fact that he reels in 100-plus catches every season almost without fail sets him up for big-time yardage once again.
Beyond him, I'd watch out for Gronkowski and Brandon Lloyd. The Patriots tight end ranked second last year, and Lloyd was able to put up solid numbers despite switching teams midseason. Rejoining McDaniels can only mean big things for him.
@ErikFrenz nevermind leading the league in rushing, will reggie bush lead his own team?

— Matt Lamothe (@bradybacker77) June 29, 2012
Interesting question, Matt.
Winslow Townson/Getty Images
I think he will, because the rest of the talent on the Dolphins' roster at running back is loaded with question marks.
Can Steve Slaton return to rookie form? Can Lamar Miller make a big impact as a rookie? Can Daniel Thomas rebound after a tough rookie campaign?
There are certainly questions about Bush, too: Can he stay healthy for a full 16 games for the second time in what will be a seven-year career after 2012? Can he prove his doubters wrong and string together back-to-back solid seasons? If the answer to the first question is yes, I see no reason why the answer to the second question should be no.
@ErikFrenz More touchdowns this year? Wes welker or Brandon Lloyd?

— Pompa (@BigPompa07) June 29, 2012
My opinion is Brandon Lloyd. As the deep threat in the offense, Brady be looking for him consistently on big plays. He also has experience catching touchdowns in Josh McDaniels' offense, reeling in 16 touchdowns in the past two seasons under McDaniels (mind you, with far lesser talent at quarterback than he'll have in New England).
Only once in Welker's career has he reeled in double-digit scores, and my early prediction is 10 for Lloyd. That being said, I still think the offense revolves around the tight ends and wouldn't be surprised to see Gronkowski and Aaron Hernandez reel in more than any receiver on the Patriots' roster.
Got room for one more.
@ErikFrenz do you think fletcher could be on the bubble? I know BB likes him, but lots of competition at LB this year. #Patriots

— michael destefano (@mtd10mm) June 29, 2012
Thanks, Michael.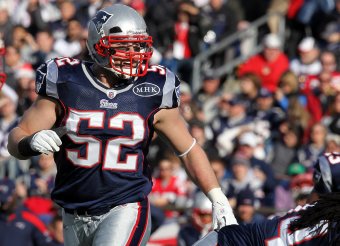 Jim Rogash/Getty Images
Bill Belichick values experience in the system far more than some coaches, and with two years of solid experience in the defense, it would surprise me if he was willing to cut ties that easily.
We talk a lot about Dont'a Hightower being brought in as insurance against injuries to linebacker Brandon Spikes, but in my opinion, Fletcher is more suited for that role coming off the bench.
Fletcher's contributions on special teams will also earn him bonus points with Belichick. From this perspective, Tracy White may be the one closer to the bubble. He's a special teams ace, but he offers less on the defensive side of the ball than Fletcher.
It would surprise me to see more than four inside linebackers make the roster (Jerod Mayo, Spikes, Hightower and either Fletcher or White), but ultimately, it depends on what kind of value Belichick sees in carrying that extra linebacker over perhaps a sixth receiver or defensive back.
Alright, guys, that's good for this week. Thanks for the questions, and as always, further questions can be directed to me via Twitter at the link below.
Happy Friday!
Erik Frenz is the AFC East lead blogger for Bleacher Report. Be sure to follow Erik on Twitter and "like" the AFC East blog on Facebook to keep up with all the updates.
This article is
What is the duplicate article?
Why is this article offensive?
Where is this article plagiarized from?
Why is this article poorly edited?