2012 Big East Conference Football Preview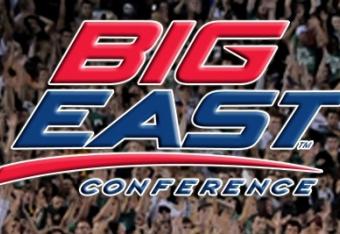 A bad day at the office is nothing compared to the bad year the Big East has endured.
It started when Pittsburgh and Syracuse served notice that they were bolting the conference for the ACC. Well at least TCU joining the Big East would hold a degree of credibility, or so thought conference commissioner John Marinatto.
Then, just like that, West Virginia said "adios" and shipped out to the Big 12 and, lo and behold, TCU reneges and does a U-Turn by following the Mountaineers to the Big 12 as well. And shortly thereafter Marinatto resigned.
If that's not bad enough, Pittsburgh filed a lawsuit to expedite its exit from the conference. The Panthers paid half of its $5 million exit fee and agreed to remain in the conference until July 1, 2014. But upon learning of West Virginia and TCU's bailouts, litigation was filed with Pitt arguing that the loss of West Virginia and TCU from its 2012 football schedule caused the football program significant harm and cost the school nearly $600,000 (as reported by the Associated Press, via Scout).
All we can say is thank God for Temple, the new kids on the block, who are the right team at the right time for a league in need.
Lost in the turmoil is the fact that the Big East is the only Division I conference that has seen each of its members play in at least one bowl game in the past two seasons, and it is also the only league in which each team has at least one bowl win in the last four years. Every Big East team won at least five games last season—the first time since 1905 that an existing Bowl Subdivision conference had every member finish with at least five wins.
The Big East is also a combined 215-95 SU in non-conference games (.721). That stands as the best seven-year non-league record in the history of the conference and ranks second among all FBS conferences, only behind the SEC. FYI: inside the aforementioned straight up record is a sterling 22-6 ATS mark in these games when playing off back-to-back losses.
And let's not forget that the conference also has the second-best postseason record (43-27, .614) of any Bowl Subdivision conference since the inception of the BCS in 1998.
Seven of eight teams this season will feature returning starting quarterbacks, with only Cincinnati relying on its backup signal caller, Munchie Legaux, to start the season.
The bottom line is that there is a lot of back-pedigree for a conference hanging on by the threads. The question is can it move forward? Stay tuned.
Note: Team write-ups are excerpted from the 2012 PLAYBOOK Football Preview magazine by the same author. Numbers following team name represent the amount of returning starters on offense and defense, with an asterisk (*) designating a returning quarterback. Designated 'Play On' and 'Play Against' Best Bets follow each team's preview.
CINCINNATI - (4/7)

Team Theme: JUMP START

Last year's 'Stat You Will Like' proved prophetic when the 63 freshmen and sophomores that donned a Bearcats jersey in 2010 – including eight sophomore starters on defense – blossomed into a nucleus that showed dramatic improvement, more than doubling their previous win total. The present, once again, looks bright as seven starters return to a stop-unit that ranked No. 2 in the land in sacks while the offense is in the hands of quarterback Munchie Legaux, who may also be the next cover boy for 'Medical Cannabis Journal.' The future doesn't look half bad, either, as nine freshmen attended spring practice after having graduated high school in December.
Stat You Will Like: Bearcats' head coach Butch Jones is 7-0 ATS in his career as a favorite of more than 14 points.
PLAY ON: vs. Syracuse (11/3)
CONNECTICUT – (*6/8)

Team Theme: MISSION POSSIBLE

You could almost see it coming. Paul Pasqualoni rejoined the college ranks after a 6-year stint in the NFL to replace Randy Edsall (who departed for Maryland after four straight bowl seasons) and the Huskies went to mush. That makes the sled dogs a full-fledged 'Mission Team' in 2012. Heading the expedition is senior quarterback Johnny McEntee and running back Lyle McCombs, who lugged the ball for 1,115 yards as a freshman last season. If this mission is to be a success, winning at home is crucial and that should suit Pasqualoni (see below) and his Huskies well as UConn is 43-15 SU all-time at Rentschler Field, including 23-6 in non-conference affairs.
Stat You Will Like: In his career as a college head coach, the host in Pasqualoni games is 102-65-1 SU and 94-66-4 ATS.
PLAY ON: vs. Cincinnati (12/1) *KEY as dog
LOUISVILLE – (*8/9)

Team Theme: SPECIAL DELIVERY

The force-feeding frenzy hit Louisville last year when the Cardinals played 11 true freshmen, including 10 who started games. QB Teddy Bridgewater, voted Big East Rookie of the Year, was among that group as was his top two targets. Surprisingly, the growing pains ended early as the Cards rallied from a 2-4 start to capture their second Big East title in six years. The dominating stat in Charlie Strong's two seasons in Louie has been defense (319.5 YPG since his arrival) and with nine starters back on that side of the ball, a lethal message could be delivered at Papa John's Stadium in 2012. Eight offensive returning starters is just another topping on the pie.
Stat You Will Like: Four of Louisville's five road games are against bowl teams this season.
PLAY ON: at Florida International (9/22) - *KEY as dog
PITTSBURGH – (*8/4)

Team Theme: FOUR TIMES A CHARM

Taking on its fourth coach in 13 months, including three inside the past year, the Panthers now insist Paul Chryst is their man. The former Wisky quarterback and offensive line coach brings both coordinators with him from Badgerland, looking to put an end to the coaching carousel nonsense. Pitt's offensive line, devastated by injuries last year, figures to be the strength of the attack but the skill positions aren't lacking. Quarterback Tino Sunseri, who started every game each of the past two seasons, running back Ray Graham (averaged 134 RYPG until he went down for the season in late October) and eight wide receiver lettermen are back in the mix. There's no doubt the weapons are there. Let's hope the coach is, too.
Stat You Will Like: The Panthers are 12-3 ATS with rest and revenge in conference games, including 7-1 ATS at home.
PLAY ON: vs. Rutgers (11/24)
RUTGERS – (*6/8)

Team Theme: THE FLOOD GATES OPEN

When Greg Schiano surprisingly fled to the NFL, the Knights turned to offensive line coach Kyle Flood to handle things 'on the banks.' To nobody's surprise, Schiano took six assistants with him, forcing Flood to piece together a staff at the last minute. Also gone to the NFL is star wide receiver Mohamed Sanu, a third-round selection by the Bengals. Complicating matters is a cloudy quarterback picture that saw both Gary Nova and Chas Dodd start games in 2011, with neither being particularly effective. Nova, who was 24-0 as a starter in high school, looks to be the early favorite but clearly Flood will be 'banking' on a rock-solid defense that returns eight starters.
Stat You Will Like: Rutgers is 43-2 SU in games in which it outrushes its opponent.
PLAY AGAINST: at USF (9/13)
SYRACUSE – (*5/7)

Team Theme: ORANGE CRUSHED

It was no surprise at PLAYBOOK when the Orange posted a losing season in 2011 on the heels of an eight-win effort the previous year. Simply put, Syracuse was in our famous 'Reverse Mission' role (a winning season after three successive losing ones) and, because of it, likely doomed for failure. Thus, 2012 becomes a pivotal year for the Doug Marrone project as he plans to make changes to all three phases of this year's squad. When asked about returning quarterback Ryan Nassib, Marrone replied, " We have to make sure we have the right people in place around him for us to be successful." Hmmm, not the most glowing of endorsements. Ditto for us.
Stat You Will Like: The Orange are 1-8 ATS off a SU and ATS win under Marrone, including 0-5 ATS at home.
PLAY ON: vs. Connecticut (10/19)
TEMPLE – (*4/5)

Team Theme: HAPPY DAZ

When hired as Temple's head coach last year, little did Steve Addazio realize he'd be swimming in BCS waters this quick. Like a fat kid drawn to a Twinkie, the smile on the Daz's face couldn't be any bigger. In preparation for the move to the Big East, he raided the Boston College staff, hiring former Owl assistant Ryan Day to take over the offensive coordinator duties and Kevin Rogers to lead the quarterbacks. The concern in Philly, though, is a lack of returning starters on both sides of the ball. There are big shoes to fill on the offensive line, as well as replacing four all-MAC performers from a defense that improved each of the last three seasons.
Stat You Will Like: The Owls are 7-0 ATS with revenge in Game Three of the season.
PASS:
USF – (*8/7)

Team Theme: BULLISH ON SKIPPY

After recording eight-plus wins five years in a row, the Bulls lost their testosterone in a major way in 2011 when a 1-7 finish completely neutered a 4-0 start to the season. After an all-conference performance in 2010, senior quarterback B.J. Daniels regressed last year and will need to revert back to his glory days if the Bulls are to make a charge this season. Daniels will have top wide receiver Sterling Griffin (suffered a broken ankle midway though last year) back at his disposal along with Florida transfer Chris Dunkey and a pair of sophomore wideouts who saw plenty of playing time in 2011. The bottom line is Skippy's pissed and figures to be on a hormonal mission in 2012.
Stat You Will Like: The Bulls failed to have a player selected in this year's NFL draft for the first time in six years.
PLAY ON: vs. Connecticut (11/3)
Be sure to check back here next Monday, June 18th for Marc's 2012 BIG 10 CONFERENCE Football Preview!
This article is
What is the duplicate article?
Why is this article offensive?
Where is this article plagiarized from?
Why is this article poorly edited?