Wimbledon 2012 Schedule: Day 6 TV Coverage, Matches and Bracket Guide
June 29, 2012
Julian Finney/Getty Images
Rafael Nadal was supposed to headline Wimbledon's Day 6 action, but after a loss to Lukas Rosol, the Spaniard has been eliminated. However, there is still great tennis to be played on the grass courts of the All England Club.
Stars like Serena Williams, Andy Murray, Mardy Fish, Sara Errani, David Ferrer and more will be in action on Saturday, looking to avoid a similar fate to that of Rafa.
Through five days of action in London, the grass courts of Wimbledon have played host to yet another exciting Grand Slam. Following an exhilarating French Open, we expected Wimbledon to be a bit of a let-down, but it has blown all expectations out of the water.
This is your guide to catch all of the action on Saturday.
Bracket Guide
For the full bracket, be sure to check out Wimbledon.com.

Ladies first.
New world's No. 1 Maria Sharapova looks to capture another title at Wimbledon after completing her career Grand Slam at the French Open. Her quarter of the bracket has generally played to form so far, and she should meet up with Angelique Kerber in the quarterfinals.
Petra Kvitova's section lost potential upset Dominika Cibulkova, leaving Kvitova's path clear to the quarters, where she will most likely meet up with Serena Williams.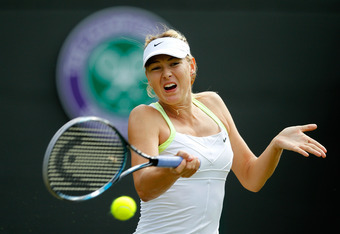 Paul Gilham/Getty Images
Agnieszka Radwanska's section has been essentially wrapped up with a bow and given to her, as having Samantha Stosur, Na Li and Flavia Pennetta all lose is nothing short of a gift.
Finally, Victoria Azarenka's section has essentially come down to her and Ana Ivanovic, as the world's No. 2 looks to retake her title of No. 1.
Next up, the gentlemen.
Novak Djokovic won in four sets on Friday, leaving him just one match away from the quarters. The section remains his to lose, as No. 12 Nicolas Almagro is the only one left who could even challenge him.
Roger Federer's section looks like they will all concede to him, as Fed has been playing like his old self of late. He has dominated on grass, and looks to win his record-tying seventh Wimbledon title this year.
With six players ranked in the top 30, Andy Murray's section is clearly the toughest left in the tournament. He must overcome David Ferrer, Andy Roddick, Juan Martin Del Potro and more to advance to the semis, and that is a long, arduous road.
With Rafa out of the competition, his section is left to Mardy Fish and Jo-Wilfried Tsonga to fight for. There is no clear winner of the bracket, leaving the entire bottom half of the bracket in shambles.
Matches to Watch on Day 6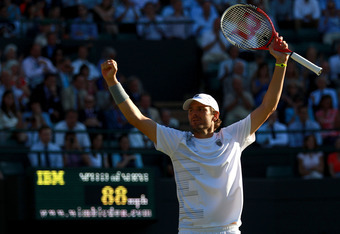 Clive Brunskill/Getty Images
For the full Day 6 schedule, be sure to check out Wimbledon.com. 
With Nadal out, there are three matches that you must watch on Saturday.
The first is Serena Williams vs. Jie Zheng. Williams is still looking to avenge a first round loss at the French, and defeating Zheng is the next step on her way to capturing yet another Wimbledon title.
The next two matches are worth watching because they flow into each other. No. 10 Mardy Fish and No. 5 Jo-Wilfried Tsonga are both in action on Saturday, and they are the last two legitimate competitors in Nadal's section. Their matches are precursors to their eventual match that will essentially decide the fate of the bottommost section.
| | | | |
| --- | --- | --- | --- |
| Date | Time (EDT) | Round | Channel |
| Saturday, June 30 | 7 a.m. - 3 p.m. | Round 3 | ESPN |
| Monday, July 2 | 7 a.m. - 5 p.m. | Round 4 | ESPN2 |
| Monday, July 2 | 8 a.m. - 3 p.m. | Round 4 Centre Court | ESPN |
| Tuesday, July 3 | 7 a.m. - 5 p.m. | Women's Quarterfinals | ESPN2 |
| Tuesday, July 3 | 8 a.m. - 1 p.m. | Women's Quarterfinals CC | ESPN |
| Wednesday, July 4 | 7 a.m. - 5 p.m. | Men's Quarterfinals | ESPN2 |
| Wednesday, July 4 | 7 a.m. - 5 p.m. | Men's Quarterfinals CC | ESPN |
| Thursday, July 5 | 7 a.m. - 5 p.m. | Women's Semifinals | ESPN |
| Friday, July 6 | 7 a.m. - 5 p.m. | Men's Semifinals | ESPN |
| Saturday, July 7 | 9 a.m. - 2 p.m. | Women's Final | ESPN |
| Sunday, July 8 | 9 a.m. - 3 p.m. | Men's Final | ESPN |
ESPN3 will also be streaming the action online.