2012 NBA Draft Picks: Projecting Career Arc of Top 5 Selections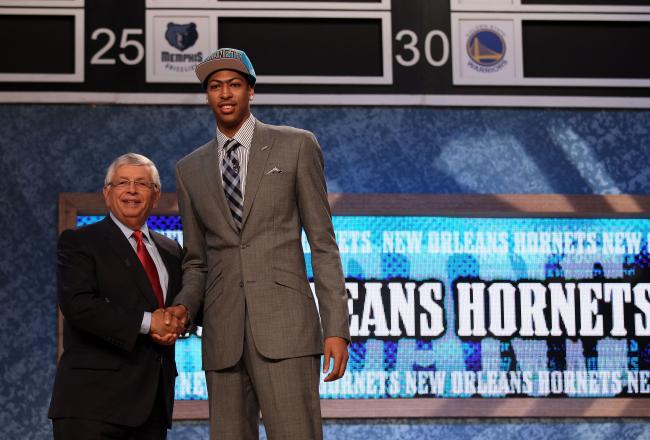 Elsa/Getty Images
The Hornets, Bobcats, Wizards, Cavaliers and Kings are all supposed to get a star from this year's draft class. That's what Top Five picks are supposed to be, but it doesn't always work out.
This year's top selections are all over the place.
Anthony Davis has Hall of Fame intangibles. Michael Kidd-Gilchrist has a motor that doesn't quit. Bradley Beal and Dion Waiters are ready to score immediately, and Thomas Robinson is as NBA-ready as anyone.
They may have different long-term potential, but each player will bring his own set of strengths to the table from Day 1.
Let's examine each Top Five pick's future in the NBA.
Anthony Davis
Davis' game is going to evolve over time. I expect him to have an impact on the defensive end immediately, but his career will change as his offense develops.
He checks all the boxes on your "What Should a No. 1 Pick Be" checklist.
Davis' intangibles, instincts, attitude and work ethic separate him from your regular player. He has prodigious potential on both ends of the court, but so have a lot of players. It's the things he does without the ball in his hands and what he's willing to do to win that make him a transcendent talent.
Who does Anthony Davis compare to?
It's hard to mutter the phrase "Hall of Fame" now, but Davis just has that aura about his game. He's the optimum blend of team player and dominant force. He can take over a game without touching the ball, and he makes his entire team better.
Talented big men are tough to come by as it is, but when you get a player like this, you do whatever is necessary to build around him.
Davis is a franchise player and the potential face of the NBA for years to come; he is the kind of player who adapts his game. As long as his body holds up, Davis will be in the league for 10-plus years with a new playing style weaved in every so often.
The accolades are endless.
Michael Kidd-Gilchrist
Kidd-Gilchrist has raw athletic tools and the "it" factor. He's ultra-competitive, and he never backs down from a challenge.
Davis was Kentucky's biggest star last season, but Kidd-Gilchrist wasn't far behind. His offensive abilities are questionable, but his motor isn't. Michael Jordan made the right choice at No. 2.
I'm going to throw four names out there for Kidd-Gilchrist's potential: Scottie Pippen, Tony Allen, James Posey and Stacey Augmon. He will be some bizarre lovechild of those four players, with a few other shades mixed in.
Kidd-Gilchrist has Pippen's defensive versatility (see similarities throughout video) and Allen's tenacity on the ball. Posey was an essential defensive stopper on the Celtics' 2008 championship team, and Augmon was a freakishly raw athlete when he came out of UNLV in 1992.
I don't see Kidd-Gilchrist averaging 20 or even 15 points per game on a consistent basis. He is excellent at attacking the rim, but he struggles with his shot and ball-handling.
Regardless of those flaws, he will be the NBA's preeminent "glue" guy. Players like him form the foundation for championships because they simply want it more than everyone else.
For a team with seven wins in 2012, that sounds about right to me.
Bradley Beal
Beal has tremendous upside as a scorer next to John Wall. He's a high-character player who will complement Wall's penetrating play.
The Wizards found themselves a future All-Star in Beal. His size (6'4'') has led to some questions about his long-term potential, but his numbers debunk everything.
Would an undersized guard normally haul down rebounds like this?
They wouldn't—at least not without tremendous focus and strength. Beal averaged nearly seven rebounds per game as a freshman for Florida last year, so his size doesn't appear to be a problem.
Beal also is a silky smooth shooter with extensive range. He can create his own shot, or he can use his quick release to catch and release. With Wall constantly attacking the rim, you have to think Beal will get a ton of opportunities to set his feet.
I think Beal plays in the NBA for a long time because of his skill and mentality. He's a confident but modest kid, which will allow him to adapt his game as his body ages.
He is going to be play in the league for a long time. I'm expecting anywhere from 5-7 All-Star appearances.
Dion Waiters
Waiters was the first head-scratcher of this year's draft. Cleveland's worst-case scenario played out, and they were left with no other sensible option. Instead of taking a high-risk player like Andre Drummond at No. 4, they went with the "safe" option.
What should the Cavaliers have done?
I think it's safe to say Waiters will be a solid 2-guard in the NBA for 8-10 years with a few All-Star appearances littered throughout. He isn't a superstar talent, but he could be a magnificent partner for Kyrie Irving.
Waiters is a capable perimeter shooter, but his real strength lies in attacking the rim. He has an explosive first step, great balance and strength in finishing. He knows how to create his own shot, and he isn't afraid to take his chances.
Waiters doesn't have the upside of Beal; he isn't a lights-out shooter or an elite athlete—he's just a solid basketball player.
Cleveland could have made a sexier pick, but Waiters will fill its need in the backcourt for years to come. Expect consistency from this former Syracuse player.
Thomas Robinson
Who isn't rooting for this kid? There's no way anyone says "Me!" Robinson's tragic family history, competitive spirit and continuous will to improve his game make him a general manager's dream.
He's safe. He's talented, and he's athletic. Robinson doesn't bring a versatile or well-rounded skill set to the table, but he goes 110 percent at all times.
The Kings filled a team need in the mental and physical departments. Robinson will be a consistent double-double threat in the middle, and he will give DeMarcus Cousins a "big brother" type of presence. Robinson's magnetic energy will rub off on the talented but troublesome Cousins.
The former Jayhawk isn't going to have an astounding career. He probably isn't going to win an NBA MVP award, and he may not be a perennial All-Star candidate, but you always will know what you're going to get from him.
Coaches dream of having players like Robinson on their teams. He scores when it matters, plays defense and isn't afraid to do the little things.
Expect Robinson to be a leader, role model and consistent producer in Sacramento for a long time.
This article is
What is the duplicate article?
Why is this article offensive?
Where is this article plagiarized from?
Why is this article poorly edited?