NHL Rumours: Latest Buzz Surrounding Top Trade, Free-Agent Targets
June 29, 2012

Paul Bereswill/Getty Images
With the NHL July 1 free-agent signing period fast approaching, the rumours of who goes where—whether it be through a trade or signing—are in full swing.
Dennis Wideman, and the Calgary Flames, were able to give us a sneak peak at the action we should expect come Sunday, when they acquired the defenceman's rights and subsequently signed him to a five-year deal worth $26.25 million on Wednesday.
Wideman was traded from the Washington Capitals for minor league defenceman Jordan Hendry and a fifth-round pick in next years draft, in order for the Flames to acquire the sole right to sign a deal with Wideman before he was an available free agent.
Calgary GM Jay Feaster pinpointed Wideman and knew a deal done this way would save any hardship with teams competing to land him on July 1, according to John Kreiser of NHL.com.
"For us, it was getting a guy that we had targeted and getting him ahead of free agency on July 1, when there are going to be a lot of teams going after the same players. To get the head start—we felt it was important. We're glad to have him aboard."
The Calgary Flames were able to make their big splash into the market early, but for many teams, that will not be the case.
Lets take a quick look at each position and the latest buzz surrounding the top trade and free-agent targets that are out there.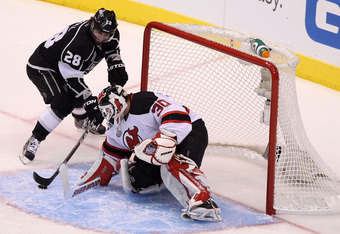 Christian Petersen/Getty Images
Goalies
Within the last 24 hours, the goalie market has improved greatly for any team that has that need on their wishlist.
With the signing of Jon Quick by the Los Angeles Kings to a 10-year contract extension worth an estimated $58 million, backup Jonathan Bernier will most likely now be shopped.
Andy Strickland tweeted the following, in terms of the next move that could happen with the Kings goalie.
Next move the #LAKINGS will be to trade Jonathan Bernier who has asked to be moved. #devils #Leafs #blackhawks all possibilties

— Andy Strickland (@andystrickland) June 28, 2012
The Blackhawks are seriously looking for a goalie to make sure their situation in the crease is secure, after the sub-par season that Cory Crawford had this year.
The Maple Leafs—a team that also have been linked to Roberto Luongo—are in need of a goalie after trading Jonas Gustavsson to the Jets at the draft.
But the Devil's you say? Well here is why.
Today, news broke that Martin Brodeur has gone and hired Pat Brisson, a well-known player agent. Brisson responded to reports of his hiring in an email to The Record's Tom Gulitti (Via NHL.com):
"It looks like he (Martin Brodeur) might be testing free agency on Sunday if a deal isn't reached by Sunday with the Devils," Brisson wrote.
There are no guarantees that Brodeur will leave New Jersey, but if the right offer comes around, it looks like he is going to consider it.
Also available for goalies through a trade is the Vancouver Canucks' Roberto Luongo.
The Canucks have locked up Cory Schneider to a three-year deal according to TSN.ca. Schneider took away the starting job from Luongo in the playoffs this year.
Although the rumours have been flying about a possible trade to Toronto, it is now widely speculated that he will end up in Florida. Darren Dreger of TSN reports, that the Leafs are now out of discussions with the Canucks for the netminder, while the Panther talks are still ongoing.
Defenceman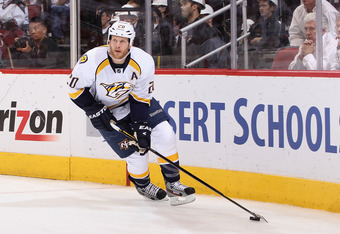 Christian Petersen/Getty Images
Although Ryan Suter is the most prized asset available in terms of defencemen, this past week he has taken second stage to young Ducks prospect Justin Shultz.
The Ducks have been unable to sign a contract with Shultz, and it is expected that he will be hitting the market on Sunday.
He will not be a costly option, but he is expected to be NHL-ready and step into the lineup. He will be choosing his team not based on salary—as he will make the standard money for an entry-level deal—and has created a short list of teams, including the Toronto Maple Leafs, that he wants to play for, says Damien Cox of the Toronto Star.
Other teams also seem to be making a strong push for the highly touted defender, including the Edmonton Oilers and Vancouver Canucks.
Edmonton would be a nice fit with their current set of players, and Shultz would add to the young nucleus that they have. The Canucks hold the advantage of being Shultz's home province, while the Maple Leafs have previous Ducks coach Randy Carlye and Shultz's college defence partner Jake Gardiner as part of the equation.
According to Craig Custance, through Twitter, Shultz has also expressed an interest to play in Canada, which has been made known to U.S. GMs.
U.S. GMs hearing Schultz prefers Canada but not stopping their pursuit: "American teams are trying to get in the game," said one GM.

— Craig Custance (@CraigCustance) June 26, 2012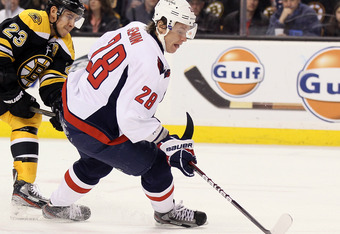 Elsa/Getty Images
The Dennis Wideman trade also gives an idea to the price that Philadelphia's Matt Carle will be asking. He will be commanding a salary near that to Wideman and could see himself getting a contract in the $5.5 million range.
Both players had similar seasons last year with Wideman putting up 46 points and Carle 38 points. There is also an age factor for Carle, and it would be expected if given the opportunity he will develop even more.
As for Suter, the talks are still ongoing with him and the Nashville Predators, as Nashville still seems to think that they are his first option if they can manage a deal.
Pierre LeBrun of ESPN.ca reports that Predators GM David Poile is quite confident a deal can be made, even if that occurs after July 1:
"I don't know how it's going to pan out, but we're going to do the best we can to keep talking and keep believing that we're the right choice," Poile said. "Hopefully, when he compares it to other teams July 1 and compares it to Nashville, what's important to him in his life and for his family, I think we're a real good fit on and off the ice. I don't see where the grass is any greener."
Forwards
The cream of the crop and the player who is drawing all the attention with the build up to free agency is Zach Parise.
The New Jersey captain has been linked to the Pittsburgh Penguins, Detroit Red Wings and Los Angeles Kings. Also, a return to the New Jersey Devils is not out of the question, reports Mike Everson of the New York Post.
It does not seem like Parise will be signing with the Devils before July 1, but that does not mean a deal won't be made. He is testing the market and will look into what other teams are offering him.
Parise himself seems to want to stay on with the Devils, and veteran goaltender Martin Brodeur would like to see the same. Tom Canavan of The Associated Press (Via the National Post) reports.
"I think he is the face of the Devils," Brodeur said."He is a kid that people, they see him, and they see a Devil. They see the type of work ethic he has. And I said this after the game, first year as a captain, not too shabby to bring a team like us to the Stanley Cup finals, so it's a big priority for the Devils to get him signed."
Another team that is expected to make a strong push for Parise is the Minnesota Wild. Parise was born in Minnesota, and, according to Dave Campbell (Via the Calgary Herald), the Wild are expected to make a very strong pitch for him.
Also available in terms of forwards is Alexander Semin of the Washington Capitals. It is not expected that he will be traded to a team for his negotiation rights, but it is expected that the Capitals will not be bringing him back next season, reports Chuck Gormley of CSN Washington.
Another attractive forward in this year's free agency crop is Calgary Flames centerman Olli Jokinen. Jokinen can still produce decent numbers, totalling 61 points last season with 23 goals, and he can play a solid two-way game.
He becomes a lot more attractive to teams looking for a center, as there are not too many available at that position this year. According to thefourthperiod.com, teams that are interested in him are the Dallas Stars, Chicago Blackhawks and the Minnesota Wild.
With many options available to teams, whether through trades or free agents, Sunday should be an exciting time for any fan.
If the 2012 NHL free-agent signing period is anything like last year, we should be in for a treat. Last year there was more than 60 players signed and contracts dulled out, equalling more than $260 million.
This year could have even more exciting moves with the amount of high quality players who seem to be on the trading block.
In the end, Sunday will be a time when fans of any team are watching closely as too what their teams are able to do—and whether or not the additions make them serious contenders for a Stanley Cup in 2013.