NHL: The Top 15 TV On-Air Broadcasting Teams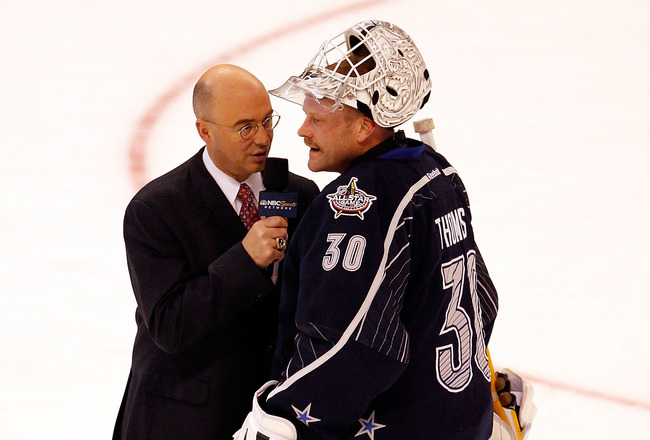 Gregory Shamus/Getty Images
Broadcasting, and broadcasters, might be some of the most underrated factors in what makes a hockey game memorable—or in some cases, forgettable.
After all, to a great extent, broadcasters are the lifeline between the fans at home and the action happening on the ice.
Whether a fan is watching the game on TV or listening to it on the radio, the broadcasters calling the action, or delivering the stats or—more importantly—imparting the emotion of the game to the fan at home, can make all the difference.
Think back to February of 1980, and probably the greatest upset in sports history—the United States Olympic hockey team besting the USSR 4-3. Without question, if the arena had been empty and a nationwide TV blackout in effect, the upset would have been just as large.
But just imagine this for a moment.
What if Al Michaels had not asked and answered his own timeless question in the closing moments of that game?
"Do you believe in miracles...Yes!"
Take that out of the equation and you are left with an amazing upset of epic proportions—but it might not be a miracle any longer.
That is the difference broadcasters can make.
With that as a backdrop, let's take a look at the Top 15 TV Broadcasting teams in the NHL, the men who make a hockey game more than just 12 guys skating around on a rink of frozen water.
These are the broadcasting teams that make NHL games memorable.
15. Ken Daniels, Mickey Redmond, Larry Murphy: Detroit Red Wings

The Red Wings broadcasting team is one of the funniest in the business.

If this were a listing of the funniest broadcasting teams in the NHL, then Ken Daniels, Mickey Redmond and Larry Murphy would be in the Top 5 easily.
The broadcasting team from Hockey Town frequently sound like they are just three guys who got together in their living room, had a few beers and decided to call a hockey game. It is delightfully entertaining stuff.
Unfortunately, Daniels, Redmond and Murphy frequently seem to ignore the actual game itself as they are just too busy having fun. Daniels will usually try and stick to the action more so than the other two, but only barely.
Watch the video above and count how many times the guys actually say something about the game itself. You will only need one or two fingers.
For sheer entertainment value though, Daniels, Redmond and Murphy are some of the best.
14. Howie Rose, Butch Goring: New York Islanders

An embarassing moment for Howie Rose.

Howie Rose and Butch Goring, the broadcast team for the New York Islanders, know their stuff. They both know hockey, know its nuances and can impart that to the audience when they want to.
Goring, in particular, has an excellent grasp of hockey strategy and how that translates into wins and losses.
The problem is that as the Isles losses have mounted year in and year out, their broadcast team has lost interest and, in the process, its effectiveness.
Take the video above, where Rose mistakenly believes he is off-air and asks, "Is it spring training yet?" To make matters worse, he pretty much admits that he does not care about the outcome of the game.
Rose, perhaps best known for his radio call of "Matteau! Matteau! Matteau!" has seen his fair share of great hockey—and not-so-great hockey.
It is rather interesting how losing can infect and effect even the best of them.
13. Jim Jackson, Keith Jones: Philadelphia Flyers

A not-too-happy Jim Jackson responds to a ruling of a good goal for the Pens.

Knowledgeable, passionate, excited and combustible.
All of the above describes the broadcast team for the Philadelphia Flyers, Jim Jackson and Keith Jones.
Jones, who many will recognize from his work on the NBC Sports Network, is the more level-headed of the two. As far as color commentary is concerned, Jones is very good. His blind loyalty to the Flyers when he first started damaged his credibility some, but he has since built it back up.
Jackson is the more combustible one though, as demonstrated by the video in this slide. With Jackson there is no hiding his bias for the Flyers—and he won't be apologizing for that either.
Flyers fans are some of the most passionate in the NHL.
It is only fitting that their broadcast team follows suit.
12. Pat Foley, Ed Olczyk: Chicago Blackhawks

Don't hold back, Pat—Tell the folks how you really feel!

The Blackhawks tandem of Pat Foley and Ed Olczyk is one of my favorites.
An excellent blend of knowledge and entertainment, Foley and Olczyk bring the passion of Chicago to the rabid fans of the Blackhawks.
Foley is absolutely adored by the fans in Chicago. They appreciate anyone who calls it like it is, such as his...shall we say, slightly slanted assessment of Alexander Karpotsev in the video accompanying this slide.
Foley was inducted into the Chicagoland Sports Hall of Fame in 2001.
Olczyk has a ton of knowledge of the game and is a very capable color commentator. He is probably best known—as a commentator anyway—for calling the USA's victory over Canada at the 2010 Winter Olympics "tremendously tremendous."
As good as the two are, they can veer off course at times and get lost in all sorts of things not related to the hockey game being played.
But when they are on their game, they are an excellent broadcasting team.
11. Dean Brown, Denis Potvin: Ottawa Senators

Dean Brown and Dennis Potvin with commentary on this great save.

The broadcast team for the Ottawa Senators, Dean Brown and Dennis Potvin, is one of the best.
Brown has been with the Senators since the most recent version of the Sens was born. What makes Brown so effective is how he has the ability to be biased towards the Sens, but not in an annoying way. It is subtle but present.
Brown also has a distinctive style to his calls that Senators' fans recognize immediately. His "Oh...what a save," as demonstrated in the video is one of his better catch phrases.
Dennis Potvin played on the legendary Islanders teams of the 80s and his knowledge of the game is among the best in all of hockey, as far as color commentary is concerned. He has a great grasp of the rich history of hockey, even if he sometimes seems to be showing off with some of the things he says.
Still, the tandem of Brown and Potvin is one of the more knowledgeable and energized duos on this list.
10. Joe Bowen, Greg Millen: Toronto Maple Leafs

Joe Bowen and Greg Millen comment on a remarkable play.

Another very good duo from north of the border is Joe Bowen and Greg Millen for the Maple Leafs.
Bowen has been with the Leafs for a very long time, since 1982 to be exact. There is little that he has not seen and, much to his chagrin, he has seen far too much losing from the Leafs in recent years. Still, there are not many play-by-play men out there who are better than Bowen.
Bowen's catchphrase "Holy Mackinaw" is a staple amongst the Maple Leafs' faithful.
Greg Millen is not quite on the same level as Bowen. He has his good moments, to be sure. Sometimes, he will get players names wrong, or he will just analyze something incorrectly, such as was the case in the video included with this slide.
But Millen is a quality color commentator and his pairing with Bowen has been one of the bright spots for Toronto fans the past several seasons.
9. Randy Hahn, Drew Remenda: San Jose Sharks

Randy Hahn and Drew Remenda call the Sharks Game 1 win over the Blues from earlier this year.

While Sharks fans have not had a ton to be happy about over the years, they can take solace in knowing they have one of the best broadcasting teams in the NHL.
Randy Hahn and Drew Remenda have just the right blend of excitement and accuracy to make them something special in the world of hockey broadcasting.
Hahn is without question the voice of the Sharks. He has been broadcasting Sharks games for the past 17 seasons and has excelled at it in every way.
Hahn has won five Northern California Emmy Awards. He is one of the most decorated play-by-play men in hockey, and for good reason. He is simply excellent.
Drew Remenda is no slouch as a color commentator either. He has been teamed up with Hahn since 1999, and he too has been honored by those in the industry with three Northern California Emmy Awards.
The two combined broadcast a great game and the fans in San Jose are the lucky recipients of these broadcasts.
8. Mike Emrick, Ed Olczyk and Pierre McGuire: NBC Sports Network

Mike Emrick, Ed Olczyk and Pierre McGuire cover the end of the Caps vs. Bruins Game 7 from the 2012 NHL Playoffs.

Devils fans will cry foul on this because I did not list Mike "Doc" Emerick and Glenn "Chico" Resch, but I have always felt like Doc carried that broadcasting team.
On the NBC Sports Network broadcasts, Emerick and Ed Olczyk—in my opinion anyway—are the better broadcasting team.
Next to Gary Thorne, who I still consider to be the best, Mike Emerick might be the best broadcaster in the game today.
Emerick's list of accomplishments is almost as extensive as his knowledge of the game.
From the Easter Epic in 1987, to the 2006 Winter Olympics, to the Kings' crowning achievement a few weeks ago, Emerick has been there.
In 2008, the Hockey Hall of Fame awarded Emerick with the Foster Hewitt Memorial Award, one of the highest honors a hockey broadcaster can receive.
Doc is simply one of the best in the business.
Ed Olczyk, who was discussed earlier, is a perfect compliment to Emerick and really helps to make the games memorable.
Pierre McGuire is one of the best ice level reporters there is.
Put the three together and what you have is one of the better broadcasting teams in the NHL.
7. Joe Beninati, Craig Laughlin: Washington Capitals

Joe Beninati and Craig Laughlin at their best.

No one says "Scores!" quite like Joe Beninati.
The voice of the Washington Capitals since 1994, Beninati has one of the more iconic calls in the NHL whenever a goal is scored.
Beninati has a knack for building up a play, increasing the tension and creating drama—even if the end result is nothing more than a missed opportunity.
He can get too caught up in the moment at times. But when he keeps things on a more even keel, he is one of the best play-by-play men in hockey.
Craig Laughlin compliments Beninati very well, although he can be quite a bit more harsh on the Caps than Beninati. Not that it is not deserved, as the Caps could quite easily frustrate just about any color commentator out there.
The two have been together for many years, and they show no real signs of slowing down.
6. Rick Jeanneret, Rob Ray: Buffalo Sabres

The best of the magnificent Rick Jeanneret.

If Rick Jeanneret ever gets tired of calling Buffalo Sabres games, I imagine he would fare quite well as a WWE or UFC announcer.
Jeanneret is just one of the best. Sure, if your team is the one the Sabres just scored on, you won't like him much.
But if you are a Sabres fan, or you are indifferent, then Jeanneret might be the best there is.
Jeanneret has announced every season in Sabres history, except for their very first one.
He is one of the most beloved figures on the Buffalo sports scene, having been inducted into the Sabres Hall of Fame in 2011.
In 2012, Jeanneret received the Foster Hewitt Memorial Award from the Hockey Hall of Fame.
Rob Ray is a new addition to the Sabres broadcast team, replacing Harry Neale as color commentary for the Sabres starting this coming season. Ray has a great deal of experience as a former NHL player and a broadcaster, and his pairing with Jeanneret has all the makings of a good one.
Then again, you could put me in there with Jeanneret and he would make me look good.
5. Bob Cole, Garry Galley and Mitch Peacock: CBC Television

The Best of Bob Cole.

Bob Cole is as much a part of hockey as Canada is. The voice of Hockey Night in Canada, Cole has achieved near-legendary status throughout Canada.
What makes Cole so good is how he is able to relay emotion without getting too emotional. He has a tremendous ability to know the exact moment when to go all out and when to throttle back.
His work during the Canadiens v. Kings Stanley Cup Final in 1993 is some of his best. His call of the action during Canada's win over the USA in the 2002 Winter Olympics was equally impressive.
In 1996, Cole was inducted into the Hockey Hall of Fame, having received the Foster Hewitt Memorial Award.
More often than not, Cole is teamed up with Garry Galley for color commentary and Mitch Peacock as an on-ice reporter for broadcasts of Hockey Night in Canada. Both of these guys are very good at what they do.
But make no mistake about it—the CBC broadcasts, along with Hockey Night in Canada, are still all about Bob Cole. At 78 years old, Cole continues to be an effective broadcaster. No matter who he is teamed up with, they will likely gain a great amount of insight from Bob Cole.
4. John Forslund, Tripp Tracy: Carolina Hurricanes

John Forslund and Tripp Tracey with some of their best work, as they call an epic comeback.

John Forslund and Tripp Tracey have provided fans of the Carolina Hurricanes with excellent broadcasting for many years now.
This is particularly true for Forslund, who has been with the team since they were still in Hartford and sporting a Whalers uniform.
Forslund is one of the best play-by-play men in the NHL, and was a staple on ESPN back in the days when live hockey games were still being broadcast there.
The video clip for this slide demonstrates Forslund with one of his better known catch phrases, as he captures the moment of Eric Staal's game winner by exclaiming his famous "Hey Hey Whaddaya Say!"
Tripp Tracey is a great compliment to Forslund and a rather underrated color man, in my opinion.
A former goalie, Tracey loves goalies—even when the goalie could not make a save on a puck that was standing still.
But the vast majority of the time, Tracey is right on the money with his commentary.
Not too many people get to hear this excellent team, and that is really too bad.
3. Ralph Strangis, Daryl Reaugh: Dallas Stars

Ralph Strangis and Daryl Reaugh make this shootout goal memorable.

The broadcast team for the Dallas Stars, Ralph Strangis and Daryl Reaugh, make for one of the more colorful teams in the NHL.
In a city that host's America's Team, Ralph and Razor, as they are known to their legions of fans, remain the most popular broadcasting team in Big D.
Strangis is one of the better play-by-play men today. He is very good at seeing a play developing and being able to accurately and effectively relay that to the audience. A former color commentator, Strangis transitioned nicely to play-by-play once the Stars moved to Dallas.
That transition is not always such a smooth one, but Strangis pulled it off with style.
Daryl "Razor" Reaugh is blessed with a great vocabulary and if you watch enough of him, you might even pick up a word or two.
Like Tripp Tracey, Reaugh is a former goaltender. Unlike Tracey, however, Reaugh can be downright harsh when analyzing a goalie's performance, particularly if it is the Stars' goalie putting forth the subpar effort.
Ralph and Razor have a huge following of fans in Dallas, and for good reason.
2. Bob Miller, Jim Fox: Los Angeles Kings

Bob Miller's call of the final moments of the LA Kings capturing the Stanley Cup.

As far as longevity is concerned, the Los Angeles Kings' broadcast team of Bob Miller and Jim Fox have been together for what seems like forever.
For over two decades, the team of Miller and Fox have been calling Kings' games and doing so at the highest level possible.
In a city known for knowledgeable and vibrant commentators, Miller holds his own with the best of them.
There is little that Miller has not accomplished in a broadcasting career that is approaching 40 years.
He received the Foster Hewitt Memorial Award from the Hockey Hall of Fame in 2000 and even has a star on the Hollywood Walk of Fame.
His skill as a play-by-play man has only gotten better with time. He brings a tremendous amount of the knowledge he has accumulated through the years to every broadcast.
Jim Fox is an almost perfect compliment to Miller. What makes Fox so good as a color commentator is that even though he played his entire NHL career with the Kings, you will hardly ever hear any overt bias from him when he is calling Kings' games.
The two men were finally rewarded for all their years of dedication to the Kings when Los Angeles finally captured the Stanley Cup a few weeks ago.
They are so revered as a team that—as shown in the video clip—prior to the Kings' championship rally, the fans were treated to Miller and Fox's call of the final moments of the Kings' Cup clinching Game 6 victory.
They are two of the absolute best at what they do.
1. Sam Rosen, Joe Micheletti: New York Rangers

Sam Rosen and Joe Micheletti, and a collection of "It's a power play!" calls.

Our exploration of hockey's broadcasting elite has taken us from coast to coast and from border to border.
But the best broadcasting tandem of them all are the two men who broadcast games for the New York Rangers—Sam Rosen and Joe Micheletti.
Rosen has been the voice of the Rangers on the MSG Network since 1984. He has a voice that was seemingly made for hockey.
He is perhaps best known for the way he announces Rangers' power play goals, as demonstrated by the video clip.
"It's a power play goal!"
It sounds basic enough. But the way Rosen has done it through the years makes it something special.
Rosen was there when the Rangers ended a 54-year Stanley Cup drought in 1994. He is also quite versatile, as he broadcasts NFL games for Fox as well.
Joe Micheletti teamed up with Rosen for the 2006-2007 season, and the two have been tremendous ever since.
Micheletti had the advantage of working with Howie Rose for several years broadcasting Islanders' games, so he perfected his trade while working with one of the best.
As a color commentator for the Blueshirts, Micheletti has only gotten better. As a former defenseman, Micheletti is particularly adept at analyzing defensive schemes and strategies.
The Big Apple has a bounty of riches in the sports world and the broadcasting team of Rosen and Micheletti just adds to the haul.
Keep Reading