WWE: John Cena's Greatest Rivalries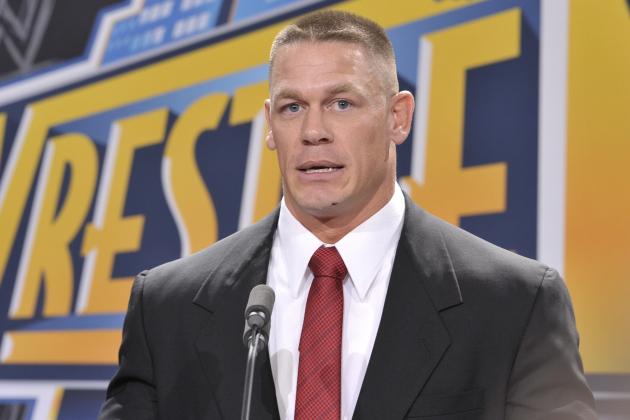 Michael N. Todaro/Getty Images

Earlier this week, John Cena celebrated his 10th year as a member of the main WWE roster.
Like it or not, he's become the main player in WWE.
Nobody else has received the kind of sustained, main-event push that John Cena has in recent years.
Whether or not Cena deserved that kind of push, the fact is that he works hard day in and day out to do what he loves to do.
I'm not a fan of Cena, but that doesn't mean that I don't respect him for everything he's done.
He's had some great rivalries over the years in WWE, so I've decided to look at the eight greatest rivalries he's had in the WWE.
These choices are my own, based on who I feel Cena had the best chemistry with.
Feel free to leave your own comments below and lets get to it.
Begin Slideshow

»
In late 2003, Eddie Guerrero was the United States Champion and the credibility that John Cena gained by feuding with Eddie can't be underestimated.
Although Cena didn't come out in top in their feud, he benefited from working with the veteran Guerrero.
Cena showed that he could hang in the ring with someone as experienced as Eddie and he didn't look out of place.
After this feud, Eddie would go on to drop the US Title to Big Show, who would in turn drop the belt to Cena at Wrestlemania 20.
The match above is one of the better 15 minute matches of Cena's career, and it's no surprise that it was with the late, great, Eddie Guerrero.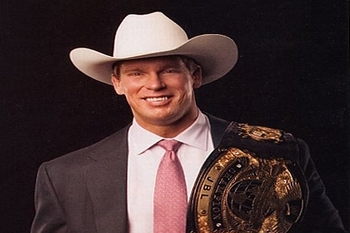 Image courtesy of wrestlingvalley.org
Heading into Wrestlemania 21 in 2005, John "Bradshaw" Layfield (JBL) was the longest-reigning WWE champion for almost 10 years, having won the title from Eddie Guerrero the previous summer.
He needed a rival and WWE was looking to build a future star. Along came John Cena.
By this point, Cena had become a fan-favorite through his rapper gimmick and was tremendously popular with the crowd.
Cena beat Kurt Angle to earn his spot in one of the main-events at Wrestlemania.
In the lead-up to Wrestlemania, Cena lost his United States Championship to Orlando Jordan (a member of JBL's cabinet), leaving him to concentrate on taking the title from JBL.
Cena won his first WWE Championship at Wrestlemania 21 and continued feuding with JBL until he was drafted to Raw in June 2005.
One of the most physical matches I've ever seen was Cena's "I Quit" match with JBL at Judgment Day in 2005.
Cena showed great versatility by being able to contend with JBL's stiff, physical style and it gave John's credibility a huge shot in the arm when he defeated the longest-reigning WWE Champion in 10 years.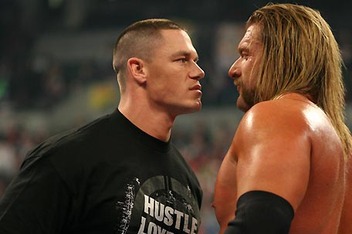 Image courtesy of wrestlingsuperstars.org
When Cena feuded with Triple H in 2006, Hunter was still effectively in the prime of his career and he was the most dominant champion on the roster at that point.
He was a multiple-time world champion and if anyone could put Cena's title reign under threat, it was Triple H.
Widely regarded as one of the best ring generals of his generation, it's always been speculated that HHH goes into business for himself, so I assumed that he'd bury Cena in this feud.
He didn't. Throughout their series of matches, HHH sold for Cena as if he was taking the beating of a lifetime.
By overcoming the boss' son-in-law, it was a huge sign of confidence in Cena from management that they saw him as a long-term main-eventer.
Image courtesy of thejohncenablog.blogspot.com
This time last year, the entire wrestling business was still reeling from the pipebomb that shook the world.
CM Punk had delivered a damning assessment of everything that was wrong in the WWE, including their belief that John Cena was the best in the world.
When it came to light that Punk's contract was expiring, I'll be the first to hold my hands up and say that I thought he was gone, finito, done.
However, in one of the best WWE Championship matches in recent history, Cena put Punk over and the "Voice of the Voiceless" left Money in the Bank as the new WWE Champion.
Cena's feud and rivalry with Punk last summer was positive proof that he doesn't need to win every feud to get over.
In fact, I'd go as far as to say that his match with Punk in Chicago last July was the best wrestling match Cena has had in his career.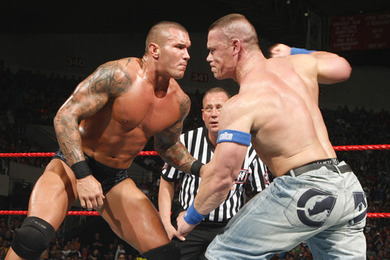 Image courtesy of j-cena.com
The careers of John Cena and Randy Orton have almost run parallel over the last decade.
Both men are seen as the biggest stars in the company (although Orton's position is under scrutiny right now) and they're both multiple-time World Champions.
It was inevitable that they would clash at some point and WWE did a good job of keeping them apart (for the most part) until 2007. Their feud then was brief and ended prematurely due to an injury to Cena.
They'd pick up where they left off a couple of years later and had a series of stellar matches with Cena coming out on top.
I think they've got a great dynamic when they work together and it'd be interesting to see a baby-face Orton take on a heel Cena in the future.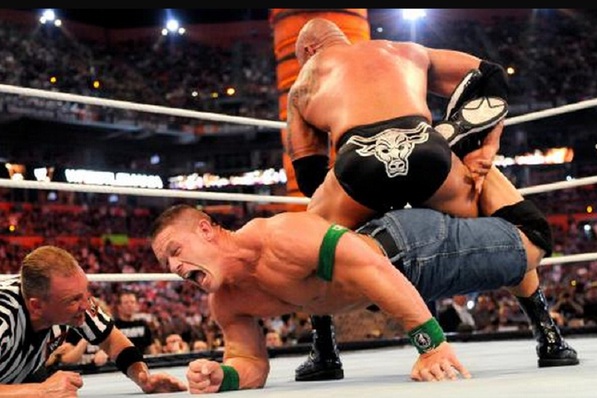 Image courtesy of bleacherreport.com
Unlike every other rivalry on this list, this rivalry wasn't built inside the ropes.
It was built after John Cena gave an interview to The Sun Newspaper in 2008, where he said:
"I've wanted to do this my whole life. Rock falls into that category. At one point he loved wrestling and wanted to do this all his life... I wish he'd just show up... do the eyebrow once and get out of town. Associating with sports entertainment doesn't do much for his acting career. I get it, just don't **** me around and tell me that you love this. That's the only thing that gets me really p***ed off."
Almost three years passed before we got any pay-off, but when The Rock returned to WWE on February 14th 2011, we all wondered if we'd see them get it on in the ring.
Fast-forward roughly eight weeks later and on April 2nd last year, it was announced that we'd get a "Once in a Lifetime" match between Cena and The Rock.
As the months closed in, the rivalry got more and more intense and when two generations collided at this year's Wrestlemania, it was one of the most electric matches on the card.
It worked because Cena and Rock's on-screen characters are so much alike that it was almost guaranteed that they'd collide at one point.
When they did, I don't think anyone was disappointed with what we got.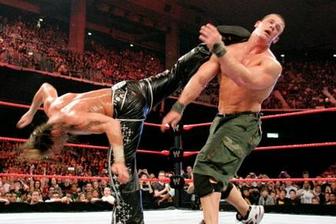 Image courtesy of allwrestlingsuperstars.com
As good as his feuds had been up until 2007, it was his feud with Shawn Michaels that showed us just how good a wrestler John Cena was.
The funny thing is that without Triple H getting injured at the start of 2007, we might never have seen this rivalry at all!
By association, Michaels makes his opponents raise their game and Cena certainly did that.
Their match at Wrestlemania 23 was amazing, but it was their match at a Raw taping a few weeks later in London, England that really made me appreciate what a good worker Cena can be.
You could almost say that Cena's rivalry with Shawn was a symbolic passing of the torch from one generation to another.
If it wasn't for the next man on this list, Cena's rivalry with Michaels might just be his best, in my opinion.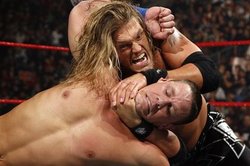 Image courtesy of sports-99.blogspot.com
Edge was someone who always had potential, but it seemed like he'd always come short of being a main-eventer.
Then he won the first Money in the Bank ladder match, guaranteeing him the title shot he'd always craved.
When would he cash it in? Simple, he waited for the perfect opportunity.
That opportunity came after Cena had gone through a grueling Elimination Chamber in January 2006.
After Cena retained his title, Edge came out, cashed in his briefcase and won his first WWE Title.
If it wasn't for Cena, Edge might never have gone on to be an 11-time World Champion.
For me, given their series of matches throughout 2005 and 2006, Edge has to be considered as John Cena's greatest rival.