NBA Draft 2012: 5 Undrafted Players the Charlotte Bobcats Must Target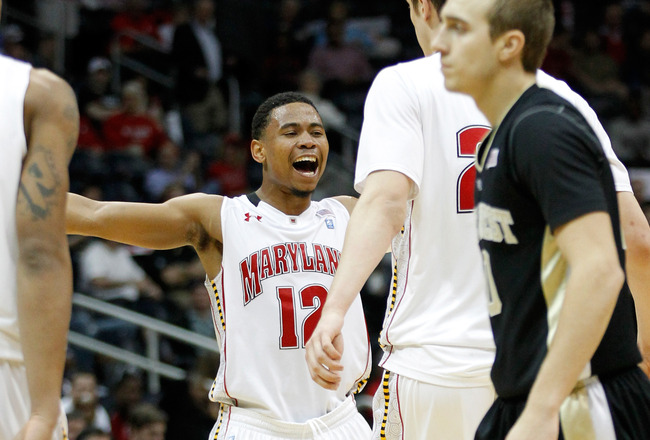 Streeter Lecka/Getty Images
The 2012 NBA draft has come and passed, leaving the Charlotte Bobcats with the two best perimeter defenders that this class had to offer. They've become a more athletic, driven and defensive-oriented team in the matter of one evening, potentially eliminating the chance of finishing 2013 with a win percentage below .200.
The key, of course, is to avoid complacency.
The first step in the process of rebuilding the Bobcats' franchise should come before free agency and trade talks begin. Charlotte should be looking at the slew of young, talented players who went undrafted in the draft process.
As for who those players are, the following slides will cover just that.
5. Henry Sims, Georgetown Hoyas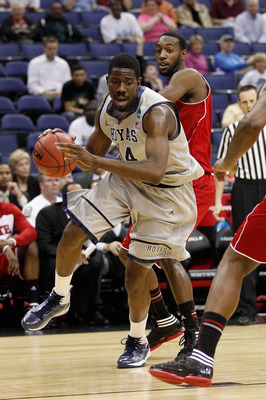 Rob Carr/Getty Images
Position: Center
Class: Senior
Age: 22
Height, Weight, Wingspan
7'0", 241 pounds, 7'4" wingspan
What He'll Bring to the Team
The Charlotte Bobcats are a team with a young and undersized frontcourt. While the addition of Henry Sims won't make them any older, he will add a seven-foot body in the paint with above-average face-the-basket skills.
With the lack of a low-post scoring presence at the 5, Sims could be a rotational player who sees solid playing time. Sims is very long and very athletic. Much like the Georgetown big men who came before him, he's also an excellent passer out of the post.
From his size to his abilities, Henry Sims is a perfect fit in Charlotte.
2012 Season Averages
21.69 PER, 11.6 PPG, 6.0 RPG, 3.5 APG, 1.4 BPG
4. Tony Mitchell, Alabama Crimson Tide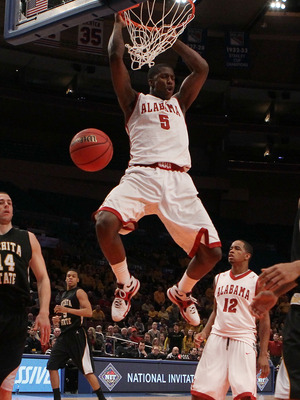 Jim McIsaac/Getty Images
Position: Shooting Guard
Class: Junior
Age: 22
Height, Weight, Wingspan
6'6", 216 pounds, 6'10" wingspan
What He'll Bring to the Team
Tony Mitchell is a defensive force whose well-rounded contributions would improve the quality of any team. While his off-the-court issues scared away teams during the NBA draft, the opportunity to sign the undrafted Alabama alum should not be passed on.
Mitchell has excellent size and length for a player at his position. He's a defensive-minded guy who can truly lock down an opponent. He's also an excellent athlete who can get to and above the rim with ease.
The former star of the Crimson Tide is also the best rebounder at his position. In fact, he crashes the boards better than most 3s and has the athletic ability and strength to play that position. This versatility and much-needed contribution should be the icing on the cake for Charlotte.
2012 Season Averages
21.21 PER, 13.1 PPG, 7.0 RPG, 1.8 APG, 1.4 BPG, 1.0 SPG
3. Kevin Jones, West Virginia Mountaineers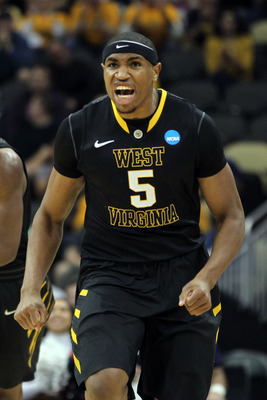 Gregory Shamus/Getty Images
Position: Power Forward
Class: Senior
Age: 22
Height, Weight, Wingspan
6'8", 251 pounds, 7'2" wingspan
Addressing a Need
The Charlotte Bobcats currently run a frontcourt that is nothing short of underwhelming. Their best player may be Bismack Biyombo, a defensive specialist with well below-average offensive abilities. In order to create a greater frontcourt, West Virginia big man Kevin Jones must be on the Bobcats' radar.
Jones is one of the better young scorers at the position. He's strong enough to play in the post and solid enough with his turnaround jump shot to put up points from the interior. He also has jump-shooting range out to the three-point line and the versatility to play both forward positions.
Jones could start early on at a very weak power forward position in Charlotte.
2012 Season Averages
29.10 PER, 19.9 PPG, 10.9 RPG, 1.2 APG, 1.0 BPG, 0.7 SPG
2. Terrell Stoglin, Maryland Terrapins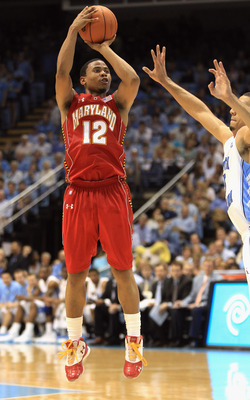 Streeter Lecka/Getty Images
Position: Shooting Guard
Class: Sophomore
Age: 20
Height, Weight, Wingspan
6'1", 185 pounds, 6'3" wingspan
What He'll Bring to the Team
For one reason or another, the Charlotte Bobcats are under the belief that the acquisition of one three-point marksmen will cure their league-worst 29.5 percent shooting from beyond the arc.
To counter that belief, one simple question must be asked and answered: What happens if Ben Gordon goes down? Even more likely than that, what happens if Ben Gordon struggles? As we've seen with Jason Kapono, even the best shooters can lose their touch.
To protect themselves from such an occurrence, the Bobcats must bring in another player who can shoot the basketball. The perfect candidate? Terrell Stoglin out of Maryland.
Although undersized at just 6'1", Stoglin has legitimate star potential. He's a scoring guard who can get to the basket and finish with power that a player his size should not possess. He's also a spread-the-floor shooter with deep three-point range.
Terrell Stoglin could emerge into a potential All-Star.
2012 Season Averages
21.6 PPG, 1.9 APG, 3.4 RPG, 0.7 SPG
1. Scott Machado, Iona Gaels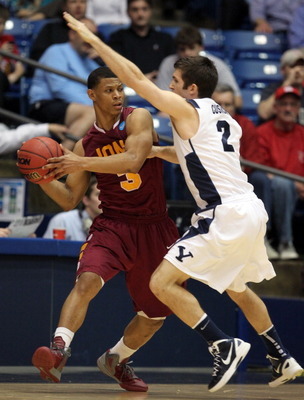 Gregory Shamus/Getty Images
Position: Point Guard
Class: Senior
Age: 22
Height, Weight, Wingspan
6'2", 206 pounds, 6'4" wingspan
What He'll Bring to the Team
While the Charlotte Bobcats have extended an offer to current point guard D.J. Augustin, it cannot be assumed that the former Texas Longhorn will opt to return for a split of playing time. Due to this fact, the Bobcats must capitalize on the opportunity they have to secure a contract with a potential star.
Scott Machado out of Iona has gained traction with Internet fans. For once, the hype is warranted.
Machado is a pass-first point guard whose court vision and facilitating skills are top tier. He's also an excellent shooter with an impressive slash line of .495/.404/.811. While college numbers hardly translate to the NBA level, the playing style and build of Machado resemble that of another young NBA star: Kyrie Irving.
2012 Season Averages
23.48 PER, 13.6 PPG, 9.9 APG, 4.9 RPG, 1.6 SPG
Keep Reading

Charlotte Bobcats: Like this team?