Euro 2012 Final: Italy Will Ride Momentum to European Championship Glory
June 29, 2012

Michael Steele/Getty Images
Italy has won three straight games heading into the Euro 2012 Final against Spain.
With confidence reigning supreme, Italy will ride to European Championship glory. Here are three reasons why the Italians will walk away with the crown. 
Performance Against Spain In Opener

When Italy and Spain locked horns in the opener of Group C, Cesc Fabregas needed to score a goal in the 64th minute to salvage a 1-1 draw. Italy had that game wrapped in its palms before allowing a quality goal from Spain.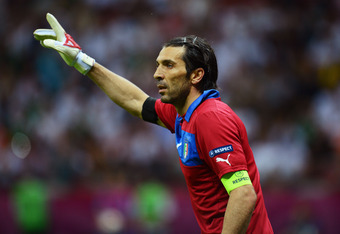 Shaun Botterill/Getty Images
Italy has proved to be Spain's stiffest competition. Spain, a team who usually dominates teams in possession, only held a 60-40 advantage in that category. 
Spain recorded nine shots on target; Italy recorded six.
Playing well against the best team in the world deserves to bring a high level of confidence. Not too many teams could do what Italy did in the opener. 
Italy should be feeling great about its chances. 
Mario Balotelli
"Super" Mario Balotelli scored two goals against Germany, one from a cross and another on a dazzling strike.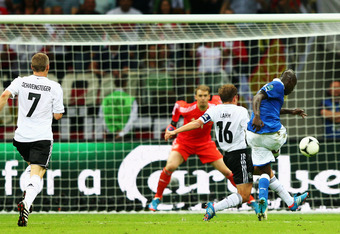 Michael Steele/Getty Images
You don't know which Mario you will get on any given day, but he always brings quality work ethic, hustle and a will to win. 
I would rather have that compared to the other Mario. 
Balotelli's behavior has been great this tournament. It seems that some of the veterans have him calmed down and focused on the task at hand. He doesn't seem as overly involved in all of the extracurricular activity.
This includes cheering for his team even when they score after he is taken out of the game.
Balotelli's mindset is where it needs to be. Don't be shocked if you see him play another wonderful game on Sunday.
Andrea Pirlo
Andrea Pirlo's penalty kick against England was the one that put the dagger in their heart. Not so much on the scoreboard, but the mentality of the Italians was where it needed to be following his penalty kick.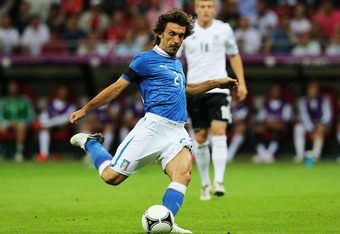 Alex Grimm/Getty Images
It was the kick that gave the Italians belief in the penalty shootout.
Pirlo has been a magician in the midfield, setting up players, slowing down or speeding up tempo and playing the correct ball 99 percent of the time.
Not too many players can make an argument that they are the best midfielder on the pitch when they play Spain. Pirlo makes the best case.
Prediction
Italy 2, Spain 1
The Italians walk away with the European Championship.