WWE News: New Weekly Show Will Allow Overlooked Superstars to Shine
June 29, 2012

The WWE has placed an even bigger emphasis on the main-event scene over the past couple years, causing other portions of the company to get far less television time. That should change with the addition of a new weekly show starting in October.
WWE.com reports the new program, which will be called WWE Main Event, will air Wednesday nights on ION Television. The description says it's going to feature superstars from both brands, making it sound similar to the current Superstars format.
That's good news for all of the wrestlers who struggle to make it on the regular shows, Raw and SmackDown. It's a chance to showcase their talent to a much larger audience and hopefully develop a following among the fanbase to help earn a push.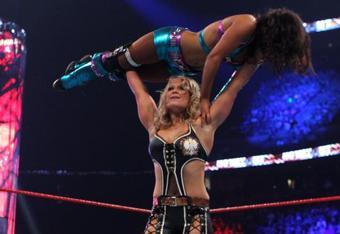 The tag team and Divas divisions are the two that have been the most impacted by the change in philosophy. In recent years, the tag titles have often been held by two superstars who were randomly thrown together to help keep them relevant.
That's why teams like Big Show and Kane or R-Truth and Kofi Kingston have held the belts. They didn't have other feuds available, so the creative team just stuck them together until another angle arrived. For Kingston, it's happened twice.
Things have been even worse for the Divas. Their chances to wrestle on the main shows have become less numerous with each passing month, and, even when there is a match, they usually only last two or three minutes.
It's tough to build any type of meaningful storyline during a short period of time like that. While the division will never become a major part of the programming, they deserve a better chance to have meaningful contributions outside of something, like AJ getting involved in the WWE title feud.
Even the mid-card titles have taken a hit. Current United States champion Santino Marella has rarely defended his title since winning it in March.
Although it's important for top-tier superstars like John Cena, CM Punk and Sheamus to get a lot of airtime to help ratings, adding more depth would really help the overall product.
That's where WWE Main Event should come into play. It will provide the perfect opportunity to make those secondary belts matter again, while also creating and developing angles that can get moved to one of the main shows as they progress.
The program also provides a chance for fan favorites like Zack Ryder and Alex Riley, who have struggled to maintain any relevance on Raw and SmackDown, to get featured more prominently since they will be some of the top stars available for the new show.
All told, it's an ideal addition for the WWE and should really help improve the entire product over the long haul. Too bad it doesn't start for a couple more months.