Wimbledon 2012 Results: Latest Winners and Scores
Clive Rose/Getty Images
Czech mate, Rafa.
Clearly, the story so far at Wimbledon is all about some previously unheard of Czech guy. But I'll get to him in a second.
There are a lot of players making noise at Wimbledon this year; some expected and some unexpected.
Roger Federer looks poised to win another, if he can take down the red-hot Novak Djokovic, while the U.S.actually has some strong play in the tournament between Andy Roddick, Sam Querrey, Brian Baker and Mardy Fish.
Venus Williams is having a disappointing year on the women's side, while the Italian, Sara Errani, is playing the best tennis of her career at the tournament.
Maria Sharapova looked like she could be bound for an early exit before snapping out of it and sending the Bulgarian, Tsvetana Pironkova, home with a bagel in the third.
Here's a look at five storylines heading into the weekend.
Begin Slideshow

»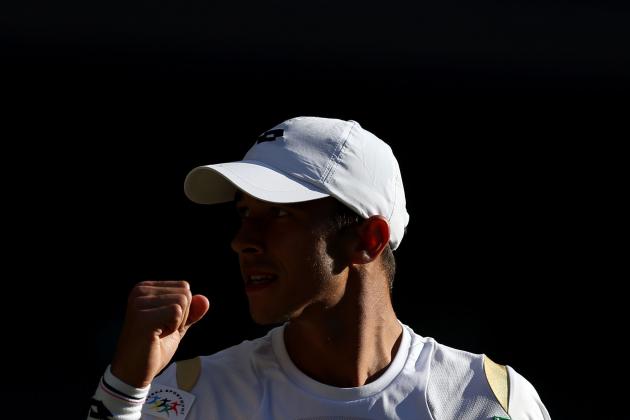 Clive Rose/Getty Images
Rosol stepped out of the shadow on tennis' biggest stage.
Lukas Rosol's upset over No. 2 seeded Rafael Nadal was nothing short of amazing.
How amazing, you ask? Consider the numbers.
Going into the match, Rosol—ranked 100th on the ATP—took down Rafa who had never lost to a player ranked lower than 70th in his previous 178 matches.
They're both 26 years old, but entering the match, Rafa had 583 career match wins to Rosol's 19.
Nadal has 50 career titles.
Rosol? Zero.
It was Nadal's earliest exit in a Grand Slam since 2005. Rosol, meanwhile, had never made it past the qualifying rounds in his five previous visits to Wimbledon, but then beats Nadal in his first appearance on Centre Court in the second round. Go figure.
It was simply amazing to watch unfold. Rosol clearly took Rafa out of his game. The only reason he was able to hang in there was his serve, which eventually faded towards the end of the fifth set.
It's been a while, perhaps since Marat Safin, that I've seen a forehand as wildly powerful as Rosol's. He was hitting it like he had no regard for where it ended up, but somehow managed to place it in the corners of the baseline; sneaking it right past a dogging Nadal.
What we witnessed on June 28 will go down as one of the greatest upsets in Wimbledon history; perhaps in all of tennis.
And it's once again time to wonder whether Nadal will ever win another Grand Slam away from the French Open.
Happy birthday, Rosol. You just played the match of your life.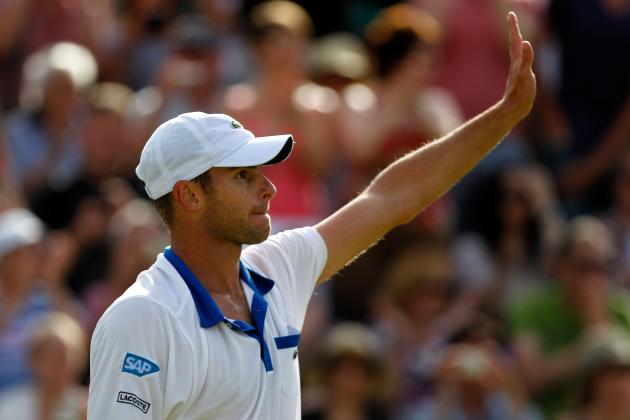 Paul Gilham/Getty Images
Could Andy make a run this year?
By all accounts, Andy Roddick is washed up. It's time to stop wondering whether he'll be able to string together a solid performance in a Grand Slam long enough to actually make it to another final.
But I'm going to do it anyway.
In his second-round match against the German Bjorn Phau, Roddick looked, at times, like his old self; losing serve just once for the match.
He had 13 aces and won 25 points at the net. Despite a trying second set in which he escaped through a tie breaker, Roddick held on to win the match 6-3, 7-6 (1), 6-3.
But now he's about to get his real test from No. 7 ranked David Ferrer. There's every reason in the world to think Ferrer will handle him, but consider that Roddick, despite his struggles entering Wimbledon seeded No. 30, has played rather well on grass as of late.
He entered Eastbourne, earlier in June, much like he entered Wimbledon; as a complete wild card. But he ended up taking home his fifth career grass-court title and just for good measure, has not dropped a set so far on grass at Wimbledon this year.
Could this year be his year to make some noise?
Again, history says he'll falter to Ferrer, but with a 6-4 career record against Roddick, the Spaniard isn't exactly the overwhelming favorite. He also lost to Roddick in the fourth round of the 2011 U.S. Open 3–6, 4–6, 6–3, 3–6.
If Roddick does get past him, he'll likely face No. 9 seed Juan Martin del Potro, who can trade power shots with Roddick all day.
Roddick is going to be the underdog at every stage of the tournament from here on out, but don't call it a comeback if he strings together a run. He's been doing just fine on grass as of late and Wimbledon could be his chance to disprove the naysayers.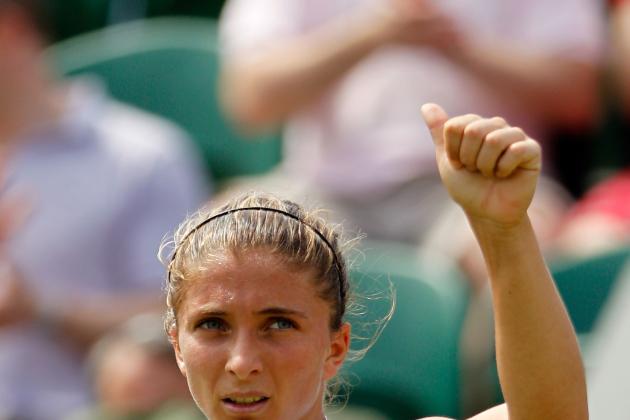 Paul Gilham/Getty Images
Sara Errani is quietly climbing the ATP ladder.
Sara Errani switched rackets at the beginning of 2012, opting for the heavier and longer Babolat to the Wilson that she had been paid to use in previous years.
She had to give back $30,000 in endorsement money to Wilson but the payoff has been huge; she's won $1.3 million in prize money from three singles titles this year, and almost won the French Open after losing to Maria Sharapova in the final.
She entered Wimbledon playing the best tennis of her career—ranked No. 10.
After a second round win in which she breezed by Kiki Bertens 6-1, 6-1, Errani is now the favorite to win in a third-round match against Yaroslava Shvedova.
Errani is going to have a tough time against Serena Williams in the quarters if she advances past Shvedova and Williams beats No. 25 Jie Zhang from China. Errani is a fraction of the size of Williams and will have trouble keeping up with her power.
Errani will have to do what she does best, which is a little bit of everything. Plus, she's got the advantage of speed against Williams.
It's going to take the very best from Errani to beat Williams but she clearly excels as the underdog. Given her recent streak from out of no where, I'm sure she'd have it no other way.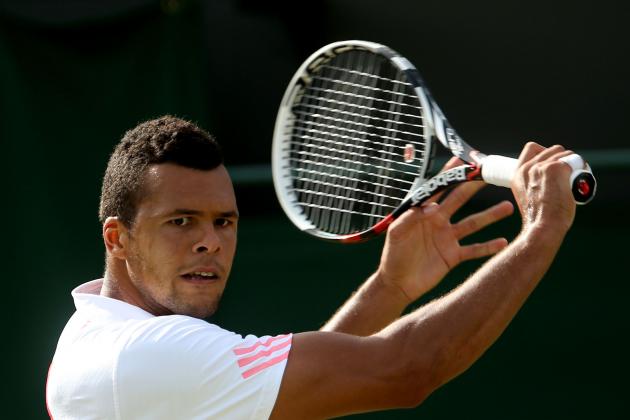 Julian Finney/Getty Images
Jo Wifried Tsonga could challenge for the Wimbledon title this year.
Jo Wilfried Tsonga has been looking awfully good as of late and now finds himself poised to make a deep run at Wimbledon.
The No. 5 seed should be able to handle No. 60 Lukas Lacko in straight sets in the third round of the tournament and then find himself in a likely matchup with No. 10 seeded American Mardy Fish, who is playing well after taking some time off from the game because of a serious heart condition.
Tsonga has a fairly easy bracket and should make it at least to the semis. I don't see a ton of players that stand between him and a date with Roger Federer in the final. Juan Martin del Potro is always a threat, but I think Tsonga is playing better right now.
Guillermo-Garcia Lopez put up a nice fight against the Frenchman early on in the second round, but Tsonga held tough and eventually steamrolled through Lopez; dropping four games over the final two sets.
Between Tsonga's strong play and his relatively easy bracket, I think Tsonga will advance to the final where he'll take a set against Federer but ultimately find himself just short of his first Wimbledon title.
It will actually be sweet revenge for Federer, who lost to Tsonga in the quarters last year.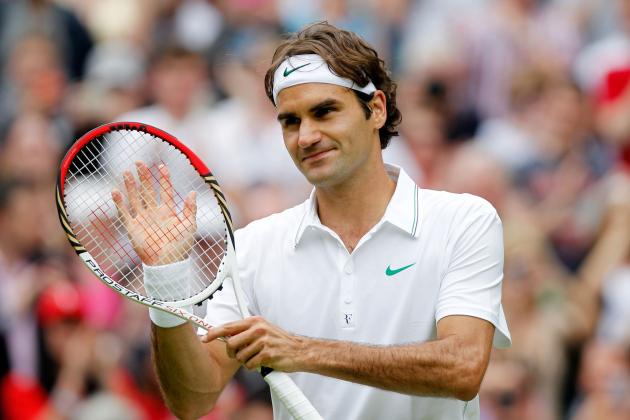 Paul Gilham/Getty Images
Make it seven for Roger at Wimbledon.
When Lukas Rosol sent Rafael Nadal packing on June 28, somewhere Roger Federer must've been smiling. He had just won his seventh Wimbledon title.
I hate to dismiss the competition but let's face it: Federer is the greatest of all time and is no better than when he plays at Wimbledon.
Novak Djokovic will be but a speed bump for Federer in his quest for his 17th career Grand Slam title.
Yes, I know Djoko is one of only four players to take him down in a single year, but Federer is playing like his normal self again and let's not forget he ended Djokovic's 43 consecutive win streak in last years French Open semis.
He is hungry for another Grand Slam after a two-year drought and has looked virtually unstoppable; dropping a total of nine games in his six sets so far in the tournament.
There's not a whole lot to say here. Federer should name his first son Lukas because the Czech just gift wrapped another Grand Slam for him.