Workouts in Waco Another Indication RG3 & Redskins Are on the Right Track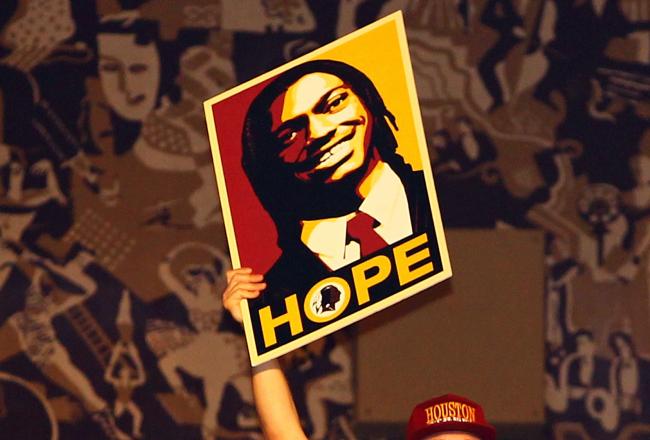 Al Bello/Getty Images
The offseason is a mysterious lady. You never know how much stock to put into the supposedly encouraging developments or how frustrated you're supposed to feel about the discouraging ones.
We would, for example, be smart to temper our enthusiasm regarding reports that Robert Griffin III is throwing missiles, Santana Moss and Chris Cooley are pulling Benjamin Buttons and undrafted rookie Chase Minnifield is only a small step shy of Canton.
Hyperbole has infected every offseason in the history of sports, so overreaction is customary.
But if I were to let myself get excited about one summer story in regard to the Washington Redskins, it'd undoubtedly be the news that Griffin has managed to rally his teammates to join him in—of all places—Waco, Tex. for informal July practices.
NFL.com's Ian Rapoport has the details:
"I'm going to go back and work out with some of my teammates who are coming into town with me to Waco," RG3 told me. "So, it'll be a busy time, but I'm gearing up for this long year that I know it's going to be in the NFL with the long season and the type of grind I have to be ready to go through."

He still has an apartment in Waco, where he attended Baylor University. So, he'll live out his time there, but he won't do it alone. As for names, the Heisman Trophy winner dropped Santana Moss, Pierre Garcon, Anthony Armstrong, Aldrick Robinson, Fred Davis, Brandon Banks and others who will join him.

RG3 wouldn't say whose idea it was — "I don't know who can take credit for it," he said.
If you were an NFL player, would you spend part of your summer vacation in Waco for the good of the team?
In a perfect world, it would've indeed been RG3's idea and he'd just deny credit, but the key is that these guys are so enthusiastic and committed to getting things right from the get-go in 2012 that they're rallying together in relatively small, sleepy, landlocked town in the heart of sweltering Texas in July.
This is a testament to how mature and dedicated the 22-year-old Griffin is. We've heard on a few occasions that he carries himself like a veteran and that he has the discipline and the focus to limit growing pains more effectively than many of the rookie quarterbacks who have preceded him, but now he's backing it up with his actions.
It'll be 101 degrees today in Waco. No hotter than Miami, but they have South Beach. Cooler than Las Vegas, but they have, well, they're Vegas. No offense intended, Waco, but you wouldn't make my list of top 541 summer vacation getaway spots, and none of us get 542 summers.
So kudos to Moss, Garcon, Armstrong, Robinson, Davis, Banks and whoever else makes the trip. These guys have the means to go anywhere in the world next month, and yet they've decided to spend at least a part of their free time in McLennan County, Tex.
More from Griffin, via Rapaport:
"Shockingly, I convinced them to come to Waco, Texas, because not everybody wants to do that. I think next year we'll do it somewhere more flashy, more vacation-like. Miami or Los Angeles, because I won't have an apartment in Waco to move out of. But those guys made the sacrifice to come down and see me. So, it's great that we're already starting off on the right foot. ... All those guys are coming down to throw. For those guys to show that they're willing to come to Waco, Texas to workout with me lets me know they believe in me."
I'm not going to pretend that teams don't get together voluntarily for casual offseason sessions like these all the time, but the circumstances surrounding this series of practices are unique, further bolstering my belief that this fairly young Washington team has the right attitude to succeed.
This article is
What is the duplicate article?
Why is this article offensive?
Where is this article plagiarized from?
Why is this article poorly edited?