NHL Free Agents 2012: Early Predictions for Where Biggest Names Will Land
June 29, 2012

Jim McIsaac/Getty Images
The NHL free agent frenzy will begin on Sunday with several high-profile players weighing their options. There will be no shortage of them for the biggest names on the market as just about every team has holes to fill before next season.
Since the rumor mill has already been spinning for a couple weeks, the market's best players have already been linked to plenty of teams. Let's take a look at three coveted free agents and make a prediction for where they will land when the dust settles.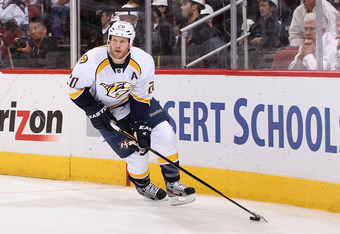 Christian Petersen/Getty Images
Ryan Suter
Suter couldn't have entered free agency at a better time. The 27-year-old defenseman is coming off the most complete season of his career and should just now be entering his prime. He scored 46 points to help lead the Nashville Predators to the playoffs last season.
The two most obvious fits are the Pittsburgh Penguins and Detroit Red Wings. Pittsburgh has been doing some wheeling and dealing already this offseason with hopes of landing a prized free agent and Suter would for a dominant pairing with Kris Letang.
That said, I think the Red Wings would be a better fit. Nicklas Lidstrom, who still had some good years left based on his play last season, decided to retire, which leaves a huge hole on defense for Detroit. Suter would fill it and quickly become a fan favorite in Hockeytown.
Prediction: Red Wings
While Parise was always going to become a hot commodity when he hit the open market, helping the New Jersey Devils make a surprising run to the Stanley Cup Finals boosted his stock even more. Counting the playoffs, he scored 84 points in 106 games.
Not only do those numbers illustrate tremendous skill, but his great durability as well. That was key after a knee injury forced him to miss most of the 2010-11 season. Playing that many games without any issues should give teams confidence in his ability to stay healthy.
Once again, I really like the chances of Detroit and Pittsburgh. It could very well become a situation where one team gets Suter and the other gets Parise. The winger would thrive alongside the talented Penguins centers, making it an ideal fit.
Prediction: Penguins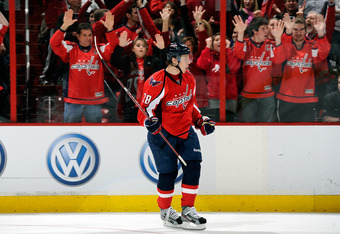 Greg Fiume/Getty Images
Alexander Semin
Even though Semin comes with more risks because he has a tendency to disappear from games, his talent is undeniable and will make him a popular target. As a big piece of the Washington Capitals he scored 21 goals, but is just two years removed from a 40-goal campaign.
A change of scenery would give him a great chance to get his career back moving in the right direction. He's just 28, so his best hockey should still be in front of him and he has the ideal size necessary to excel in the modern NHL.
The best move for Semin would be waiting for Parise to sign, which will then cause the teams that missed out to target him as a second option. Based on their lack of scoring depth last season, the New York Rangers seem like a perfect match.
Prediction: Rangers