2012 NBA Draft Grades: Which Teams Had the Best Draft?
Elsa/Getty Images

The day we had all been waiting for has finally come and passed. The next generation of NBA superstars, starters and role players have found their homes, and the league may never be the same.
As is the result of the annual NBA draft.
The 2012 NBA draft was highlighted by heartwarming moments, oddities and, of course, chants of "Jeff Van Gundy!" As the night progressed and the picks began to dwindle, the world began to differentiate the safe from the gutsy and the great from the good.
So who emerged victorious? Which teams set themselves up for the most promising future? Who had the best NBA draft?
Begin Slideshow

»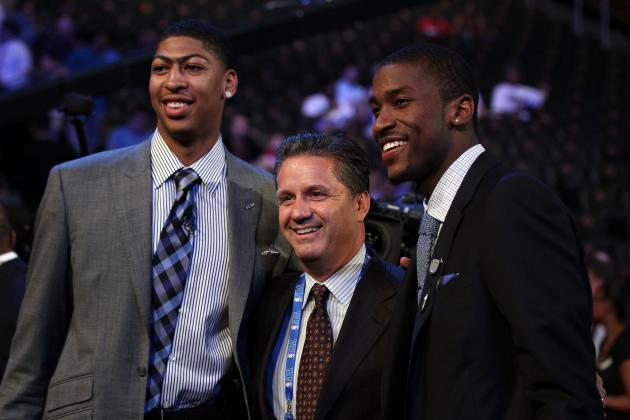 Elsa/Getty Images

When your entire starting five and your sixth man are all drafted, you deserve some recognition. Love them or hate them, John Calipari's crew earned placement on this list.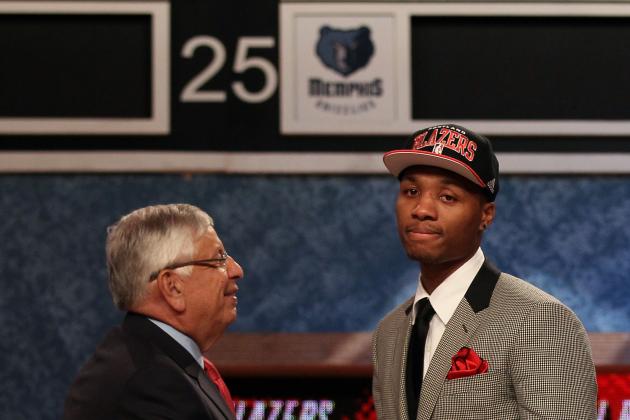 Elsa/Getty Images

When you land the potential point guard, center and shooting guards of your future in one draft, you had a great night. When you manage to add some extra cash in the process, any businessman would be proud.
The Portland Trail Blazers did all that.
We all knew what the Portland Trail Blazers' greatest position of need was, and they addressed it in a major way.
Widely considered to be the best point guard in the draft, Damian Lillard has gone from mid-major standout to top-10 draft choice. Rightfully so, as the super-efficient lead man ranked second in the nation in terms of points per game and player efficiency rating.
Who did he finish second to in the latter? Anthony Davis. Yeah, he's that good.
Pick Grade: A+
While I'm not as high on Meyers Leonard as others may be, you can't argue the rationale behind this pick. The Blazers finally gave up on the Greg Oden experiment, and a lineup with LaMarcus Aldridge and J.J. Hickson as your frontcourt is far too small to be considered viable.
Leonard offers the Blazers the size and defensive presence that they've needed, as well as the added benefit of athleticism. Watching him run in transition with Damian Lillard should be entertaining for the fans, while his help-side defense for LaMarcus Aldridge should be a remedy for the injury bug.
Pick Grade: B+
Will Barton
Let's make one thing perfectly clear: As soon as Will Barton adds any form of muscle to his body, this kid will be unstoppable. Regardless of where he was plucked off the board, this kid has franchise player abilities.
Barton can light it up from distance, put the ball on the floor and attack or finish in transition. He's a passionate player with a respected motor who led the Memphis Tigers to an improbable NCAA tournament berth in 2012.
Barton thrives under the bright lights and offers the Blazers what they've needed since Brandon Roy's injuries first began: a true scoring threat from the perimeter.
To get that type of value in the second round is unbelievable.
Pick Grade: A+
Overall Draft
The Portland Trail Blazers entered the draft with three major needs and left with three solid answers. While the names may not be of star value, the players offer efficient and impressive production. Each will fit nicely into the Trail Blazers' rotation, with at least two starting as rookies.
If that's not a great draft, I don't know what is.
Overall Draft Grade: A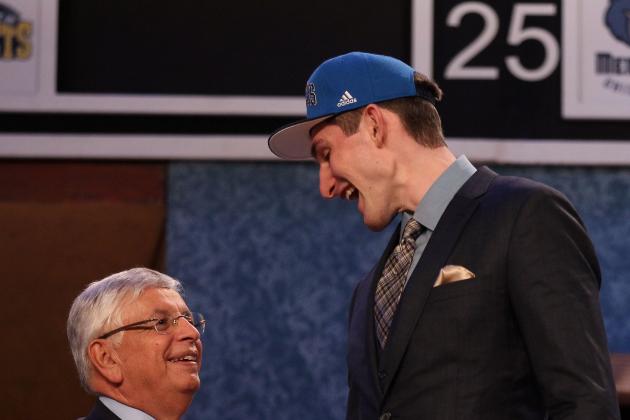 Elsa/Getty Images
The Mavericks turned a post-lottery pick into four outstanding selections.
The NBA draft was a crazy one for the Dallas Mavericks, as they went from the owners of Tyler Zeller's draft rights to the team who walked away with three solid draft picks. That includes a standout guard, the Big East Player of the Year and the NBA draft's favorite selection.
The Dallas Mavericks have long needed an athletic player who can create his own shot on the perimeter. Jason Terry's abilities have been limited by the lack of an alternative to take the attention off of his three-point shooting, while Dirk Nowitzki faced more double-teams in 2012 than he had the entirety of his career.
By drafting Jared Cunningham (technically), the Mavericks land a true star talent. Cunningham will go down as the steal of the draft and has all the tools to emerge into a star point or 2-guard.
Versatility is the key here, as Dallas may miss out on the Deron Williams sweepstakes.
Pick Grade: A+
Bernard James
On camera, the crowd rained down on Bernard James with chants of "USA!" Off camera, the crowd of hardly over 100 anxiously awaited his arrival at the gate and showered him with those very chants for a second time. James responded with a humble "Thank you," walking away and giving high-fives to the fans nearby.
Talk about a great first night in the NBA.
What James brings to the Dallas Mavericks is what they've needed all year: a dominant interior defender. James is as great as any on the glass and even better shot-blocker. While his offensive game could certainly use development, his high-energy play is exactly what Dallas has needed.
Pick Grade: A-
Jae Crowder
The Big East Player of the Year is entering the best situation possible. He's set to play for a playoff team while sitting behind a guy whose game bares eerie similarities to the former Marquette star.
That player, of course, is Shawn Marion.
Crowder is a do-it-all player who redefines the term "versatility." He's an elite low-post scorer, a very good mid-range jump shooter and a powerful finisher around the basket. He's also an excellent defender who can play in the post or out on the perimeter.
Crowder is also a talented ball-handler and distributor and a natural-born leader. Considering the Mavericks landed him as a complementary piece in their draft trade, this pick grade goes even higher.
Pick Grade: A
Overall Draft
The Dallas Mavericks turned a solid draft night into an outstanding draft night. They landed hustle players who will give their all on both ends of the floor, as well as skilled players who will contribute in areas of need.
Most importantly, they filled a gaping hole in the paint by drafting an elite shot-blocker.
Overall Draft Grade: A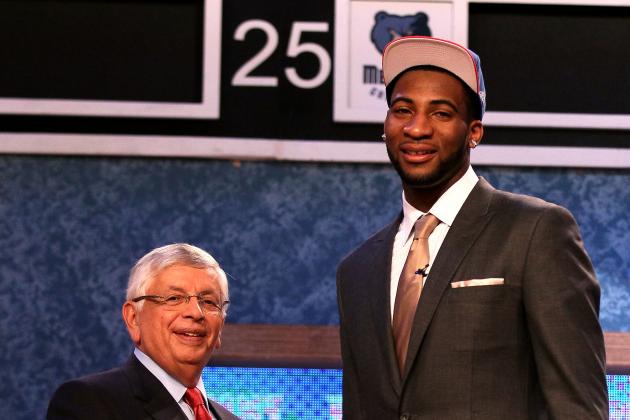 Elsa/Getty Images

In the first round of the 2012 NBA draft, the Detroit Pistons' dreams came true when prized center Andre Drummond fell to them in the first round. In the second round, their fortunes continued to grow richer.
Andre Drummond
In landing Drummond, the Pistons filled their greatest need: the presence of a dominant interior defender.
While Greg Monroe will pour on the points and grab some rebounds, he's hardly a defensive force. Andre Drummond will make up for that in a major way with his help-side defense, shot-blocking prowess and rebounding efficiency.
Drummond will also offer aid to Monroe on the offensive end of things, as he's a menace on the offensive glass.
Pick Grade: A+
Khris Middleton
Tayshaun Prince is 32 years old, so the time is now for the Pistons to find him a protege. While many may view this selection as far from a crowning of such a role, it is not. Khris Middleton is the real deal.
Middleton is a very long wingman with outstanding shooting skills. He's a tough player with surprising athleticism and solid floor vision. He's also an above-average ball-handler whose skills translate to the NBA in a manner similar to those of Tayshaun Prince.
It'll be a process, but the Pistons may have landed a long-term replacement.
Pick Grade: A-
Kim English
When the Detroit Pistons traded Ben Gordon, the greatest concern was how they would spread the floor with the lack of a three-point marksman. Upon drafting sharpshooter Kim English, that concern is no longer of importance.
English is an elite shooting prospect with deep range that spans well beyond the NBA three-point line. He's a consistent player with a great head on his shoulders who improved in every one of his four seasons at Missouri.
English is also considered to be a great locker room and on-court leader, which the young Pistons could certainly use as their veterans begin to retire.
Pick Grade: A
Overall Draft
The Detroit Pistons came into the draft with two major needs and one move for consideration: a dominant interior defender, a three-point marksman and a long-term replacement to the aging Tayshaun Prince. Detroit hit the nail on the head with each of their three picks, placing themselves in a promising position for the future.
There's no logical way to complain about this good of a draft.
Overall Draft Grade: A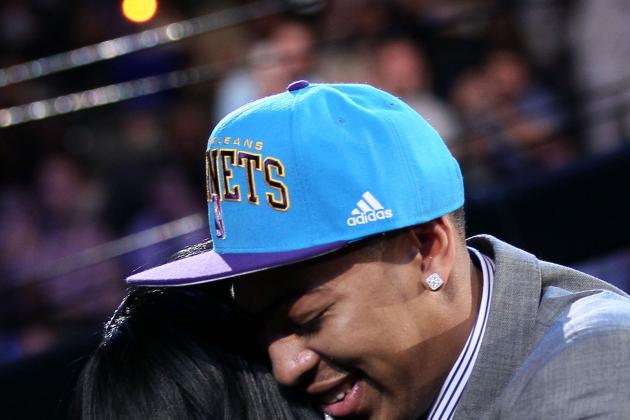 Elsa/Getty Images

Landing Anthony Davis automatically places you on this list. When you also draft a coach's son who thrives as a playmaker, as well as a great shooter who happens to be Davis' college teammate, you've done your job very well.
An outstanding draft by the New Orleans Hornets.
Anthony Davis
Does anything even need to be written here? The New Orleans Hornets landed a rookie who, in his first year in the league, will be in consideration for the label of "best interior defender." Once NBA fans see how much range Davis truly has on that end of the floor, however, the word "interior" will be eliminated.
On offense, Davis is clearly a work in progress. Nevertheless, he's very good at taking opponents off of the dribble and has a solid enough mid-range jump shot that opponents must pay mind to his abilities. If all else fails, he's also one of the best offensive rebounders in this class.
Anthony Davis was the clear-cut favorite to go first overall for a reason.
Pick Grade: A+
While some may not be as high on Austin Rivers as others, the New Orleans Hornets made the right move with this pick. While some would have liked to see them go after Kendall Marshall at 10, their greatest need was that of a dynamic playmaker on the perimeter. Austin Rivers can be just that.
In all likelihood, his selfish tendencies will disappear. Regardless of who you may be the son of, any coach will bench you if they feel you're hurting the quality of your team. Due to this fact, Rivers' pure abilities, which certainly classify as elite, will be on full display.
Don't forget the most important fact of all: For every shot Austin Rivers misses, Anthony Davis now has a chance to get his hands on it. Who would be upset with that?
Pick Grade: A-
Darius Miller
Darius Miller is an outstanding jump shooter with deep three-point range. He's also a college teammate of first overall draft choice Anthony Davis. When you're able to add depth on the perimeter and familiarity for your franchise player, you couldn't possibly have done a better job utilizing your second-round pick.
Darius Miller is likely to play the role of sixth man in the NBA, which is far from a bad thing. Miller is a high-energy player who positively influences those around him. He's also considered to be a respected leader who is not afraid to be vocal in the locker room or on the floor.
His athleticism and defensive abilities will certainly be welcomed as New Orleans moves quickly to replace Trevor Ariza.
Pick Grade: A
Overall Draft
If we're being honest here, the weight that Anthony Davis' selection carries is much higher than any of the other two picks. For that reason alone, this draft can be ranked as high as any.
With that being said, don't undervalue the Hornets' second and third draft choices. Both are talented players who will contribute off the bat, which is exactly what the Hornets were looking for at this point in the draft. Rivers could start at the point as a rookie, while Miller could see consistent minutes at the 3.
A great draft throughout.
Overall Draft Grade: A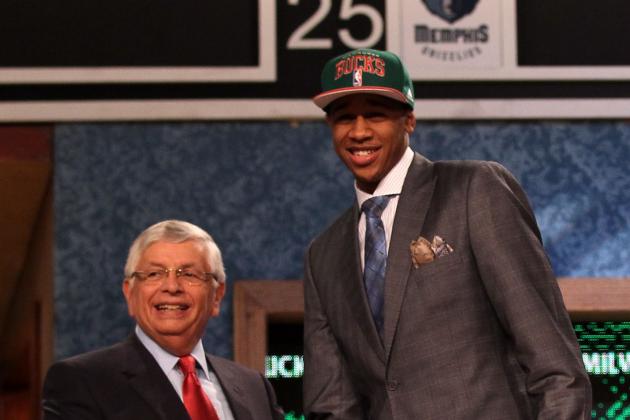 Elsa/Getty Images

This probably isn't the name you expected to see, but take a look at how great of a night this team had. The Milwaukee Bucks landed a pure steal with their first-round draft choice and the second-best three-point shooter with their second-round pick.
From spreading the floor to drastically improving their interior defense, the Bucks did with two picks what most teams had hoped to with three or four.
The Milwaukee Bucks went into the draft with one glaring need that outweighed any "best player available" approach. They solved it and added more than expected with their selection of John Henson.
With the lack of a respectable interior defender, the Milwaukee Bucks knew that their options were slim. Rather than taking a chance on a future role player (Tyler Zeller), the Bucks opted to go with a player who not only improves the interior defense but also fits perfectly with the players currently on their roster.
Consider this a cure-all in many senses of the word.
Henson can run the floor with Brandon Jennings and Monta Ellis, as he's the easily most athletic big man in the draft, with only Perry Jones III coming close contesting that claim. His athleticism is paired with patience and prowess on the defensive end, making him an early favorite for an All-Rookie team due to his shot-blocking and rebounding abilities alone.
The Bucks hit the jackpot here.
Pick Grade: A+
Doron Lamb
The debate for "best shooter in the draft" came down to two players: John Jenkins and Doron Lamb. With Jenkins off of the board, the Bucks did the next-best thing and added the consistent perimeter shooter that they've always needed.
While Ersan Ilyasova posted a great percentage and both Brandon Jennings and Monta Ellis are threats from distance, each have their issues. Ilyasova makes just one three-pointer a game, while Jennings and Ellis are the furthest thing from consistent. Doron Lamb, meanwhile, is a player who works well without the ball in his hands and creates his own shot equally as efficiently.
Lamb's presence on the perimeter will make life easier for Jennings and Ellis, as they both can focus more on attacking the basket and facilitating the game. Brandon Jennings will benefit the most, of course, as he finally has a counterpart who can knock down the open shot he offers.
Pick Grade: A
Overall Draft
The Milwaukee Bucks filled two major holes in their roster and walked away with one of the best drafts of the night. They've improved in every sense of the word and have nothing to hang their heads about.
Expect both selections to see major playing time in their first year in the league.
Overall Draft Grade: A+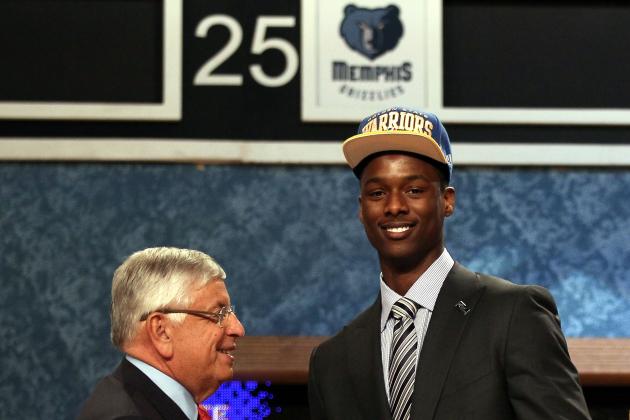 Elsa/Getty Images

The Golden State Warriors are preparing for their move to San Francisco in all the right ways.
From stealing a franchise player at No. 7 overall to finding starter's value in the second round, the Warriors certainly had one hell of a draft. They've filled their needs, added some depth, and in just one evening, they've become one of the most promising franchises in the NBA.
Here's how it all went down.
Let's be frank about one simple fact that transcends opinion: Harrison Barnes' talent suggests that he should have gone much higher than seventh overall. Due to this fact, it's rather obvious that the Warriors are in fact the favorites to win "steal of the night."
Yes, we are forgetting you, Oklahoma City. You're in a league of your own.
Barnes is an outstanding jump shooter with the potential to be a dominant two-way player. Barnes has the ability to be a lockdown defender, all the while maintaining his offensive prowess as he puts up points when they're needed most.
Consider him what Golden State thought they were getting in Dorell Wright.
Then tack on the leadership skills that no one in Golden State currently possesses. This was the best-case scenario for Golden State.
Pick Grade: A+
For those unfamiliar with Festus Ezeli, there is one player that you can liken him to: Kendrick Perkins. The difference between the two is that Ezeli actually has the potential to do anything at all on the offensive end of the floor.
Ezeli is the type of player who doesn't need very many minutes to contribute in a major way. He's an excellent shot-blocker with a feared defensive presence. He's not afraid to play the role of enforcer in the paint, either, as his strength and physicality make for welcomed benefits to a finesse frontcourt of David Lee and Andrew Bogut.
Pick Grade: A
Draymond Green
I was almost as shocked to see Draymond Green fall to 36th as I was to see Perry Jones III fall to 28th. For those who feel that's an outrageous comparison, tell me who else has posted as many NCAA tournament triple-doubles as Draymond Green.
I'll give you a hint, they're both Hall of Famers.
Green does everything Royce White does, but better. He also has less baggage coming with him, as Green's character has never come into question. Instead, Green was considered to be one of the best floor generals in the nation and will likely reprise that role in Golden State.
No matter where the Warriors put Green on the floor, he's going to contribute in as well-rounded a manner as you could imagine.
Pick Grade: A+
Overall Grade
The Golden State Warriors needed to add high-character players who could offer them upgrades on the defensive end of the floor. They did just that with three brilliant selections, including two of the biggest steals of the draft.
Overall Draft Grade: A+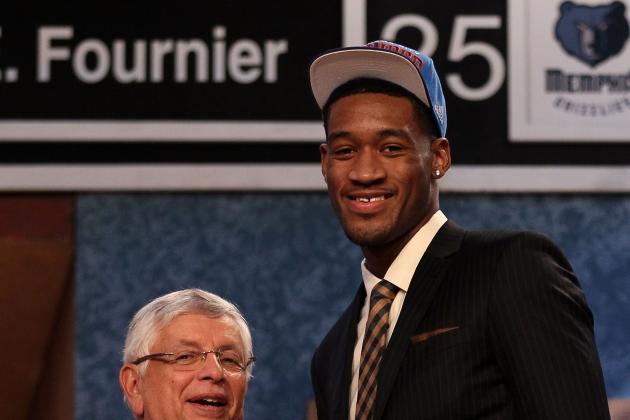 Elsa/Getty Images

With one draft choice, do the Oklahoma City Thunder really deserve an honorable mention after the selection for best draft? Yes, they do.
The Oklahoma City Thunder pulled the trigger when no one else believed it was right to. In all likelihood, this will lead to Perry Jones III offering his thanks to the organization via the realization of his potential and emergence into one of the game's best. If anyone can do it, it's the best young core in basketball, whose own potential was once called into question.
What's most important about this pick is not the steal, the risk or the ability. It's the depth that the Thunder have acquired.
With both James Harden and Serge Ibaka poised to become unaffordable free agents in 2013, the Oklahoma City Thunder needed to act fast and find safety and security in case of their departure. They did that and more by offering a player whose upside has been likened to their current superstar, Kevin Durant.
If the Thunder's starting lineup ends up looking like this, I think we'll look back on this draft and crown them as the champions.
PG: Russell Westbrook
SG: Thabo Sefolosha/James Harden
SF: Kevin Durant
PF: Perry Jones III
C: Serge Ibaka/Kendrick Perkins