NBA Undrafted Free Agents 2012: Top 5 Players on the Market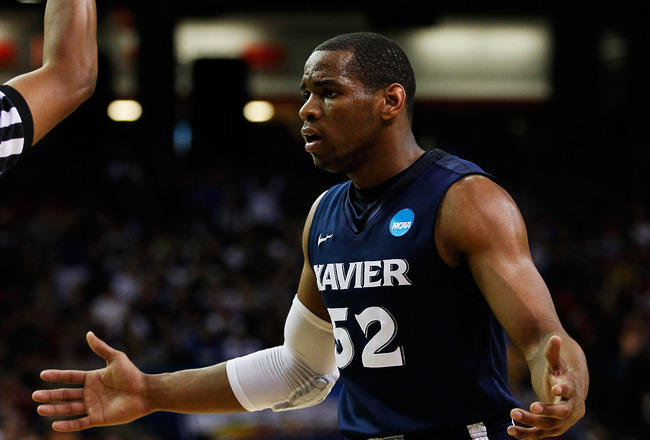 Kevin C. Cox/Getty Images
Last night's NBA draft was full of curveballs, and some of them made me just plain angry. Especially in the second round, too many teams rolled the dice instead of drafting for needs that could immediately contribute.
As a result, players like Kevin Jones of West Virginia and Tu Holloway of Xavier (pictured) were left undrafted and must now wonder what the next step is in their basketball careers, if any such step exists at all.
I seriously don't understand why teams would choose to select some prospects who are raw in every way, shape and form over players who have the skill set, but just require a bit of patience.
Here are five players who went undrafted last night. Teams will soon regret not taking chances on them.
No. 5: Henry Sims, C, Georgetown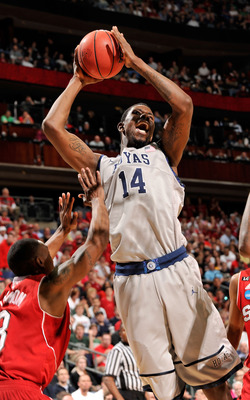 Jamie Sabau/Getty Images
At first glance, I can understand why Sims would scare some people off. He isn't a particularly great athlete, and he was an average center in Georgetown's system, which is designed around a big man.
Still, Sims has decent size at 6'10", 245 pounds and has a good basketball IQ. More importantly, he is extremely coachable after spending four years playing for John Thompson III.
That said, was he really that undraftable?
No. 4: William Buford, SG, Ohio State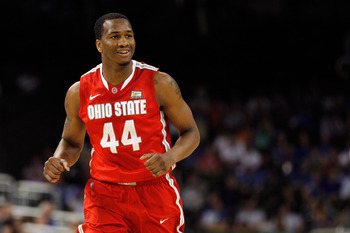 Chris Graythen/Getty Images
Okay, so Buford's game is completely one-sided. He can't play defense to save his life, and in terms of creating his own shot, he's basically a coin-toss.
Still, Buford was an incredible shooter during his time with the Buckeyes. When he got an open look, he was pretty consistent. He shot 39 percent from three-point land in four years and has great size for a shooting guard at 6'6" and 220 pounds.
Why were teams so turned off by him?
No. 3: Kevin Jones, F, West Virginia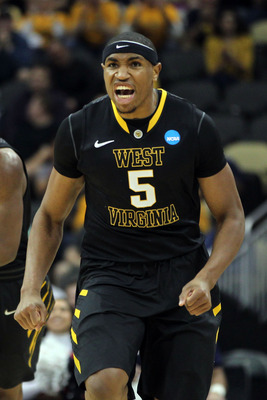 Gregory Shamus/Getty Images
Last season, Kevin Jones led the Big East, otherwise known as probably the toughest conference in college basketball, in both scoring and rebounding with 20.1 points and 11.1 rebounds per game.
He showed decent athleticism, and despite seeming a little out of shape at 6'8" and 260 pounds, it looked as though his determination could earn him a spot in the NBA.
Apparently not, it seems. Jones went undrafted and thus teams lost out on someone who could become a monster on the inside.
No. 2: Tu Holloway, PG, Xavier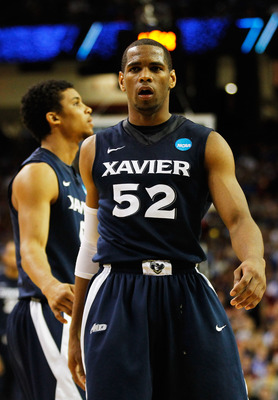 Streeter Lecka/Getty Images
At Xavier, Holloway was a good scoring point guard. His assist totals were less than average, but it should be noted that he was the only truly reliable scorer on the team for much of his time there.
In terms of why teams would avoid him, I have a couple of theories.
First, Holloway is 6'0", 190 pounds and plays average defense. At the NBA level, that could come back to hurt him in the long run.
Second, maybe his playing in the not-that-competitive Atlantic 10 Conference caused some to view his stats as padded?
Then again, Andrew Nicholson of St. Bonaventure was drafted, so there's no reason that Holloway shoudn't have been as well.
No. 1: Scott Machado, PG, Iona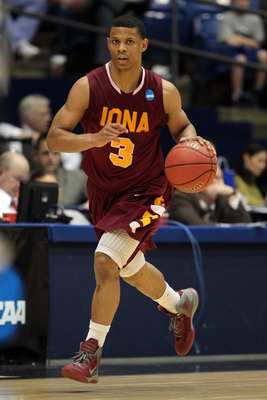 Gregory Shamus/Getty Images
Machado looks undersized at 6'1" and 180 pounds. Furthermore, in terms of his offensive game, he's a raw scorer. Yet, this is the man who led the nation in passing last year.
He's a team-first player who, at the NBA level, could excel at getting his teammates the ball and in time become an average scorer. On top of that, he plays defense extremely well.
That all being said, I honestly have no idea as to why a point guard-hungry team like the Knicks would pass on Machado in favor of someone like Kostas Papanikolaou. He just looks like another Frederic Weis waiting to happen.
Keep Reading