Spain vs. Italy: Date, Time, Live Stream, TV Info and Preview
June 29, 2012

Claudio Villa/Getty Images
This is it, folks.
The Euro 2012 finals.  Spain vs Italy.  Everything will be on the line as Spain looks to win two back-to-back Euro championships.
Will they be able to accomplish what's never been done before?  They're on a huge roll, winning 32 of their last 35 competitive games.  Spain also has arguably the best goalkeeper in the world in Iker Casillas.
They have only allowed one goal so far in the Euro 2012, but it was against Italy's Antonio Di Natale.
On the other side of the ball, Italy is riding a huge wave of momentum after having beaten England and now Germany as well.
Italy owes a large portion of its success to forward Mario Balotelli, who helped elevate Italy over Germany in the semifinals.
Spain and Italy already clashed in the Euro opener, and ended up drawing 1-1.  This time, however, there will be no draw, and it will be interesting to see what side wins.
The immovable object known as Spain clashes with the unstoppable force known as Italy.
Where: Olympic Stadium, Kiev, Ukraine
When: Sunday, July 1 at 2:30 p.m. ET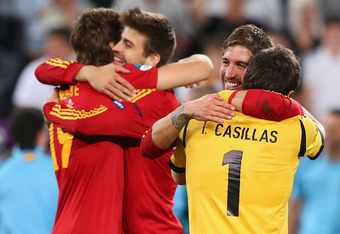 Alex Livesey/Getty Images
Watch: ESPN
Live Stream: ESPN3.com
Spain Needs to Do What They Do Best, and Then Some
The key for Spain's victory over Italy lies in what they have been doing throughout the tournament so far.  Spain has dominated ball possession in every match they've been in so far throughout the Euro tournament.
If they plan on having any success against Italy, they need to continue that trend in the finals.  Spain's "tika-taka" style of football will be the key in taking down Italy.
Spain also has to keep up their stellar defense and stop Italy from making shots on goal.  If they can keep that up, then one-half of their problem is solved.
Still, Spain needs to do more if they plan on beating Italy.  With their "tika-taka" style of football, they have been lacking on offense.  Spain seems to be lacking when it comes to finishing a game, or for that matter, anyone who can take advantage of Spain's dominate ball control and score.
Spain will have to decide who to start and what offense to use to give them some scoring power against Italy.  Some of Spain's offensive weapons who need to majorly contribute are: Cesc Fàbregas, Jesús Navas or maybe even striker Fernando Torres.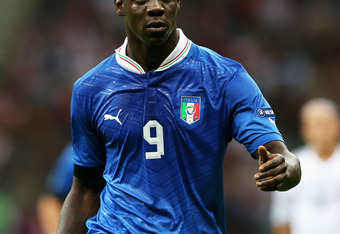 Joern Pollex/Getty Images
Regardless of what type of offense Spain decides to start with, they will need to be more aggressive than they have been so far.
Italy Should Not Be Taken Lightly
Italy has made it to the finals by knocking off England and Germany.  This is one team that should not be taken lightly and has thus far proven just that.
Forward Mario Balotelli is dangerous and has proven to be a clutch player so far in the Euro tournament.
What's important to remember about Italy is how they tied Spain in the group C opener.  That was with Spain using their dominant control and possessing the ball 60 percent of the time, having eight more shots on goal than Italy did, and five more shots on target than Italy.
Yet even with those dominant possession stats, Spain could not beat Italy.
Italy also has a solid goalkeeper in Gianluigi Buffon, who proved that he could be a defensive threat when Italy was able to hold down the high-powered Germany to just one goal.  Buffon has only allowed three goals in the last five matches.  While not quite as impressive as Casillas from Spain, Buffon is a goalkeeper who can get the job done and might pose a problem for a Spain team that seems to be lacking in offense.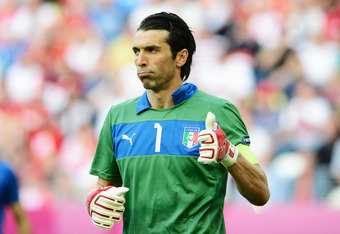 Claudio Villa/Getty Images
Possession won't be the key to success for Italy.  When they went up against Germany, for example, Germany had more time of possession, 56 percent to Italy's 44 percent, made nine more attempted shots than Italy and had four more shots on target than Italy did.
Yet Italy still won the game 2-1.
Italy's key to success will be utilizing its trio in forwards Mario Balotelli, Antonio Cassano and midfielder Andrea Pirlo.  The key will be for these three to adjust to Spain's defense, and when Italy does come under possession of the ball, they need to find a way to make the shots count, and score.
Prediction
It's hard to predict who the winner of this game will be.  Will Spain's dominate defense and possession control be enough to stop Italy?
It wasn't when these two teams met in the group C opener, but a lot about Spain could have changed since then.  If there was ever a time for Spain's offense to kick it into high gear, now would be the time.  While Italy's defense may not be as good as Spain's, Spain won't be able to score unless they get their offense going.
Look for Spain to try and slow down Balotelli with two defenders, but will that be enough?
Italy is a high-powered offensive team.  If they can manage to score one or two goals in the first half, that could be enough to put Spain away.  With a solid defense and an excellent goalkeeper in Buffon, possession might not matter all too much to Italy.  If they can put up numbers when they get the ball, they could prove troublesome for Spain.
Spain Wins on Penalty Kicks
In the end, I think this game will go 0-0.  While Italy has shown that possession may not matter that much to them, Spain's defense is something that should not be taken lightly.  It is the best in the world, after all.
At the same time, I don't think Spain will be able to get going offensively.  This game will go much like the first, expect without either team being able to score, setting up for penalty kicks.
PKs are where Spain will steal the win.  For as good as Balotelli is, I don't think his performance alone will be enough to help Italy.  Spain has been here before, and they know what it's like to be world champions. 
Defensively, Spain will be too much for Italy to handle, which is why Spain will walk away with the win.