2013 NBA Mock Draft: A Sneak Peak at Next Year's Crop
June 29, 2012

Kevin C. Cox/Getty Images
If you aren't satisfied with who your team took in the 2012 NBA draft, there's always next year! Sure, the 2013 draft is just under a full year away from becoming a reality, but it's never to early to take a look at the cream of the crop in next year's class. 
Once more, it is most likely going to be dominated by a big freshman from Kentucky with curious hair growth. In fact, the Wildcats appear likely to send four players to the first round for the second year in a row. 
Although it's early, this class appears to be stacked. 
The draft order is taken from NBADraft.net's 2013 mock draft. 
1. Charlotte Bobcats: Nerlens Noel, C, Kentucky
A dominant defensive player and a terrific shot-blocker, Nerlens Noel is going to make the Kentucky Wildcats feel as though Anthony Davis never left Lexington. 
Now it's just a matter of time before the flat-top becomes as popular as the unibrow. 
2. Washington Wizards: James McAdoo, PF, North Carolina
James McAdoo flirted with the idea of turning pro after his freshman season with the Tar Heels, but thought better of it. He shined during the when he was on the court, however brief those moments may have been. 
An intelligent basketball player with great footwork and more-than-adequate athleticism, McAdoo is only going to impress as he earns more playing time. 
3. Cleveland Cavaliers: Adonis Thomas, SF, Memphis
A freakishly long player with hops, Adonis Thomas and his 7'0" wingspan have just about every physical tool you could ask for in a young small forward. 
He may settle in as a power forward before it's all said and done, but he's a small forward for now at 6'7" and still growing. 
4. New Orleans Hornets: Cody Zeller, C, Indiana
The younger brother of North Carolina standout Tyler Zeller, Cody is just on an entirely different level as a prospect. 
As he continues to add strength, he's going to be even tougher to stop in the low post with his diverse set of moves. 
5. Sacramento Kings: C.J. Leslie, SF/PF, N.C. State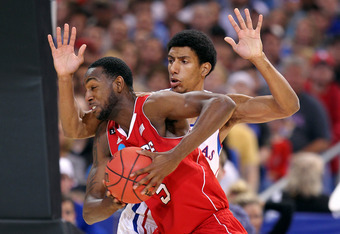 Andy Lyons/Getty Images
C.J. Leslie was projected as a late first-rounder at some points during this past draft process, but he'll use his junior season at N.C. State to shoot up the boards with his athleticism. 
Leslie doesn't have great strength yet, but he does have a massive amount of size and quickness. 
6. Brooklyn Nets: Rudy Gobert, PF/C, France
The first international prospect will likely be taken a lot sooner in 2013 than Evan Fournier was in 2012. 
A 7'1" big man with a 7'9" wingspan, Rudy Gobert is a terrific rebounder and a menace to everyone who even considers entering the paint. 
7. Golden State Warriors: Shabazz Muhammad, SG, UCLA
The lefty shooting guard may move up higher than this by the time the 2013 NBA draft rolls around thanks to his versatile scoring skills. 
Shabazz Muhammad was one of the most highly-recruited high school players this year and should light it up as a freshman with the UCLA Bruins. 
8. Toronto Raptors: Isaiah Austin, C, Baylor
Remember Perry Jones III? Well, Isaiah Austin is a bigger and more motivated version of him.
The incoming Baylor freshman stands 7'0" tall and is still dangerous from the perimeter, even if he is better on defense than offense.  
9. Detroit Pistons: Archie Goodwin, SG, Kentucky
Is anybody actually surprised that Kentucky is the first school with two players off the board? 
Archie Goodwin needs to spend some time working on his jumper, but he's a terrific ball-handler and tends to play bigger than his 6'5" frame would indicate. 
10. Minnesota Timberwolves: C.J. McCollum, PG/SG, Lehigh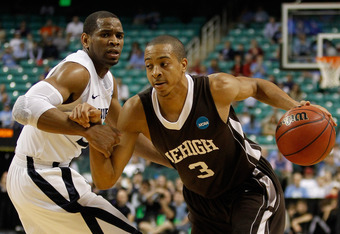 Streeter Lecka/Getty Images
C.J. McCollum averaged over 20 points per game as a junior and then lit up Duke for 30 during March Madness, but he'll be back at Lehigh for his senior year. 
Obviously a capable scorer, McCollum can get his points in a variety of ways while lining up at either guard spot in the lineup. 
11. Portland Trail Blazers: Alex Poythress, PF, Kentucky
Another incoming freshman poised to help the Kentucky Wildcats make a run at back-to-back titles, Alex Poythress is an attacking forward who is at his best when he starts on the perimeter and uses his above-average ball-handling skills. 
With him off the board, the UK counter is up to three. 
12. Milwaukee Bucks: Le'Bryan Nash, SF/PF, Oklahoma State
Still in possession of the best basketball name in the history of the sport, Le'Bryan Nash is still more of a pure athlete than a sensational basketball player.
He'll wow you with his physical tools, then let you down with his lack of intensity or skill.  
13. Phoenix Suns: Tony Mitchell, PF, North Texas
Tony Mitchell had one of the best, most underrated seasons by a freshman in all of college basketball this past season for the North Texas Mean Green. 
After averaging 14.7 points, 10.3 rebounds and 1.6 assists per game with great defense last year, the sky is the limit as a sophomore. 
14. Houston Rockets: Patric Young, C, Florida
A physical specimen of a center, Patric Young has an NBA-ready body that scouts are going to be drooling over in the months leading up to the 2013 NBA draft. 
He's still working on the whole finesse thing, but he's got the brutish strength part of the game down. 
15. Philadelphia 76ers: B.J. Young, PG/SG, Arkansas
A combo guard who looks to score first and pass second, B.J. Young will shoot up the boards if he learns how to hit his jumper with any consistency. 
Even without the respect he needs given to his outside shot, this young guard from Arkansas can get into the lane and finish with his deadly floater at will. 
16. New York Knicks: Alex Abrines, SG, Spain
The second international player taken in this draft, Alex Abrines will surely draw boos from the New York Knicks supporters, even if they are unjust. 
Abrines is a great shooter whose range extends well beyond the three-point line and he's surprisingly athletic when you watch him play. 
17. Dallas Mavericks: Myck Kabongo, PG, Texas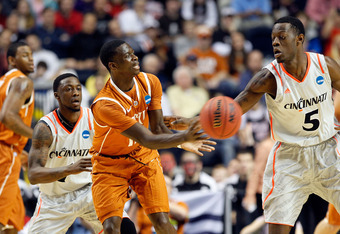 Kevin C. Cox/Getty Images
The Canadian point guard for Texas was a disappointment during his freshman season, but then again, all of the Longhorns were. 
As Kabongo matures, hell start to mix in his shot with his incredible passes and become less of a one-dimensional player. 
18. Utah Jazz: Ryan Harrow, PG, Kentucky
Even though he stands under six-feet tall, Ryan Harrow is going to get drafted in the first round. Would you expect anything less from a John Calipari point guard product? 
With this lighting-fast, score-first transfer from N.C. State off the board, the UK counter is up to four. That's as high as it gets though.  
19. Orlando Magic: Joshua Smith, C, UCLA
He may only be 6'9", but his 320 pounds allow him to play with a lot of physicality and dominate on the glass. 
Joshua Smith is a huge center with some nice low-post moves, but he'll need to cut down on some of the excess weight to make it through the rigors of the NBA season. 
20. Denver Nuggets: Dario Saric, SF, Croatia
A 6'10" small forward with the passing skills and court vision of a guard, Dario Saric is one of the smartest players in the 2013 draft class. 
He isn't a great jump-shooter and tends to try to create a bit too often, but he makes things happen on the basketball court even when he's not getting to the rim. 
21. Boston Celtics: Otto Porter, SF, Georgetown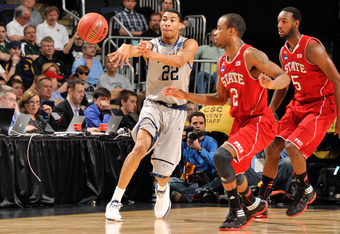 Jamie Sabau/Getty Images
The second-straight smart, facilitating small forward off the board, Otto Porter excels coming off the dribble, especially when he can pull-up from mid-range. 
He may never be a strong three-point shooter, but he's a good enough hustle guy who does the little things that he'll never really have to. 
22. Los Angeles Clippers: Michael Carter-Williams, PG/SG, Syracuse
At 6'5" and only 175 pounds, Michael Carter-Williams clearly needs to add some weight to his lanky frame. That will come with time though for this 20-year-old sophomore from Syracuse. 
With his lights-out jumper and explosive ability to get to the rim, Carter-Williams will be a terrifying scorer for Syracuse if he gets the chance. 
23. Atlanta Hawks: Jeff Withey, C, Kansas
Jeff Withey may not be tremendously skilled, but he's one of the best shot-blocking big men in the country. In fact, he was on Anthony Davis' level in that department this past season. 
The seven-footer doesn't have much of an offensive game, but his defense is stellar. 
24. Los Angeles Lakers: Wayne Blackshear, SG/SF, Louisville
Wayne Blackshear is the rare player who might be too big and strong for his own good right now. Cutting some weight, even if it's muscle mass and not of the flabby variety, would make him an even more explosive wing player than he is now. 
Blackshear only played seven minutes per game as a freshman for Louisville, but he's going to make a lot of noise this next season. 
25. Memphis Grizzlies: Doug McDermott, SF/PF, Creighton
One of the best scorers in all of college basketball, Doug McDermott is a smart player who can shoot and score from anywhere on the court, even if he does benefit from being a coach's son. 
McDermott isn't an elite athlete, but he's too skilled to flop as a prospect. 
26. Indiana Pacers: Trey Burke, PG, Michigan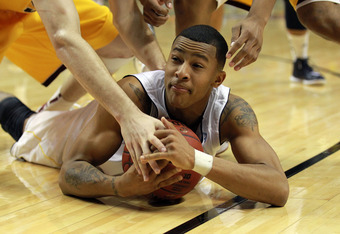 Andy Lyons/Getty Images
Trey Burke plays with maturity and poise beyond his years; a useful addition to his ridiculous shooting and penetration abilities. 
The 6'1" floor general from Michigan was the leader of his team as a freshman and his court vision will endear him to his teammates once more during the 2012-2013 campaign. 
27. Miami Heat: P.J. Hairston, SG, North Carolina
P.J. Hairston is at his best when he's not forced to handle the ball. If he's slashing to the basket or in transition, he's tough to spot though. 
The big shooting guard is a physical presence on the court and great at finishing around the rim, even if his jumper is still a work in progress. 
28. Oklahoma City Thunder: Andre Roberson, SF/PF, Colorado
One of the best rebounders in college basketball, Andre Roberson is all about doing the little things. 
He's not a great offensive player, lacking the polish or the skill to be great on that end of the court, but he's an athlete with a non-stop motor who can fill any role. 
29. Chicago Bulls: Reggie Bullock, SF, North Carolina
The third North Carolina prospect taken off the board in this initial 2013 mock draft, Reggie Bullock has the potential to move way up in the order if he can add strength and stay motivated throughout his third season at Chapel Hill. 
Bullock could be one of college basketball's best scorers if he puts his finishing ability and shooting stroke to good use on a nightly basis. 
30. San Antonio Spurs: Mike Moser, PF, New Mexico
A surprising drop-out from the 2012 class, Mike Moser is a great rebounder and defender who plays far bigger than his 6'8" frame would indicate. 
He needs to add a lot of weight if he's going to be able to bang around with NBA bigs though and a switch to small forward may eventually be in the cards.