NBA Draft 2012 Results: Kendall Marshall and 5 Players Fans Will Resent
June 29, 2012

Kevin C. Cox/Getty Images
With the 2012 NBA draft in the books, we can look forward to several future stars that NBA fans will fall in love with and whose production on the floor will be a major factor in teams winning games.
However, the opposite can hold true as well. There will be certain players who fans will ultimately grow to resent, for one reason or another.
With that being said, let's take a look a five such prospects.
Kendall Marshall, Phoenix Suns
Marshall may be the best pure floor general in the entire draft, but I don't like the situation he's going in to. Ultimately, he has to replace a two-time MVP in Steve Nash.
If Nash leaves this year as a free agent, Marshall won't have a lot of talent around him. While he's the type of guard that makes his teammates better, there's still a lot he can't do.
Marshall isn't a great athlete, doesn't shoot the ball well and isn't a great defensive guard. Fans will expect him to be Nash and I highly doubt he can live up to what Nash did in a Suns uniform. Those are mighty big shoes to fill.
Austin Rivers, New Orleans Hornets
Rivers is the type of player that will frustrate Hornets fans. He's not a good ball handler and not a great shooter.
In addition, he's a poor decision maker and his shot selection leaves something to be desired.
He comes into the NBA with a ton of hype, but I doubt he lives up to it. 
The Celtics needed size and Melo is certainly big. He's a project, though, and one that Celtics fans likely won't be as patient with as they probably need to be.
He may be able to block a few shots but Melo has nothing that resembles an NBA postgame. He's got a ton of work to do. For a team that was one win away from reaching the NBA Finals, Melo could be a player that frustrates Celtics fans.
Jared Sullinger, Boston Celtics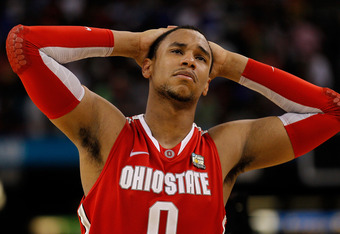 Chris Graythen/Getty Images
Speaking of players that will frustrate Celtics fans, that brings me to Sullinger. At No. 21, the rewards outweigh the risk for Boston.
Sullinger is a guy that has talent, but won't be the dominant power forward he was in college.
His lack of athleticism is scary and who knows about his back. Sullinger will turn into a decent NBA four, but those thinking he will be a star will be very disappointed.
Miles Plumlee, Indiana Pacers
He is strong and can jump, but sometimes that doesn't translate into on-court success. Plumlee is a guy that averaged 6.6 points and 7.1 rebounds per game as a senior at Duke.
For a first-round pick, there's a good chance Plumlee produces nothing in the NBA and that won't go over well in Indiana.