2012 NBA Draft Selections: Jared Sullinger and First Round's Biggest Value Picks
June 29, 2012

Elsa/Getty Images
No Top 10 picks, no problem for several teams in this year's 2012 NBA draft.
On draft night teams were able to pick up tremendous steals later in the first round. Buckeyes superstar Jared Sullinger slipped to the Boston Celtics at No. 21, which was one of the more clutch steals in the draft. This was a talent projected to be taken in the Top 10, as the Celtics had no choice but to scoop up the top-notch power forward.
With a plethora of exceptional selections, these are the three most impressive steals of this year's NBA draft.
Kendall Marshall (No. 13 Pick, Phoenix Suns)
Easily one of the best PG the college level has seen, Marshall is a sure-fire steal at No. 13 in the draft.
Marshall was the second point guard selected in the draft behind Weber State's Damian Lillard. Most projected Marshall to be selected in the late lottery as he was, yet it was only because teams in the Top 10 were better served with talented big men and shooting guards.
Although Lillard was taken earlier than Marshall in the draft, there is no question Marshall is the truer point guard. Lillard is a scoring machine, yet Marshall has a mastery orchestrating a team's offense that no other guard in this class has. Ironically, he goes to Phoenix, where Steve Nash has been doing just that for eight seasons and counting.
When considering his 9.8 assists and mere 2.8 turnovers per game, as well as how much of an impact he had on his team when he was sidelined in the NCAA tournament, there is no question Marshall is destined to shine in the league. His maturity at the position is often undervalued and will be the key to his success in the league.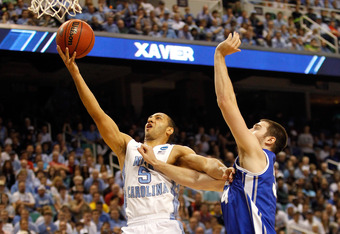 Streeter Lecka/Getty Images
Jared Sullinger (No. 21 Pick, Boston Celtics)
The Boston Celtics won big by taking Sullinger with the No. 21 pick in the 2012 NBA draft.
Ohio State PF Jared Sullinger is a Top 10 talent that got bounced late into the draft due to a red flag NBA doctors gave him prior to the draft because of his back injury. Yet according to what ESPN's Andy Katz reported at the draft, Celtics doctors found Sullinger's injury to be "low risk, high reward."
Following the selection, Jeff Van Gundy put it best when referring to how his production at the college level could bode well for him in the league.
"Always trust college production over untapped potential. [Jared Sullinger] has proven he can play the game at a high level" -Jeff Van Gundy

— SportsCenter (@SportsCenter) June 29, 2012
Perry Jones III (No. 28 Pick, Oklahoma City Thunder)
Hands down, the biggest steal of the entire NBA draft is the Thunder's pick of Perry Jones III.
Talk about an atrocious underestimation that took place on draft day.
Jones is an athletic beast at the power forward spot, coming in at 6'11'', 235 pounds. He is a strong rebounder known for his offense. 
Not only is Jones a worthy talent, he was more than skilled enough to be taken in the Top 10. Jones was the anchor of his Baylor Bears team, averaging 13.5 points and 7.6 rebounds per game in his sophomore year with the team. He did this while shooting 50 percent from the floor and averaging just 1.7 turnovers per contest.
Expect the Thunder to be that much stronger of a team next season, as Jones is more than ready to get significant playing time at the next level.