NBA Draft 2012: Cleveland Cavaliers Make Bold Moves
June 29, 2012

Elsa/Getty Images
In the 2012 NBA draft, the Cleveland Cavaliers selected the next Trajan Langdon and the next Chris Mihm!
Alright it's really not that bad, but it's safe to say that the Cavaliers' draft was rather perplexing, to say the least.
Draft night started amid swirls of rumors about trades that never ended up happening.
Michael Jordan shocked the entire NBA by actually making a smart choice and taking Michael Kidd-Gilchrist, whom I really wanted on the Cavs.
After Bradley Beal predictably went to the Wizards with the No. 3, pick all signs seemed to point to the Cavs' taking Harrison Barnes.
But Chris Grant had other ideas, and the guy who surprised everyone in the 2011 draft by selecting Tristan Thompson at No. 4 took Syracuse shooting guard Dion Waiters with the 2012 No. 4 pick.
Reaction from Cavs fans on the WKNR broadcast was predictably negative.
There were a lot of complaints about reaching, gripes about taking a guy who never started a game in two years in college, countings down until Kyrie Irving leaves town and discussions of trips to the 480 bridge.
I was so confused and floored by the selection and really didn't know how to respond.
Personally, I had three wing players rated higher that were still available: Harrison Barnes, Jeremy Lamb, and Austin Rivers.
Being a UConn fan, I watched a lot of Big East and saw a fair amount of Dion Waiters over the past two years. I always thought he was a very good player, but I never viewed him as a lottery selection, let alone a top-five pick.
It might be my UConn homerism, but I for sure always viewed Lamb as a better pro prospect than Waiters.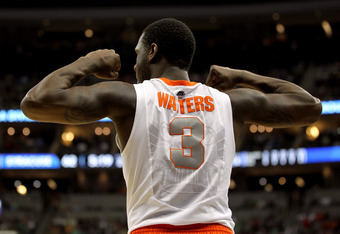 Gregory Shamus/Getty Images
When the rumors began earlier this week about the Cavs having interest in Waiters, I thought it was just posturing and smokescreen, because that's what teams do leading up to the draft.
I never for a second thought that he would get picked this high.
Well, I was wrong.
Before I get more into whether this was a smart or epicly stupid pick let me address the issue of "reaching" for a pick.
I don't believe that you can really reach for a player, ever. You have to make your draft board and evaluate the players and put them in the order that you believe they are worthy of being taken.
Who gives a crap what any media pundit says in a mock draft?
And I saw plenty of mock drafts that had Waiters going in the top seven (including one sending him to the Cavs), so going at No. 4 wasn't all that crazy.
John Hollinger, who does great work for ESPN.com, puts out his "Draft Rater Rankings" column every year leading into the draft, in which he uses his PER system on college players in an effort to predict their success levels in the NBA.
I went back and looked at tonight and found that Hollinger has Waiters as the highest-rated perimeter player in the whole draft, with a 14.12 rating.
He points out in the piece that of the eight wing players to rate at a 13 or higher, five have played in All-Star games (only Rudy Gay, Josh Childress, and Kawhi Leonard have not made it).
He notes that "wing players -- especially bigger ones -- with strong Draft Rater marks virtually never fail."
It's true that, at only 6'4", Waiters is not that tall. But he does have a very strong build, and Hollinger does not shy away from saying that "Waiters projects as the best small wing since Dwayne Wade."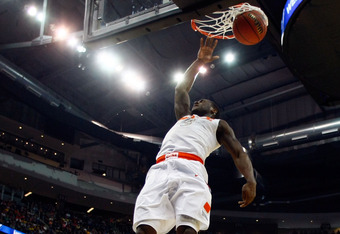 Gregory Shamus/Getty Images
This revelation caused me to go back and look at the numbers of the top wing players in this draft, to compare their stats from this past season, and this is what they look like (I didn't include Kidd-Gilchrist because he can't shoot at all.):
Waiters... 24 MIN, 12.6 PTS, .476 FG%, .363 3PT%
Barnes... 29, 17.1, .440, .358
Beal... 34, 14.8, .445, .339
Lamb... 37, 17.7, .478, .336
Rivers... 33, 15.5, .433, .365
On the surface it's obvious that Waiters scored the fewest points per game. But when you consider how many points per minute each player scored, only Barnes was better.
When you consider the shooting percentages, then you'll notice that Waiters was either comparable or better, especially on three-point shooting, which is not considered one of his strong suits, as it is for Barnes, Beal, and Lamb.
Even though the stats show that Waiters isn't that poor of a shooter, what he's really good at is getting to the rack, which accounts for his very high field-goal percentage.
Chad Ford, draft expert for ESPN, writes, "If all of the guards [in the draft] played one-on-one in a tournament, I think Waiters would come out on top." He also adds: "I know Waiters is difficult to deal with sometimes, and I know he needs a better jumper, but there aren't many players in the NBA that can get to the rim against anybody. He could be one of those guys."
The possible downside of having Waiters on the team is that he really needs the ball to be an effective scorer, same as Kyrie.
But there's only one ball.
This could create some issues, as it has at times in Miami with Wade and LeBron (not that I'm comparing wing duos), but it could also be more of a benefit than a detriment.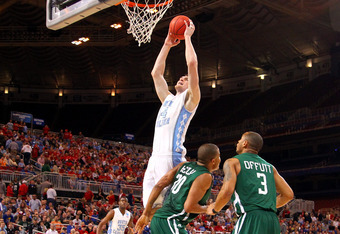 Dilip Vishwanat/Getty Images
There are going to be times when the Cavs are going to need more than one player who can handle the ball and create a shot for himself or others.
We saw this at times last season when a team would simply stick its best wing defender on Irving and force him to give up the ball, not worrying about anybody else being able to hurt the. (Against Memphis late in the season comes to mind, when the Grizzlies put Tony Allen on Kyrie, and he really struggled).
It will be great in these situations to have another player on the court who can lighten the load with the ball-handling.
At this point I feel like I've talked/typed myself into liking the pick.
But ultimately this is going to be on Chris Grant, and if Waiters (and Tristan Thompson, for that matter) doesn't pan out to be a very good or great player, then it will probably cost him his job.
Especially if either Barnes, Lamb or Rivers ends up being a superior player.
I have a good feeling about Waiters. I think he has very real potential to be a star. I don't think that he's Dwayne Wade good, but he could be a slightly lesser version of that type of a player.
As for the Tyler Zeller pick, there's not a whole lot to say.
He is what he is.
(That was a complete cop-out sentence.)
He's a 7-footer who is pretty athletic and can run the floor. He may not have as much upside, because he was a four-year player at North Carolina, so what we're seeing is what we'll probably get.
And I'm fine with that.
Zeller averaged 16.3 points on .553 shooting and 9.6 rebounds in 28 minutes per game last year, good enough to earn him the player-of-the-year award in the ACC and second-team All-American honors.
Not too shabby.
The Cavs really need depth in the frontcourt, and Zeller definitely provides that. He'll probably come off the bench this year but could be a starter in the future if the Cavs choose to trade Anderson Varejao.
He's certainly a lot better option than Semih Erden or Samardo Samuels.
And for those of you complaining about what the Cavs gave up to trade up to No. 17 to take him, just stop.
Those three picks ended up being used on Jared Cunningham, Bernard James and Jae Crowder—not exactly a king's ransom, if you ask me.
I've been writing all week that there was no way that the Cavs were coming out of this draft with four rookies and the chances of them actually picking at No. 24 were almost nothing.
And for a guy who was projected by some to be a top-10 pick, it's basically a steal to get him for what the Cavs gave up.
Couple final bullet thoughts about the draft in general:
I find it intriguing that the Thunder ended up with a guy in Perry Jones III who spent much of his freshman season as the projected No. 1 pick in the 2011 Draft...at pick No. 28 in 2012.
It was set up well for them, but you have to love the Hornets' draft. Anthony Davis and Austin Rivers!? If Rivers lives up to his pedigree and potential coming out of high school, this could end up being one the best draft duos in NBA history. That's right...I said it.
For what they had to work with, I like what the Celtics did with picks No. 21 and 22, taking Jared Sullinger and Fab Melo. The reward for Sullinger is huge at this point in the draft, and being in a perfect culture to fit his play, he could make the teams that passed on him very sorry. And Melo could not have ended up in a better spot. The Celtic culture with Doc Rivers won't stand for Melo's poor attitude or lack of effort. If anybody can get the most out of Melo, it's the Celtics. And if Kevin Garnett re-signs, he could have a profound impact on both players.
That's all for now. It's been a fun process.
Believeland.
You can follow Benjamin Flack on Twitter @ClevelandFlack.