Spain vs. Italy: UEFA Euro 2012 Final Odds, Preview and Prediction
June 29, 2012

Joern Pollex/Getty Images
Spain vs. Italy
Date: Sunday, July 1, 2012
Location: Olympic Stadium (Kiev, Ukraine)
Time: 2:45 p.m. ET/11:45 a.m. PT
TV: ESPN, ESPN Deportes
Computer: ESPN3
Satellite Radio: SiriusXM Channel 92
To Win Outright: Spain -180, Italy +160
Odds for 90 Minutes + Injury Time: Spain -½ +110, Italy +½ -130
Total: 2u -120 (over +110)
Three-Way Odds: Spain +110, Italy +300, Draw +210
Odds Source: Las Vegas SuperBook
So, maybe Group C was the real group of death.
With Spain and Italy's having ousted group of death survivors Portugal and Germany in the semifinals, Sunday's Euro 2012 final sets up a rematch of the opening 1-1 in which the Azzurri ended Spain's 14-match winning streak in competitive matches.
But what will happen in the big game?
Spain comes into this match looking to become the first back-to-back winners of the European championship and the first side to win three straight majors (it won Euro 2008 and the 2010 World Cup) and is on a major roll, winning 32 of its last 35 competitive games.
But Italy proved it deserves to be here, ending Germany's 15-game winning streak on two first-half Mario Balotelli goals in the semifinals.
And, like Spain, La Nazzionale has yet to lose in this tournament.
One huge reason both are still standing is the stellar play of their captains and goalkeepers—maybe the two best in the world right now—Spain's Iker Casillas (Real Madrid) and Italy's Gianluigi Buffon (Juventus).
Casillas has allowed just one goal (to Italy's Antonio Di Natale in the opener), and Spain is on a mind-boggling run of nine straight shutouts in knockout rounds of major tournaments, with the last goal being scored on them coming in the 2006 World Cup, by France's Zinedine Zidane.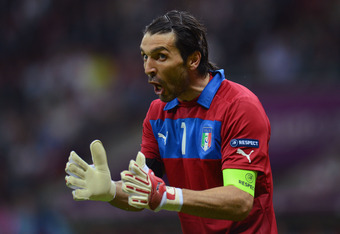 Shaun Botterill/Getty Images
Not too shabby, eh?
Although not as statistically impressive as La Furia Roja's defensive dominance, Italy's Buffon has allowed just three goals in five matches—one on an extra-time penalty kick by Germany's Mesut Özil on Thursday—and was the main man behind Juventus's undefeated season, during which Le Zebre went 23-0-15 (W-L-D) and outscored opponents 68-20 en route to winning the Serie A title.
That's right, brother: Juventus allowed only 20 goals in 38 matches.
Scary stuff.
So as usual in big games in all sports, the defenses should prevail here, and when these two met in the 2008 Euro quarterfinals, they played to a 0-0 tie before Spain prevailed in the penalty-kick shootout.
With all this in mind, the first goal in this match, if there is one, in regulation (or overtime) will be monumental.
As it does against all opponents, Spain won the possession battle (60-40 percent) in the Group C opener and topped Italy in total attempts (18-10) and shots on target (9-4), but they needed a second-half Cesc Fàbregas (Barcelona) equalizer in the game to get the draw.
And rematches like this have been a big part of the Euros.
Since switching to a 16-team format 16 years ago—Euro 2016, in France, will increase to include 24 teams and have 51 games—three out of the five tourneys have now ended with such rematches.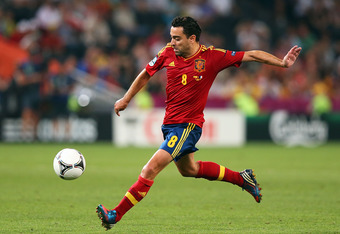 Alex Livesey/Getty Images
So this one is basically anyone's game and, quite honestly, a match to best just be watched and not to be wagered on.
This coming from a soccer freak living in Las Vegas, mind you.
For Spain, ranked No. 1 by FIFA and manager Vicente Del Bosque, expect the same old same old: ball control and short, tight passes by its talented midfielders Xavi (Barcelona), Andrés Iniesta (Barcelona) and David Silva (Manchester City) in an effort to get a decent scoring attempt in the end.
For me, Spain has just not been their normal selves upfront, with the team lacking a real closer at forward that can capitalize on all that tapestry of tiki-taka passing.
Del Bosque seems to be content to keep striker Fernando Torres (Chelsea) on the bench and go with advanced midfielder Fàbregas as Spain's main scoring threat, and it seems El Niño will again sit to start Sunday's finale.
Whereas Spain seems to be lacking in finishing power upfront, Italy, currently ranked No. 12 by FIFA, has a nice little trio to work with in forwards Balotelli and Antonio Cassano (AC Milan) and maybe the most impressive player in the tournament so far, midfielder Andrea Pirlo (Juventus).
After the win over Germany, Pirlo told reporters that it's not good enough for his side to come this far just to lose in the end.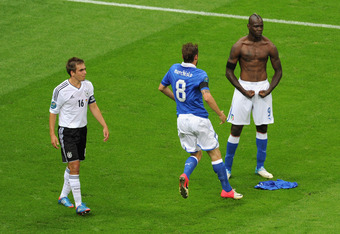 Michael Regan/Getty Images
"We have not won anything yet. [Not to win] would be like going to Rome and not seeing the Pope," said the 33-year-old.
"We are convinced that we will have a good match against Spain. But if we want to have a chance to win, we will need to show the same spirit and desire we showed tonight and in the match against England."
After scoring six of their first seven goals on set pieces in the tournament, manager Cesare Prandelli's side notched two in open play against the Germans from 21-year-old wunderkind Balotelli, who appears to be loving this moment in the spotlight on the world stage and who said Thursday was "the best day in [his] life."
Both squads' starting lineups should be very similar to those used in the semifinal matches, but whereas Italy will likely go with a 4-4-2 formation and may have one fresh face on the back line, it's anyone's guess what formation Spain will throw out there on Sunday in Kiev.
The Spanish manager has switched between starting a false nine and using a central striker in this tournament, and in my opinion he would be wise to start both Fàbregas—who had the match-winning penalty kick against Portugal on Wednesday—and Jesús Navas (Sevilla), to maximize Spain's scoring chances.
What Italy has shown the world again in this tournament is that it is very good at adjusting its defense and overall match strategy to fit whatever opponent it's facing without feeling the need to push too far forward and put too much emphasis on scoring.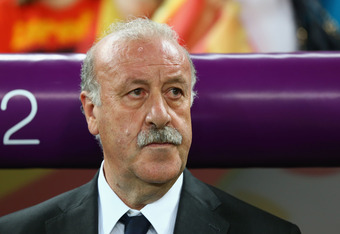 Martin Rose/Getty Images
This was again evident in their last match, in which Germany had more time of possession (56-44 percent) attempts (20-11), shots on target (8-4), corner kicks (14-0), passes (512-421) and crosses (46-5) than the Azzurri.
To anyone who watched, though, it was obvious Italy controlled the action in staying undefeated against Germany in big games.
And that seems to always be the modus operandi of this Italian side, which ESPN on-air analyst Michael Ballack said "will find a way to adapt to this Spanish team again."
So Spain doesn't appear to have anyone who can finish but never loses and never gets scored on, and Italy is riding a huge wave of confidence after wins over England and Germany and does have a guy who can score on the break, in Balotelli, and a guy who can feed him, in Pirlo.
So expect Spain, which has all four of its defenders—Álvaro Arbeloa (Real Madrid), Sergio Ramos (Real Madrid), Gerard Piqué (Barcelona) and Jordi Alba (Barcelona)—on Opta's statistical team of the tournament so far to have defenders Ramos and Piqué try to collapse on Balotelli to slow down this moving freight train.
And whereas Lionel Messi and Cristiano Ronaldo are known as the game's greatest scorers, Balotelli is quickly evolving into soccer's most clutch player.
This much has become clear from Thursday's double and his brilliant pass to Manchester City teammate Sergio Aguero for the historic game- and English Premier League-winning goal in extra time against QPR on May 13.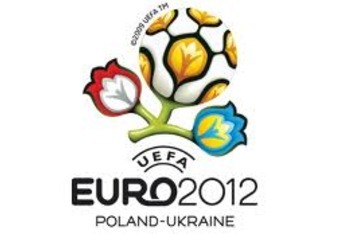 So on Sunday, I can see Balotelli getting the game's only score and increasing his legacy as one of the sport's deadliest closers.
But as I said before, this match is a toss-up and a good one just to watch and not ruin by putting any money on it.
Either way, enjoy it. It will be two long years until the 2014 FIFA World Cup, in Brazil.
PREDICTION: Italy 1 Spain 0
BETS: Italy +300, Under 2 -120

Follow me on Twitter: @KevinStott11