US Olympic Gymnastics Trials: Danell Leyva's Father/Coach Always by His Side
June 29, 2012

Ronald Martinez/Getty Images
The back of Yin Alvarez's dark blue polo shirt was covered with chalk hand prints, the hard evidence of the multiple hugs he had given out on Thursday at the 2012 U.S. Olympic Gymnastics Trials.
Most of the hugs were to stepson/star pupil Danell Leyva, but Alvarez is all about equal opportunities. He goes out of his way to hug, fist bump or just cheer on other gymnasts after their routines. On Thursday, he even took a second during a changeover to watch fans dancing on the videoboard high above the arena floor.
If you watch the Olympic Trials on television on Saturday, you'll see plenty of Alvarez. He's become the new Bela Karolyi of gymnastics, the man that NBC has to keep a camera on at all times. Every time Leyva prepares to begin a routine, Alvarez has the same ritual; he kisses Leyva on the top of the head, runs his fingers down the sides of his stepson's face, then unleashes a single, demonstrative clap. Now, Leyva can begin.
During the routines, Alvarez twists and turns, claps, pumps his fist, and generally roars his approval. He's the life of the party, in constant motion with an occasional stop, which has led to people comparing him to the Tasmanian Devil.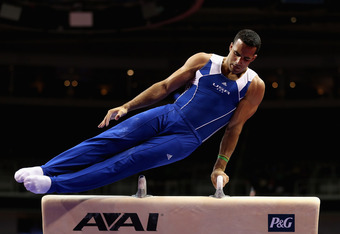 Ezra Shaw/Getty Images
Be it fatherly support, coaching, rituals, or motivation, Alvarez has gotten the 20-year-old Leyva to the cusp of the London Olympics.
After Thursday's preliminary round of the Olympic Trials, Leyva was comfortably in first place with a score of 276.500, almost a full point ahead of second place John Orozco. If those two maintain their positions after Saturday's finals, they will earn automatic berths on the Olympic Team. The remainder of the team will be chosen on Saturday by a selection committee.
It wasn't a perfect day for Leyva, who admitted to being nervous for the Trials. He was up first in the floor exercise to start the meet and he ended up stumbling out of bounds on his first pass.
"I thought I was going to go a little bit quicker than I did, but this is good so now I know what to watch for," Leyva said. "I guess (it was) too much juice. I thought I had less power than I did. I did a little hop and an extra step there."
Said Alvarez, "Of course, he was very excited and very powerful, like he always is. He is very nervous. He's the first guy on the floor, the first guy in the whole meet. The good thing about it is he goes with everything he has. That's why me makes it so high and that's why he went a little bit out of bounds. But he made the rest of the routine perfect. Or not perfect, but close to perfect."
Barring a disaster on Saturday, Leyva will make the Olympic team. He'll be one of the favorites for the all-around gold medal, having won the U.S. Championship last year and earning the silver medal this year. He won the gold in the parallel bars at the 2011 World Championships.
Leyva was born in Havana, Cuba, to Johan Leyva and Maria Gonzalez. He never met his father, who now lives in Spain, although they talk on the phone. Gonzalez left Cuba for Peru when Danell Leyva was less than a year old.
Eventually, they made it to Miami and Gonzalez married Alvarez, who had also left Cuba, having to swim through the freezing water as part of his escape. Gonzalez and Alvarez had known each other since they were kids and had competed as gymnasts on the Cuban team.
"She's my best friend," Alvarez said. "I met her when I was seven years old. And we grew up together in gymnastics."
They opened a gym together in Miami, Universal Gymnastics. Alvarez put a sign that read, "Home of future Olympians." At the time, it seemed ludicrous, but Alvarez believed in his abilities as a coach.
"I believed that I can create Olympians because I was a gymnast who dreamed of that," he said. "I have everything. I know what I missed. I know how hard it is but I know it is possible. And I know that I can drive people to do this because I know what I missed."
Gonzalez said Alvarez worked hard to build Universal Gymnastics.
"He was the hero," she said. "He worked three jobs to save money and buy equipment."
Gonzalez calls herself the psychologist for the gymnasts.
"Not that much for Danny, I think because I'm the mom," she said. "But with other boys, I'll say, 'Relax,' or, 'Be focused,' or whatever you say. I'm so happy that I can be there. It's so exciting."
Said Leyva, "She gives me an amazing amount of support. I'm very, very lucky to have my mom out there because I know that she's not just my mom, I know that she's also a coach and a great one at that."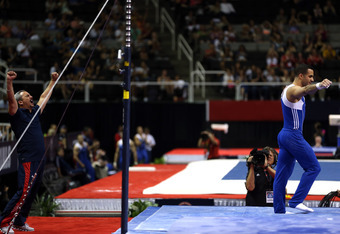 Ezra Shaw/Getty Images
How does Leyva feel about his stepfather's energy on the mat? Alvarez was asked by U.S. officials to rein in his antics when Leyva competed at an international junior meet in Japan in 2007.
"They told me to relax, no jumping around, because the Japanese are different, quieter," Alvarez said. "First event, and Danny came to me and said, 'What's going on? Why are you not jumping,' I said, 'You remember, I've got to be calm.'
"The funny thing is at the end of the meet, a couple of Japanese coaches came to me upset with cameras and said, 'Man, we know you're jumping around and you didn't do anything.'"
So, he stopped censoring himself. And he has continued to spread his infectious joy at every practice and every competition. Especially for Leyva, whom he thinks of as a son, not a stepson.
"He's not my biological son, but he's my son," Alvarez said "He's my son. That's the way I feel, that's the way he feels. The only difference is … (he paused and pointed at his arm). The blood. But everything else is. We're very similar, we're very together in every way."
Gonzalez then interjected, "He looks like you."
Except Leyva keeps the chalk on his hands and arms, not all over his back.
Damin Esper is a contributor for Bleacher Report. Unless otherwise noted, all quotes were obtained firsthand.