Boston Celtics: Full Grades for the Celtics' 2012 NBA Draft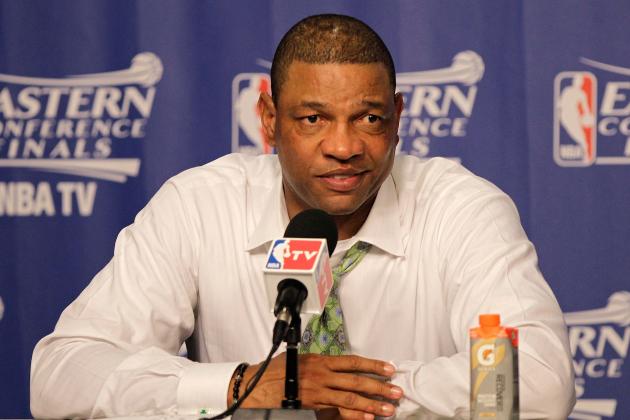 Mike Ehrmann/Getty Images

Despite the trade talks, the Boston Celtics would keep all three picks and, as a result, were outright winners in the 2012 NBA draft.
President of basketball operations Danny Ainge once again demonstrated his mastery on draft day by adding a heavy arsenal to the Celtics front line. The team took Ohio State PF Jared Sullinger (21) and Syracuse teammates C Fab Melo (22) and SF Kris Joseph (51).
Boasting Rajon Rondo, Avery Bradley and the possibility of re-signing Ray Allen, the Celtics clearly have the backcourt presence they need going forward. The sure-fire lack of depth was in the team's two big-men spots, an issue Melo and Sullinger will help erase quickly.
Here are individual grades for each prospect the Celtics drafted in 2012 as well as an overview of their draft day.
Begin Slideshow

»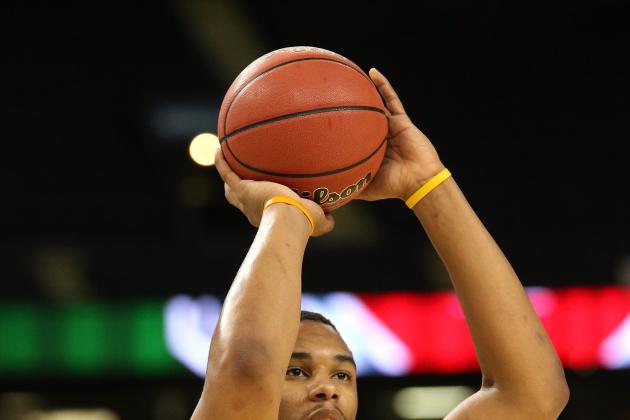 Ronald Martinez/Getty Images

This pick had a major red flag, and no, it wasn't Jared Sullinger's back injury.
Sullinger, a PF with Ohio State, was an outright steal at No. 21 in the draft. It was both surprising and absurd that no team in the top 20 had it in them to select Sullinger, which is why the Celtics had to make the pick.
It left Ainge and company no choice but to snag the talent with their pick.
Sullinger not only averaged 17.6 points and 9.3 rebounds per game his sophomore season but was also efficient from the floor and boasts tremendous basketball IQ. Last season, he shot the ball 51.9 percent and was as difficult a player to guard in the paint as any in college basketball.
His versatility and plethora of post moves are what make this player so special.
The Celtics could well bring back both Brandon Bass and Kevin Garnett, so taking another PF is not necessarily the ideal move. Sullinger also had a red flag by NBA doctors that said his back injury was of some significance.
Yet, there's no doubt just how special this player can be and how much he knows about the game, which is why the Celtics ultimately get two thumbs up for this one.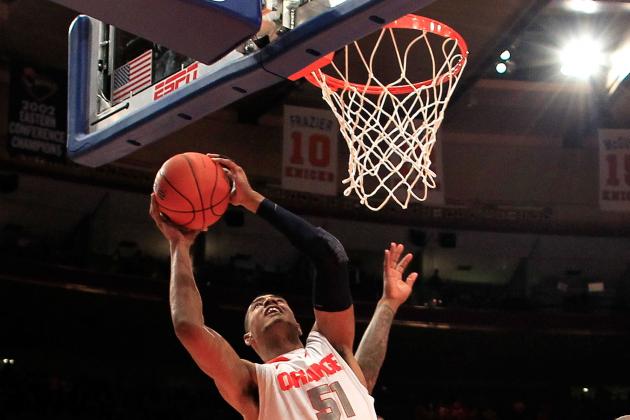 Chris Trotman/Getty Images

An "A" grade is warranted here, as Syracuse big man Fab Melo is exactly the player these Boston Celtics needed heading into this draft.
For the second half of the season and the entire playoffs, the Celtics had Kevin Garnett playing the center position and Brandon Bass starting at the power forward spot.
At times, the switch worked especially well, but against a younger, more explosive Miami Heat, they simply could not maintain the lineup. The Celtics were trying to play small ball against a team that is an expert at it.
Melo is an imposing, seven-foot center that makes his paycheck on the defensive end of the floor. This Brazilian stud was a beast in the paint, averaging 5.8 rebounds and 2.9 blocks in just 25.5 minutes per contest.
He fits right into Boston's "defense wins championships" mentality, as this Big East beast will help Garnett to move back to the 4 spot.
Melo was the ideal pick for the Celtics in this 2012 NBA draft, as the once-thin front line has certainly added its fair share of leverage.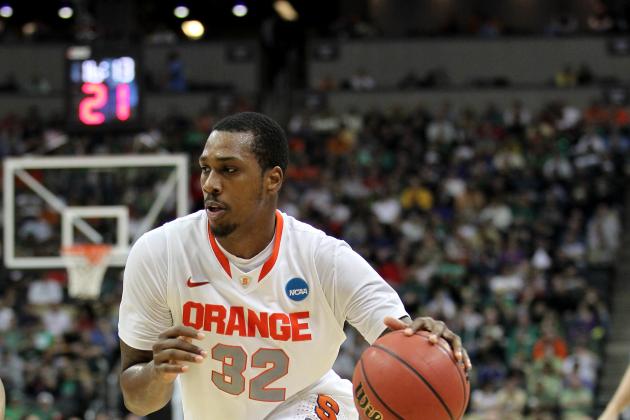 Gregory Shamus/Getty Images

It's difficult to fathom the organization doing any better with its late second-round selection.
Kris Joseph was the leading scorer for the Syracuse Orange last season at 13.4 points per game. To bring in an elite scorer in the Big East at No. 51 was a pick of epic proportions.
His aggressive driving game offensively and ability to body up with most defensively made this pick a no-brainer.
He shot the three-point ball fairly well at 34.5 percent, and that is certainly an area the Celtics may have to work with him. It is also integral to consider the fact the Celtics still have Paul Pierce at the small forward spot and are likely to bring Jeff Green back as well.
At the end of the day, a slight overload at the position is harmless, and Danny Ainge knew passing up on Joseph's talent was impossible.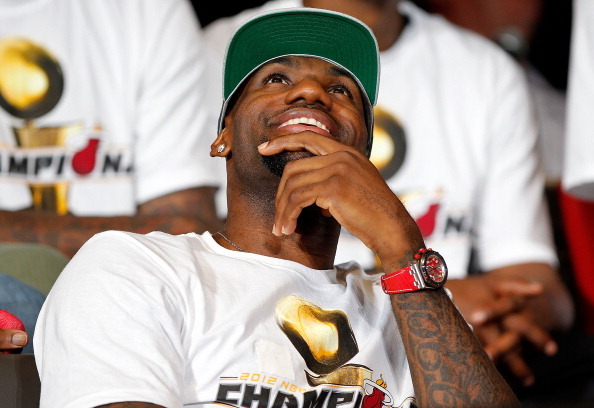 Mike Ehrmann/Getty Images

Here are what some of the players (including the King himself) and NBA analysts around the league had to say about the Boston Celtics draft picks this year.
Jared Sullinger:
Happy for my bro @Jared_Sully0. Use it all for motivation and fuel! But u already know I can't stand u being in that uniform. Lol

— LeBron James (@KingJames) June 29, 2012
We welcome @jared_sully0

— Avery Bradley (@Avery_Bradley) June 29, 2012
"Always trust college production over untapped potential. [Jared Sullinger] has proven he can play the game at a high level" -Jeff Van Gundy

— SportsCenter (@SportsCenter) June 29, 2012
Fab Melo:
Doc on Fab Melo: (1) "We have to teach him the Celtic way." (2) "For us to get a 7-footer at that pick is a good pick for us."

— Boston Celtics (@celtics) June 29, 2012
Kris Joseph:
Kris Joseph averaged 13.4 ppg, which led Syracuse. As in more than No. 4 Dion Waiters.

— Dan Duggan (@DDuggan21) June 29, 2012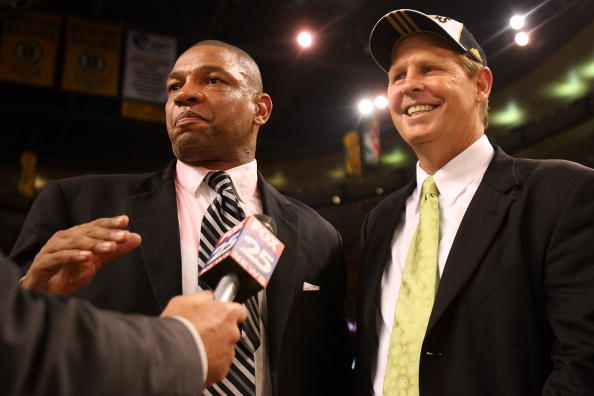 Elsa/Getty Images

Picks
No. 21: Jared Sullinger, PF, Ohio State
No. 22: Fab Melo, C, Syracuse
No. 51: Kris Joseph, SF, Syracuse
Breakdown
In the words of Charlie Sheen, the Celtics were winning at the 2012 NBA draft.
Without having tested the free-agency market, the Boston Celtics are now in a position where re-signing their free agents is an enticing option.
The future of the team's front line looks especially promising with Sullinger and Melo up front, and the future swingman spot will boast two exceptional athletes in Green and Joseph.
The selections in the draft give the Big Three in Boston one last chance at a title, as the possibility to re-sign both Ray Allen and Kevin Garnett still exists this offseason.
A full front line and proven backcourt next season now leaves Danny Ainge and company no choice but to add pieces that will fuel one last shot at a championship run.
Overall Grade: A-