With This Simple Solution, Tarmoh Qualifies for the 100m at the London Olympics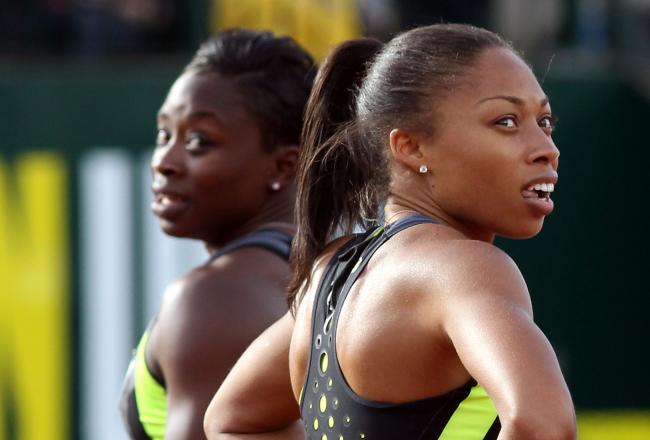 Americans Janobah Tarnoh, left, and Allyson Felix finished with the same time in the 100m final at the U.S. Olympic Trials, but Tarnoh should run at the London Olympics.
Michael Heiman/Getty Images
I try to live by the adage that if there's no solution, there's no problem; meaning, there's a solution for every problem. That said, not all solutions are easily solved.
Take, as an example, Allyson Felix and Jenebah Tarmoh tying for third place in the 100 meters at the U.S. Olympic Trials on June 23.
It appears the runners will soon choose between a coin toss and a run off sometime after they compete in the 200 meters. The final in the event is Saturday. The runoff would prove to be the more fair option while also proving more logistically difficult.
A similar problem in the future can be solved with the following simple solution. Take the average time of the runners in each of their preliminary heats. The runner with the better average time advances.
Using this formula, Tarnoh would be declared the third-place finisher at the Olympic Trials in Eugene. Tarnoh ran 11.16 and 11.10, for a 11.135 average. Felix clocked 11.19 and 11.23, for an average time of 11.21. Tarnoh wins by .075 of a second.
Using this formula to resolve the Felix-Tarnoh tie could be problematic. The runner's could fairly complain that had they known of the procedure, they might have run harder to the finish in their prelims. Ideally, runners should know beforehand about the tiebreaker, so they could plan strategy accordingly. But, clearly, this is not an ideal situation.
The IAAF, track and field's international governing body, should establish the average preliminary time tiebreaker prior to the London Games, and implement the rule for each subsequent competition that determines world championship and Olympic qualifiers, as well as at the world championships and the Olympics themselves.
Chances are slim that a situation such as the Felix-Tarmoh tie will repeat itself. But who thought it would happen in Eugene last weekend? This predicament should have never occurred at a U.S. Olympic trial. Track and field rule makers need to solve this problem quickly. It's an embarrassment for USA Track and Field as it attracts unwanted attention away from the athletes, and is a needless worry for Felix and Tarmoh.
And why not use the preliminary time tiebreaker to resolve the current Felix-Tarmoh Olympic Trials predicament?
This article is
What is the duplicate article?
Why is this article offensive?
Where is this article plagiarized from?
Why is this article poorly edited?