Tottenham and Andre Villas-Boas Are Taking a Gamble on One Another
June 29, 2012

Richard Heathcote/Getty Images
If Tottenham are to take Andre Villas-Boas on as their head coach, it is a high-stakes gamble for both parties and one that neither can afford to lose.
Both club and coach took hits to their images in 2012. Failure to apply the cosmetic touches might result in both crashing and burning into a quagmire of which neither can escape.
With no official announcement and plenty of rumors swirling, most fans will be placated by the thought that at least Gareth Bale is going nowhere this transfer window.
But that doesn't mean that all is hunky dory in North London.
The potential appointment of Villas-Boas immediately raises questions of how to align the squad with the current crop of players. It is certainly going to be a departure for most in the squad from what they have been used to for most of their Tottenham careers.
AVB's strict adherence to a 4-3-3 formation is a major change from the 4-4-2/4-4-1-1/4-5-1 that Spurs have run, stretching even as far back as to Martin Jol.
It's unclear exactly how players would respond to this system and, if Chelsea are any indicator, it can backfire just as easily as it can be brilliant.
What's important to find out from the club and from AVB is how much he learned from his time at the West London club.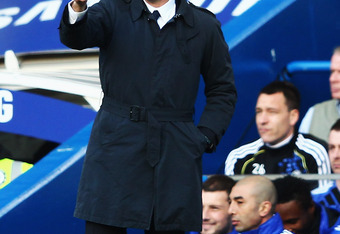 Clive Mason/Getty Images
Tottenham brass seem to have a good impression of the Portuguese whiz kid, who has obviously sold the club on the idea that he made mistakes at Chelsea and can take the club back into the top four again.
Assuming that he is in charge, according to reports, on July 1 AVB will need to quickly figure out what he's got in all the departments.
He has the bulk of last year's defense, questions in the midfield (probably minus Luka Modric, possible Rafael Van der Vaart departure and an injured Scott Parker), if other rumors are to be believed) and only a single forward of note.
Creating something out of the squad will not exactly be a plug and play operation.
AVB needs to show that he's learned from his spell at Chelsea because any signs of revolt could see Spurs relegated to mid-table obscurity.
Tottenham themselves are obviously taking a major risk as well.
With the way they unceremoniously dumped Harry Redknapp out of the manager's role, the Tottenham brass have to get this right.
Any failure to replicate last season's place will be deemed a failure by the sheer nature of what their aim is.
Clive Rose/Getty Images
By placing their faith in the somewhat mixed bag known as AVB, Tottenham chairman Daniel Levy is banking on simply handing the new coach players and letting him figure out what to do with them.
With a manager proven over many years, this would be a strategy that would be worth taking a gamble on. Jol came close twice but couldn't get over the hump.
The jury is still out on AVB though. Success was followed by a severe setback after his runs with Porto and Chelsea.
With both sides looking to make amends for prior faults, however, Tottenham and AVB may just be a match for one another.
By the same token, their combined dysfunctions from last term may create a morass that Tottenham may not be able to dig themselves out of.
It will certainly be one of the biggest talking points of the new Premier League season should it come to pass, but it is most certainly the largest gamble of them all.