TNA Impact 6/28/12: What Worked and What Didn't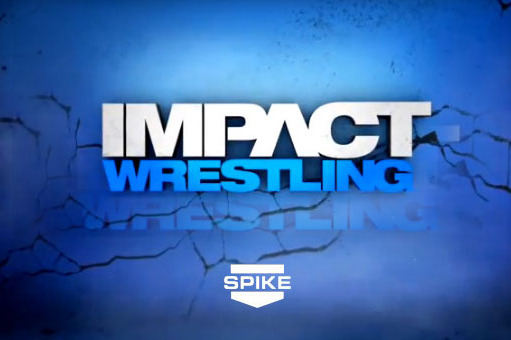 ringsidenews.com
After the complete farce of an ending we received last week, I hoped and prayed that Daniels would save us of from the hell that is the "misunderstanding" and boy did he ever. That last minute twist hit me in the face like a ton of bricks.
We saw a much needed injection of talent into the X-Division, a couple of great Bound For Glory matches and a main event that stole the show.
Here are the BFG standings after this week's Impact:
1. James Storm – 36 points [3-0-1] … 4 matches
2. Samoa Joe – 27 points [3-2-0] … 5 matches
3. Kurt Angle – 10 points [1-2-0] … 3 matches
4. Mr. Anderson – 9 points [1-2-1] … 4 matches
5t. Jeff Hardy – 7 points [1-1-0] … 2 matches
5t. Magnus – 7 points [1-1-0] … 2 matches
5t, The Pope – 7 points [1-1-0] … 2 matches
5t. Rob Van Dam – 7 points [1-2-0] … 3 matches
9. Daniels – 5 points [1-2-0] … 3 matches
10t. A.J. Styles – 0 points [0-2-0] … 2 matches
10t. Bully Ray – 0 points [0-3-0] … 3 matches
Begin Slideshow

»
x264-bb.com
15 Minute BFG Time Limit - 15 minutes make so much more sense than 10, I couldn't be happier with this decision.
BFG Match: RVD vs. Mr Anderson - Nice six minute match to open TNA with RVD pulling out some moves I haven't seen in years and Anderson did a really nice job in the match as well. Nothing spectacular but solid.
Austin Aries Promo - A Double is pure gold on his own, but when he is joined by Robert Roode, the segment is always going to be good. The announcement of an X-Divsion tournament only made it better. Has anyone else noticed that the three main players in this little feud have been AA, RR and HH?
Sonjay Dutt vs. Rubix (Jigsaw) - This was a fantastic little match, and while I am a fan of Rubix (Jigsaw,) Sonjay Dutt looked superb in this match. The whole match was a very nice back and forth with Sonjay winning using one of the best moves I have ever seen: a moonsault foot stomp.
Gut Check Backstage Segment - They kept this one short and that's what they will need to do with these in the future. I liked the fact that Taz kept on about the "sense of entitlement" that some wrestlers have as it directly relates to the Joey Ryan situation without saying his name.
BFG Match: Samoa Joe vs. Bully Ray - Very nice match between two of my personal favorite wrestlers who both deserve to win this tournament. Ray sold me on this match before the first punch was thrown and I can't believe he doesn't have a singles title yet. The appearance (and subsequent bitch slap) of Joseph Park was nice but it did take a little from the match.'
Joseph Park Promo - Park showed up in his best Joe Laurinatis tie and delivered a very nice promo, but I am worried about where this is going to go. Will Park be shown as a separate personality of Abyss or is something else coming?
Rashad Cameron (Sabian/BLK Jeez) vs. Mason Andrews (Scorpio Sky) - Another great X-Division match with two new faces. Rashad Cameron won, but I think Andrew was the better wrestler. Cameron seemed to misjudge a couple of leaping spots and Andrews just seemed smoother. That being said, Cameron had a fantastic look and was good on the mic.
Gut Check In Ring Segment - Very nice segment. It was nice to see Taeler getting the contract and the appearance of Joey Ryan was a very nice plot twist. I can see him enticing Taz back into the ring in a couple of weeks.
Kurt Angle/AJ Styles vs. Daniels/Kaz - Another great tag match between these four men and the whole distrust angle between Kaz and AJ was played up very nicely until the big twist ending. Kaz siding with Daniels was confusing until Daniels dropped the big bomb on us. All of a sudden, why AJ was told before Serge makes sense.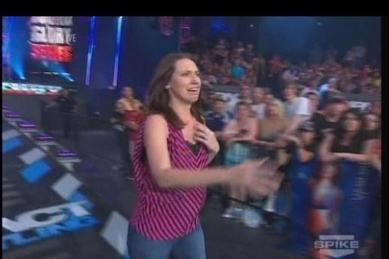 spinebuster.com
Claire Lynch/Dixie Carter/AJ Styles Backstage Promos - It seemed like a TMZ backstage interview with Claire and Dixie answering every little question except why Serg Salinas was never told. Lynch and Carter (sounds like an 80's detective show) were helped by this not being in the ring as neither are comfortable with that, but the whole thing reeks of the easy way out and it just doesn't work for me.
Brooke Hogan/Miss Tessmacher/Gail Kim Backstage - Now I know Hulk Hogan is listening to me because I have complained a number of times about how orange Brooke looks at times, so for this segment, the entire room and her dress were neon orange to make her look less orange. The fact that this was the most knockout action we saw all night makes it worse. The writers are giving Brooke some nice lines though.
Hogan/Kaz Backstage - Kaz gets played by Daniels and he doesn't want Daniels as a tag partner, so Hogan does nothing? He said "show us what kind of man you really are" by going out there and working with someone you hate and get your ass kicked?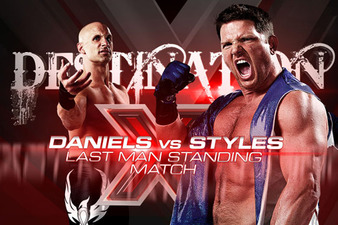 impactwrestling.com
-The show opened recapping the best and worst moments of last week. Guess which was which.
-Wow, the drug chick really is pregnant. I didn't catch that last week.
-Hulk Hogan must have heard me last week because the BFG matches are now all 15 minute time limits. Who says TNA doesn't listen to the fans?
-RVD going for a submission hold just seems bizarre to me. Is it just me or is RVD going for a new move every week now?
-"Who is ready for a little dose of greatness?" I wonder if Aries says that to his girlfriend?
-Rubix looked freaking great against Sonjay Dutt.
-HOLY CRAP, DID YOU SEE WHAT SONJAY DUTT JUST DID!!! A moonsault foot stomp!
-TNA were really stretching to find problems with Taeler Hendrix as a prospect during Gut Check.
-Bully Ray complained to the ref about death threats from the crowd, which was "Joe's gonna kill you." Brilliant, just brilliant.
-Bound For Glory will apparently be in a city that TNA has never been to before. Nice.
-I have never seen a wrestler physically dominate Samoa Joe like that before
-Joseph Park is apparently from Cleveland. Does that mean "his brother" Abyss is from Cleveland as well? And didn't Taz just say he was from Chicago?
-Mason Andrews (Scorpio Sky) nearly botched the leap over the ropes by not jumping far enough, or maybe Rashad (Sabian) stood to far away?
-Joey Ryan was a work, nicely done TNA. Looks like we will get a feud between him and Taz.
-Why are Dixie and "what's her name" at ringside?
-AJ vs. Daniels in a last man standing match? Is that going to be 15 minutes because both men are in the BFG series?
-Kaz screwed Daniels and then screwed AJ and saved Daniels. I love a good curveball.
-Speaking of curve balls, what a last minute twist by Daniels. He saved us from the terrible ending of last week and renewed my interest into what looked like becoming another generic heel Daniels getting beaten by babyface AJ.