2013 NBA Mock Draft: College Stars Scouts Will Fall in Love with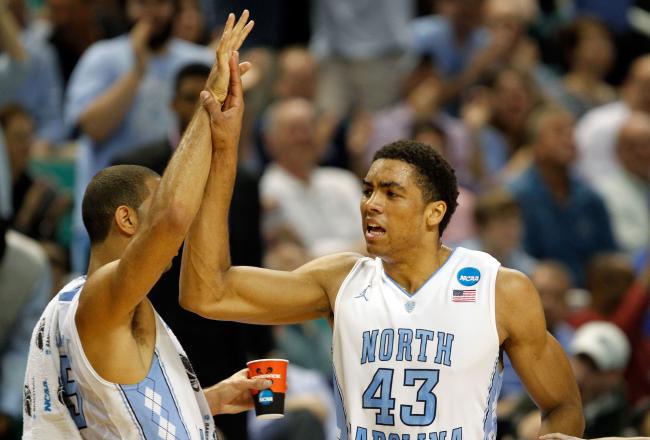 Streeter Lecka/Getty Images
While NBA fans reflect on their team's selections in the 2012 draft, scouts are already looking ahead to next year's event.
The scouting process is a never-ending cycle, and with the likes of Anthony Davis and Michael Kidd-Gilchrist firmly in the rear-view mirror, it's time to start thinking about the potential 2013 draftees.
This first 2013 mock draft will likely be obliterated by this time next year, but it should provide some perspective on where prospects currently sit. Keep your eyes on the following players this next season, particularly those in the NCAA.
Draft order based on 2011-12 record.

1. Charlotte Bobcats: Nerlens Noel, PF/C (Kentucky)
I'm expecting another Kentucky shot-blocking extraordinaire to be drafted first overall next season. Noel is an absolute menace defensively, using his length, explosive athleticism and quick reaction time to dominate opponents.
2. Washington Wizards: Cody Zeller, PF/C (Indiana)
Zeller has the length and mobility of his brother Tyler (who was drafted 17th overall this year), but his skills are so much more refined.
Cody has an endless arsenal of post moves, a smooth mid-range jumper and he can finish well with both hands. If he adds some strength, he could definitely be the top pick.
3. Cleveland Cavaliers: Rudy Gobert, PF/C (France)
Gobert is absurdly long, flashing a 7'9" wingspan.
To put that in perspective, that's three inches longer than Andre Drummond and four inches longer than Anthony Davis.
Gobert also is quite agile for a seven-footer, and if he can add some muscle to his razor-thin frame, he will be a force in the league.
4. New Orleans Hornets: James McAdoo, SF/PF (North Carolina)
McAdoo is a smooth forward with long arms and elite athleticism. He's very versatile, using his strength to finish at the rim and his fluid stroke to torch teams from the outside.
McAdoo is also an aggressive rebounder and a quality defender with an intense competitive spirit.
5. Sacramento Kings: Shabazz Muhammad, SG/SF (UCLA)
Shabazz Muhammad has yet to play a college game, but he could probably hold his own in the NBA right now. He's an elite athlete with an insane motor (a la Michael Kidd-Gilchrist), and his offensive skill set is highly advanced.
6. Brooklyn Nets: Isaiah Austin, C (Baylor)
Austin is a legit seven-footer with sound fundamentals and a versatile offensive skill set you don't usually see from young big men. He has good post moves, and he can knock down 18-foot jumpers with regularity.
7. Golden State Warriors: Steven Adams, C (Pittsburgh)
Adams is a fluid big man who hasn't even begun to reach his full potential. He runs the floor well, he has soft hands and, with his broad frame, he should be able to pack on plenty of muscle over the next few years.
Don't be surprised if Adams ends up being a Top Three pick.
8. Toronto Raptors: Alex Poythress, SF (Kentucky)
Poythress has great size for his position, measuring in at 6'9" with a 7'1" wingspan. He's also a strong athlete who can easily take defenders off the dribble.
Poythress can already guard multiple positions, and with a year of coaching under John Calipari, he could be one of the most intriguing prospects in 2013.
9. Detroit Pistons: Adonis Thomas, SF (Memphis)
Thomas is a little short to be an NBA small forward, but he makes up for it with his 7'0" wingspan. He has plenty of potential, but he needs to refine his offensive game since he won't be able to overwhelm opponents with his athleticism at the next level.
10. Minnesota Timberwolves: Alex Len, C (Maryland)
Another athletic seven-footer, Len runs the floor well and is constantly active. He's always doing something, whether it's setting screens, fighting for post position or attacking the offensive glass.
11. Portland Trail Blazers: Kentavious Caldwell-Pope, SG (Georgia)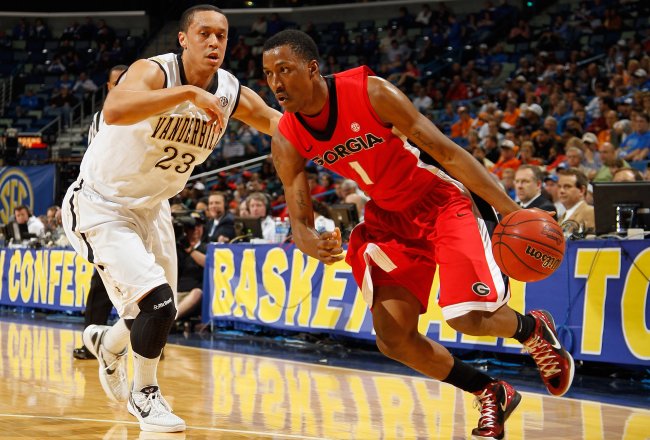 Chris Graythen/Getty Images
Caldwell-Pope is a smooth-shooting 2-guard who can finish around the rim and rain buckets from the outside. He also averaged 5.2 rebounds per game last season, which is very good for a 6'4" guard.
12. Milwaukee Bucks: C.J Leslie, SF/PF (North Carolina State)
Leslie is a long, fluid athlete who can play either forward position. He was highly productive last season, averaging 14.7 points and 7.3 rebounds as a sophomore.
13. Phoenix Suns: LeBryan Nash, SF/PF (Oklahoma State)
Nash didn't have the freshman season many expected him to, but there's no denying that he's an intriguing prospect going forward. He's big, athletic and he has a great overall skill set.
14. Houston Rockets: Isaiah Canaan, PG (Murray State)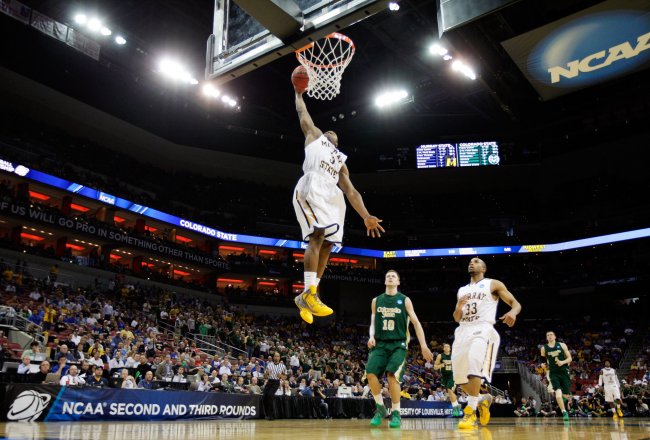 Andy Lyons/Getty Images
Isaiah Canaan is a scoring point guard, which may scare some teams away. Seeing as how Damian Lillard was drafted sixth overall this year, though, I doubt that will be much of an issue.
Canaan is an elite athlete with the purest of shooting strokes. He averaged 19 points per game last season while shooting 46.8 percent from the field and 45.6 percent on threes.
15. Philadelphia 76ers: Alec Brown, C (Wisconsin-Green Bay)
Brown is yet another quality seven-footer in this class. He doesn't have the athleticism of some of the other guys, but he was productive last season, putting up 13.8 points, 8.2 rebounds and 3.0 blocks per game as a sophomore.
16. New York Knicks: Myck Kabongo, PG (Texas)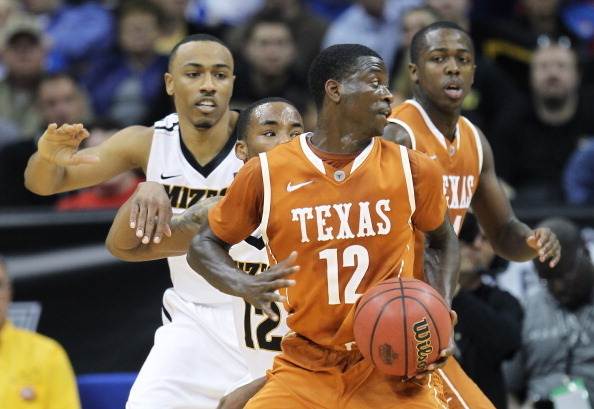 Jamie Squire/Getty Images
Kabongo is a lightning quick point guard who loves to share the rock. He has great vision, a crowd-pleasing flair and, if he adds some muscle, he could be a Top 10 pick in 2013.
17. Dallas Mavericks: B.J. Young, PG/SG (Arkansas)
The 6'3" combo guard was very impressive in his freshman season at Arkansas, averaging 15.3 points per game on 50 percent shooting.
18. Utah Jazz: C.J. McCollum, PG/SG (Lehigh)
Another combo guard who can flat-out fill it up, McCollum was the best player on a quality Lehigh team. He averaged 21.3 points per game and burst onto the national scene by putting up 30 points, six rebounds and six assists while leading Lehigh to an upset over Duke in the NCAA tournament.
19. Orlando Magic: Patric Young, PF (Florida)
Simply put, Young is a man. He's 6'9" and 250 pounds of pure muscle, and he knows how to use his strength.
Young's game is defined by power, through and through. If he can refine the more technical aspects of his game, he will easily be a lottery pick in 2013.
20. Denver Nuggets: Tony Mitchell, SF/PF (North Texas)
Mitchell didn't get a lot of attention at the national level, but the kid was an absolute monster last season. He averaged 14.7 points, 10.3 rebounds and 3.0 blocks per game as a freshman.
With his size, athleticism and versatility, he will have scouts drooling this season.
21. Boston Celtics: Otto Porter, SF (Georgetown)
Porter isn't a big-time scorer yet, but he's an excellent defender, and he pulled down 6.7 rebounds per game as a freshman last season. If he adds some muscle to his 6'8", 205-pound frame, he will be a very intriguing prospect.
22. Los Angeles Clippers: Andre Roberson, SF (Colorado)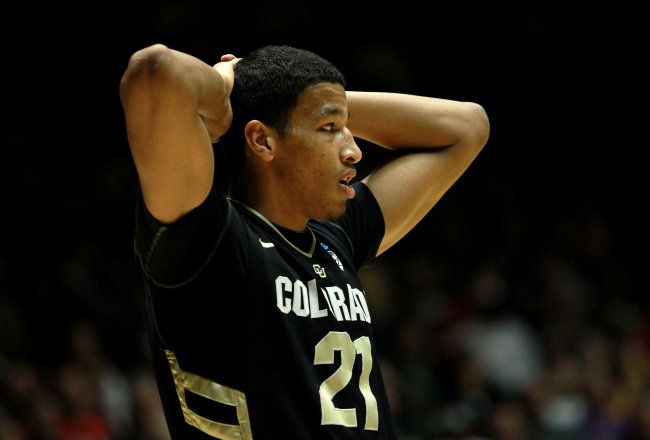 Ronald Martinez/Getty Images
Andre Roberson is a Shawn Marion-type player. He's a bouncy athlete with an exceptional length who doesn't need the ball to make a game-changing impact.
Last season, he averaged 11.6 points and 11.1 rebounds per game from the small forward position.
23. Atlanta Hawks: Mason Plumlee, PF (Duke)
Plumlee is an impressive athlete at power forward. He's got good bounce off the floor, and with another year of development under Coach K, he could make some major improvements this season.
24. Los Angeles Lakers: Deonte Burton, PG (Nevada)
Burton is a quality point guard who averaged 14.9 points and 4.3 assists per game last season.
25. Memphis Grizzlies: Trevor Mbakwe, PF (Minnesota)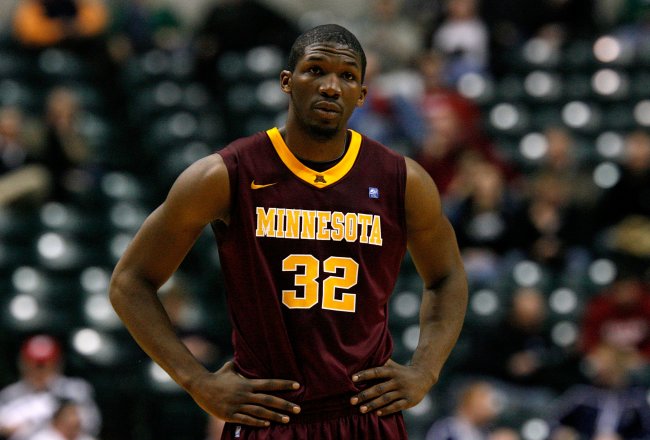 Chris Chambers/Getty Images
Mbakwe is an impressive physical specimen, measuring in at 6'8" and 237 pounds with a 7'4" wingspan.
26. Indiana Pacers: Dario Saric, SF (Croatia)
Saric is a wiry, 6'10" small forward with a solid skill set out on the perimeter. If he adds some muscle, he could be a high-quality NBA player.
27. Miami Heat: Jeff Withey, C (Kansas)
Withey is a long seven-footer with good athleticism and impeccable timing. He averaged 3.6 blocks per game for the Jayhawks during his junior season—his first year playing more than six minutes a night.
28. Oklahoma City Thunder: Ian Miller, PG (Florida State)
Miller is a poor man's Russell Westbrook, using his insane leaping ability and relentless energy to finish at the rim over bigger defenders. He's also got a decent jump shot and a wicked crossover.
If he shows some improvements in his passing ability, Miller could work his way into the lottery next year.
29. Chicago Bulls: Jamaal Franklin, SG (San Diego State)
Franklin is an explosive athlete who produced at a big-time level last season. Despite being a 6'5" shooting guard, he scored 17.2 points and pulled down 7.9 rebounds per game as a sophomore.
30. San Antonio Spurs: Tim Hardaway Jr., SG (Michigan)
Hardaway is an elite scorer who can play either guard position. He desperately needs to improve his outside shot, but he's still managed to score at least 13.9 points each of the last two seasons.

This article is
What is the duplicate article?
Why is this article offensive?
Where is this article plagiarized from?
Why is this article poorly edited?