NBA Draft Winners and Losers: Biggest Steals and Flops of Late 1st Round
June 29, 2012

Patrick McDermott/Getty Images
The NBA draft always has its fair share of steals and head-scratchers. 
The 2012 NBA draft saw some teams shock the world (in a bad way), while others garnered heaps of praise from draft experts and fans alike.
The end of the first round was, well, interesting. While some picks were predictable, others seemed to come out of nowhere.
Here's a look at the steals and flops in the late first round of the 2012 NBA draft. 
Steals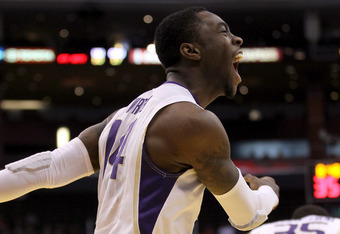 Stephen Dunn/Getty Images
25. Memphis Grizzlies: Tony Wroten Jr., G, Washington
Given Tony Wroten Jr.'s characters concerns and inconsistency at Washington, he dropped further than many would have imagined before the predraft process. But his talent is unquestioned; he has the quickness to fly past defenders, with the scoring ability and passing skills to be a terror on the hardwood. He's a nice combo guard and provides depth for the Grizzlies, with the potential to become a starter down the line. 
27. Philadelphia 76ers (via MIA): Arnett Moultrie, PF, Mississippi State
How Arnett Moultrie dropped so far, I have no idea. He's an explosive, athletic big man he uses his length to gobble up rebounds and has a nice perimeter game. He has the potential to be Elton Brand's successor in Philadelphia and could provide a dangerous forward combo with Moe Harkless.
28. Oklahoma City Thunder: Perry Jones III, F, Baylor 
There may be concerns about Perry Jones' character and desire, but, at No. 28 overall, this is a low-risk, high-reward pick. Jones has the explosiveness to be a handful in the NBA if he can stay committed and provides depth to an already-dangerous Thunder team.
Flops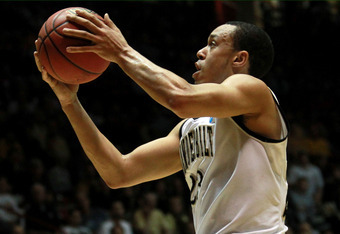 Ronald Martinez/Getty Images
23. Atlanta Hawks: John Jenkins, SG, Vanderbilt
John Jenkins may be one of the best shooters in the draft, but the rest of his game doesn't project him as a legit first-round prospect. He lacks ideal size for a shooting guard in the NBA (6'4", 212 pounds) and he doesn't have the athleticism to make up for it. He's an impressive shooter, but there were plenty prospects left who had more overall upside and could help in a variety of areas. Plus, this isn't even a primary need for the Hawks. Puzzling.
26. Indiana Pacers: Miles Plumlee, PF, Duke
Miles Plumlee stands to be a good rebounder, but he's raw offensively and isn't a shot-blocker. On top of that, the Pacers had a wealth of better options here in my opinion and Plumlee isn't the greatest fit. If the Pacers were going to draft a power forward, why not draft a shot-blocker to come off the bench for Tyler Hansbrough? Also, selecting a small forward or Kentucky point guard Marquis Teague seem like better moves.
Follow me on Twitter. We can talk about the 2012 NBA draft together.