8 New York Jets Headed to the Practice Squad in 2012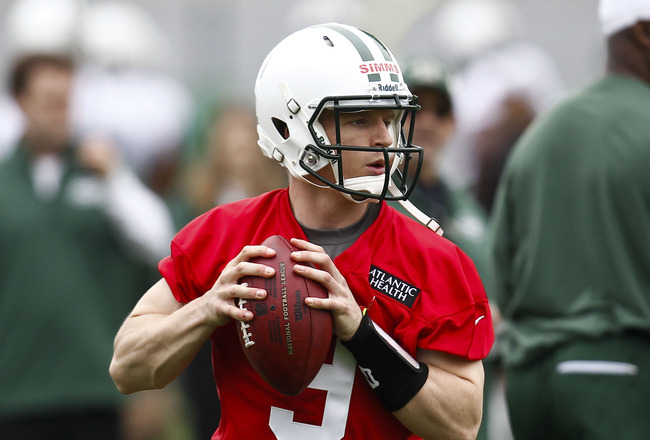 Jeff Zelevansky/Getty Images
While the practice squad is mostly determined based on what happens in training camp, it is never too early to make projections for the New York Jets scout team.
As a reminder, there are restrictions as to who is allowed on the practice squad. Players with an accrued season on a 53-man roster (which is six or more games on a team's 53-man roster, injured reserve or PUP list) or have been on a practice squad for two or more years are ineligible.
That said, here is a projection of how the Jets practice squad will look at the end of training camp.
DaMarcus Ganaway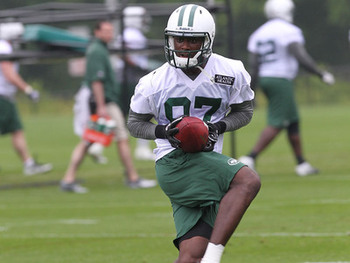 AL PEREIRA/GETTY IMAGES
The first five wide receivers are almost already set in stone, making it near-impossible for any UDFA wide receiver to steal a spot on the 53-man roster.
This leaves a cutthroat battle for one of the practice squad spots, and Ganaway has a solid chance of taking one of them.
Ganaway was actually cut before the draft before being brought back on board almost as soon as the draft ended (h/t Rotoworld.com). The fact that the Jets brought him back, despite spending a second-round pick on a receiver, indicates that the Jets want to see more of what Ganaway has to offer.
Hayden Smith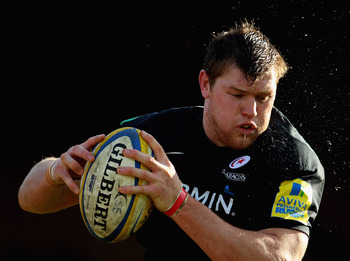 Warren Little/Getty Images
Mike Tannenbaum showed off his ability to think outside the box when he brought in Hayden Smith from Australian rugby, but it remains to be seen if this new experiment will work out.
Remember, this summer is Smith's first time ever playing American football; the fact that he could be on an NFL roster in a few months is astounding in itself.
It makes the most sense to stash Smith on the practice squad while he continues to develop and learn the game. The Jets do not want a player who does not know the game well to be forced into action on special teams while on the 53-man roster.
Matt Simms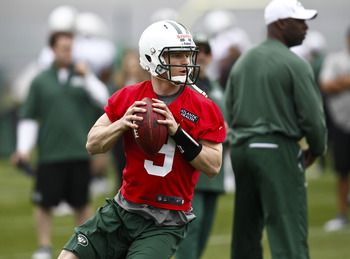 Jeff Zelevansky/Getty Images
It seems doubtful that the Jets would carry four quarterbacks, which means they could stash their only practice squad-eligable player and rookie minicamp survivor, Matt Simms, on the practice squad.
The son of Giants legend Phil Simms, Matt has plenty of arm talent to work with. In fact, the Jets liked Simms enough to waive G.J. Kinne (via Jetsinsider.com), who was his primary competition heading into camp.
Clearly, the Jets like his potential, but it will be at least another year before he challenges Greg McElroy for the third-string job. Therefore, the practice squad seems like a perfect place for him to learn and develop.
Scotty McKnight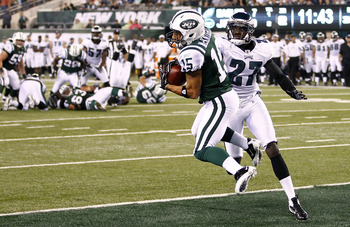 Jeff Zelevansky/Getty Images
A seventh-round pick from a year ago, McKnight ended the season on IR, despite not seeing any playing time.
Many have criticized the Jets for keeping McKnight around just because he is best friends with Mark Sanchez, but I doubt the Jets would be hang on to him if he had no ability to work with.
After adding so many new bodies to the receiver position, it is more difficult than ever to get a roster spot. It will be a challenge for McKnight to even make the team at this point, but I could see them giving their seventh-round pick one more year to prove his worth.
Marcus Dowtin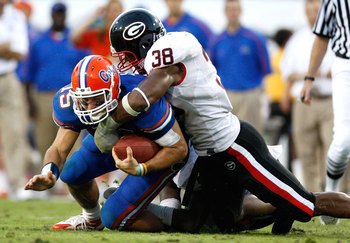 Kevin C. Cox/Getty Images
Any undrafted rookie linebacker is going to have a tough time cracking the 53-man roster, especially after the Jets drafted Demario Davis. Most of the UDFAs are fighting for spots on the practice squad.
One name that jumped out at rookie minicamp was Marcus Dowtin, who was praised by Rex Ryan (h/t Ebenezer Samuel, New York Daily News).
Dowtin has some talent, but character issues caused him to transfer from Georgia to Northern Alabama and slip through the cracks in the draft. If he shows potential in camp, he seems worthy to have around as a developmental player who can contribute on special teams if needed.
Tracy Wilson
Image via afcbeast.com
Wilson barely has practice squad eligibility, as he played in five games last year.
Given the sheer number of safeties the Jets brought in, he should be thankful that he never suited up for the sixth game.
Still, Wilson is an athletic players with decent coverage skills, which is something the Jets are lacking at the position. The Jets will still give their veterans and draft picks a benefit of the doubt over Wilson, but it is worth it to stash him in the practice squad to keep around and develop.
Brian Linthicum
Al Messerschmidt/Getty Images
The Jets may already have their developmental receiving tight end in Jeff Cumberland, but he has to prove he is healthy before he becomes a significant part of the Jets offense.
Linthicum has some raw talent to work with, but the Jets probably do not want to carry more than three tight ends. It makes the most sense to stash him on the practice squad where he can be called upon if there is another injury at the position.
Jordan White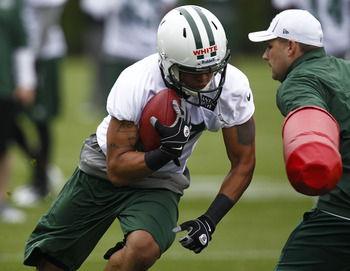 Jeff Zelevansky/Getty Images
Assuming the Jets carry the standard set of five wide receivers, White's best chance of making the 53-man roster is to beat out Patrick Turner for the fifth spot.
Based on Turner's steadily improvement over the past year, that seems unlikely.
What is also working against the seventh-rounder is the fact that he broke his foot during the first OTA session (h/t Josh Alper, ProFootballTalk). While it is certainly not a career-threatening injury, it gives everyone else more reps as White can just sit on the sidelines and watch.
The Jets have stashed drafted players on the practice squad as recently as last year, when they sent receiver Scotty McKnight to the scout team. While White has more raw talent than McKnight does, the numbers simply do not work out for him to get a spot on the roster.
Keep Reading

New York Jets: Like this team?