Orlando Magic: Is Andrew Nicholson a Precusor to Dwight Howard Trade?
November 9, 2016
The Orlando Magic selected Andrew Nicholson with the 19th pick in the 2012 NBA draft, and the question must be asked: Is this a move to protect themselves from Dwight Howard's potential departure this summer?
Steve Kyler of HOOPSWORLD reported via Twitter this week that those surrounding Howard are not expecting a trade:
For those asking --- Dwight Howards camp is not expecting a trade. Not in their control, but not expecting anything.

— Steve Kyler (@stevekylerNBA) June 27, 2012
That being said, the choice to bring in Nicholson next season could mean that the team is preparing for life after Howard with its first official acquisition of the summer.
If Howard does end up being traded, the Magic are getting a solid big man to jump in and take the place of the six-time All-Star.
Right off the bat, we can assume that Nicholson will not be a Howard-like megastar, but that's more a testament to Howard's once-in-a-decade abilities and less about the player they're bringing in.  
Nicholson won't sell tickets the way Howard does, but despite not receiving the same coverage as some of the draft's biggest names, Nicholson just might be the most skilled big man in the entire 2012 class.
The 6'10", 234-pound power forward from St. Bonaventure is a long, athletic forward who can play multiple spots on the floor.
From the perimeter, he could very well be one of the best shooting bigs in this year's draft.
Having shot 43.4 percent from the three-point line last year—as well as 57.1 percent from the field—Nicholson can keep defenses honest by constantly spreading the floor.
With one of the best-looking shots of any big man you'll see, ESPN's Chad Ford said that he "shot the ball as well as most of the guards" during the NBA's pre-draft camp.
Don't call him a tweener, either, as his back-to-the-basket game is just as reliable as his long-range ability.
With huge hands and a massive wingspan, Nicholson is just as prominent a scorer from the inside as he is on the perimeter.
In the post, Nicholson is aggressive in his attempt to put the ball in the basket, as he seemingly wants to throw it down on every possession. He can finish with either hand, and has the footwork and low-post moves you'd want to see out of a starting power forward.
If you're the Magic, picture Ryan Anderson but with what appears to be a higher ceiling. His post game is better and he has a far more dominant defensive presence.
Nicholson is not a high-volume rebounder the way Howard has been throughout his career, but he averaged two blocks per game last season en route to being named the Atlantic 10's Defensive Player of the Year.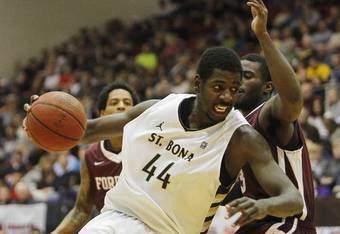 Despite Howard's dominating presence in the paint, the Magic averaged just 4.2 blocks per game last season, which was only good enough for 28th in the league.
Losing Howard will easily put them in the basement of the league for blocks, but a player with Nicholson's shot-blocking ability will be a welcome addition to try to keep them afloat in that category next year.
Nicholson brought a struggling St. Bonaventure team without much direction back to relevancy last season, which is something he just might have to do for the Orlando Magic moving forward.
He won't make the team or the fans forget about Howard, but he will provide a versatile skill set on both ends of the floor as a rookie next season.
If Howard is gone, as many expect him to be, Nicholson is a pick who will step right in and help the team transition into the post-Howard era of basketball in Orlando.