Euro 2012 Final: Why Spain Will Defeat Italy Again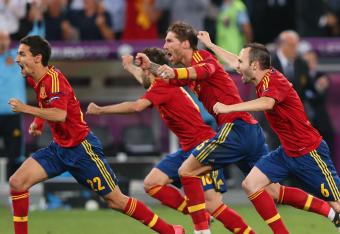 Spain
Alex Livesey/Getty Images
Spain and Italy will face each other in the final match of Euro 2012 to be held this Sunday at Kiev, Ukraine. The two Mediterranean countries will face each other a second time during this important match.
Spain tied Italy and defeated the Republic of Ireland and Croatia in its group matches before defeating France in the quarterfinals and Portugal (by penalties) in the semifinals.
Italy tied Spain and Croatia and defeated the Republic of Ireland in its group matches. Italy defeated England in the quarterfinals before defeating a stunned Germany in the semifinals.
Italy may have a great team, but the possibility of Spain pulling a third consecutive victory in a row is great.
Mesut Ozil (of the German Euro squad) also predicted a Spanish victory in Euro 2012 in an interview published in Goal. The reasons are many, but a few important ones will be mentioned in this article.
Iker Casillas
Iker Casillas is one of the greatest goalkeepers in the Spanish Euro 2012 squad. During the tournament, he has not conceded a goal with the exception of the first match against Italy on June 10.
During the first encounter with Italy, Casillas conceded a goal to Antonio Di Natale. Since that encounter (according to Goal), Casillas did not concede a goal to the opposing team for 419 minutes.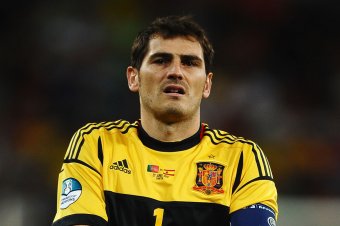 Laurence Griffiths/Getty Images
Casillas (according to Goal) was able to win 100 matches within 136 appearances for Spain. According to ESPN Soccernet, Casillas had 84 saves and 14 clean sheets within 37 matches of La Liga BBVA.
Stamina
According to The Free Dictionary, stamina is defined as the ability to endure. The semifinal match between Spain and Portugal was a test of endurance for both teams all the way to penalty kicks.
My personal impression (from watching the match on TV) was that Spain was allowing Portugal to dominate until the last minutes. Afterwards, they started to recover their dominance while Portugal appeared fatigued.
According to Goal, Spain has the "nerve of champions" in Euro 2012.
Vicente Del Bosque made the mistake of not including Fernando Torres in the semifinal match against Portugal. Torres (according to Goal) was a headache for the defense against Italy in the group match.
Torres was also instrumental in scoring goals for Spain in its group match against the Republic of Ireland. He was a lot better than Alvaro Negredo, who was a disaster in the semifinal between Spain and Portugal, according to Sports Illustrated.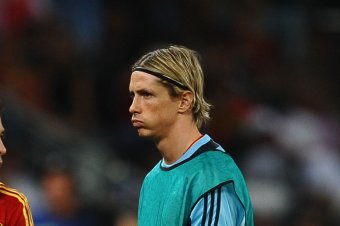 Laurence Griffiths/Getty Images
Fabregas and Ramos

Cesc Fabregas and Sergio Ramos contributed much to the Spanish Euro 2012 squad. For example, Fabregas was able to score the penalty goal that pushed Spain to the finals.
What about Italy?
Italy is an impressive team, but the final will not be a repeat of the first match. The possibility that Italy will not survive the Tiki Taka method of Spain is great.
The goalkeeper Gianluigi Buffon is not as easy, as proved between the match between Germany and Italy. According to ESPN Soccernet, Buffon (during the 2011-2012 Serie A season), had 79 saves and 21 clean sheets within 35 matches
Mario Balotelli is another question mark since he could experience problems similar to the first Spain vs. Italy match. The Guardian once reported about Balotelli's behavior during training with Italy.
Conclusion
While it remains to be seen what will transpire, I predict that Spain will defeat Italy, 3-2. The prediction is not absolute since many predictions in Euro 2012 were never realized.
The important thing is to enjoy the final of Euro 2012 wherever you are.
This article is
What is the duplicate article?
Why is this article offensive?
Where is this article plagiarized from?
Why is this article poorly edited?

Spain (National Football): Like this team?