2012 NBA Draft
NBA Draft 2012: Michael Kidd-Gilchrist and the Biggest 1st-Round Surprises

We quickly learned that Dion Waiters was better than advertised, but is he Top Five good?
Elsa/Getty Images
June 29, 2012
It wouldn't be NBA draft night without a few surprises.
While we didn't see the litany of trades the pre-draft chatter might have suggested, we had some intrigue nonetheless. From the second overall pick to the end of the first round, NBA front offices kept their fans guessing, and then second-guessing while they were at it.
With the draft results finally in, here are the picks sure to have raised the most eyebrows on Thursday night.
Charlotte Bobcats Keep the No. 2 Pick and Take Kentucky's Michael Kidd-Gilchrist

This selection wouldn't have been a surprise at all had it not been for the endless stream of reports suggesting that the organization would trade the pick and take Thomas Robinson one way or another.
So much for what the sources had to say.
In reality, no one should be surprised about the Bobcats taking MKG. New coach Mike Dunlap will look to upgrade the team defensively, and Kidd-Gilchrist will go a long way in doing that. More importantly, his non-stop motor and grit will add a vital component to Charlotte's locker-room culture.
Cleveland Reaches on Syracuse's Dion Waiters at No. 4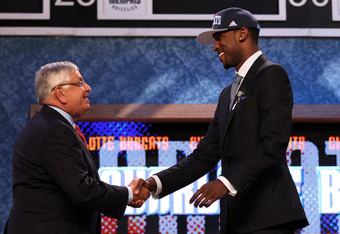 Elsa/Getty Images
This decision is a bit more puzzling—and not in a good way.
Waiters may aspire to be the next Dwyane Wade, and he certainly made a case for himself in the weeks leading up to the draft. He's the kind of guy whose skills speak more loudly than what he achieved as a sophomore sixth man at Syracuse. 
For all his upside, though, taking him with the fourth overall pick is risky. It meets a team need at the shooting guard position, but it's not as if Cleveland didn't also have needs at small forward—where Harrison Barnes would have made a great fit.
More surprisingly, Cleveland passed up an opportunity to steal Thomas Robinson after the Bobcats and Wizards passed on the dynamic power forward. Sure, the Cavaliers already have Tristan Thompson on board, but taking Robinson would have made Thompson a solid piece of trade bait.
Toronto Raptors Take Washington's Terrence Ross at No. 8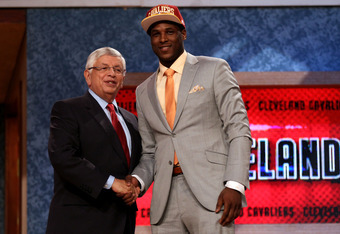 Elsa/Getty Images
This is probably a smart pick for the Raptors. The conventional wisdom may have had guys like UConn's Jeremy Lamb and Duke's Austin Rivers coming off the board before Ross, but that may have had more to do with hype than reality.
Besides his good size and athleticism, Ross can shoot, take the ball to the rim and play defense. He could be an All-Star down the road and the kind of guy who can turn Toronto around and help them return to the postseason.
Portland Trail Blazers Go With Illinois' Meyers Leonard at No. 11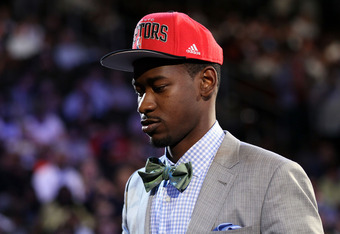 Elsa/Getty Images
This team certainly needed a center with Marcus Camby no longer in the picture, but rolling the dice on Leonard is a bit of a surprise. 
He has the physical tools to become one of the league's better big men, but his skills are still far too raw to know whether he'll ever get there. With Tyler Zeller still available, Portland could have taken a safer bet with admittedly less upside.
The club could probably have traded down a ways in the draft and still gotten one of the two centers. The scouts must have really liked what they saw from Leonard.
Baylor's Perry Jones III Falls to the Oklahoma City Thunder at No. 28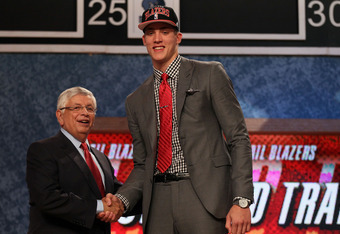 Elsa/Getty Images
Word recently emerged that Jones has some knee issues that could become a long-term problem, and the scare apparently had a huge effect on his stock.
Jones may never have been a lock for the lottery, but the odds were much better that he went in the Top 14 than near the very bottom of the first round. The 6'11" forward is explosive, versatile and has the potential to become a star if he can become more consistent. The talent is certainly there, and OKC may have the steal of the night on its hands.
Like the new article format? Send us feedback!