Why Eric Gordon Is the Perfect Mentor for Austin Rivers
June 29, 2012

Streeter Lecka/Getty Images
When the New Orleans Hornets selected Anthony Davis with the top pick in the 2012 NBA draft, they selected a player who they knew would be able to contribute immediately upon setting foot on an NBA basketball court. 
The 10th selection of Austin Rivers was made with a different goal in mind. 
While nothing is ever set in stone, Davis' spot as a starter seems like a safe bet for next season. 
Rivers, on the other hand, seems all but certain to come off the bench.
Is that a problem? It certainly shouldn't be. Rivers, for all of his talent and NBA pedigree, is still just 19 years old. Davis is 19 as well, but he's a more mature 19 and possess skills that directly translate to the NBA at any age. 
For the 19-year-old Rivers, it might be helpful to have a player who knows the ups and downs of modern NBA life. More importantly, one that knows how to play shooting guard.
Enter Eric Gordon.
Gordon is a 23-year-old shooting guard. He was selected seventh overall in the 2008 NBA draft. Last year, Gordon missed nearly the whole season with a knee injury. He's healthy now, though, and he's likely to resume his habit of frequently putting the ball in the basket.
Gordon averaged 22.3 points per game in 2010-2011 and has a career average of 18.2 points per game on 45.2 percent shooting.
It's that combination that should have Hornets fans, and Austin Rivers, excited.
Being around Eric Gordon is going to make Austin Rivers a better basketball player.
Shot selection is one of the greatest challenges facing any NBA player. When you're a shooting guard, it's not just a challenge—it's a challenge that must be met, and won.
For Austin Rivers, learning when to shoot, when to pass, what to do when the ball is in his hands and what to do when the ball is not in his hands are all going to play a huge role in how good a basketball player he becomes at the NBA level.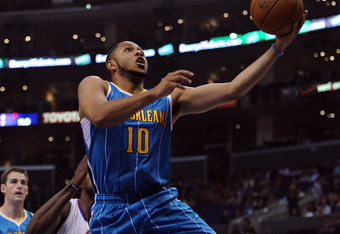 Harry How/Getty Images
A coach can, and inevitably will, tell Rivers all those things, but a peer, a slightly older, more experienced and successful peer will be able to convey those lessons in a manner more easily digested by the 19-year-old Rivers.
That's why this is a perfect situation for the Hornets. Eric Gordon is probably going to return to New Orleans, as the club extended the restricted free agent a qualifying offer on Thursday afternoon, via ESPN.com.
When Gordon returns, he's probably going to be the anchor of a brand new Hornets offense—one in which he gets to lead the team in scoring, but also help to mentor another potentially prolific scorer named Austin Rivers to become one of the most feared sixth-men in the NBA.