Team GB Olympic Soccer: Why Stuart Pearce Was Right to Leave out David Beckham
June 29, 2012

Bob Levey/Getty Images
David Beckham announced Thursday that he has not been selected for the Great Britain Olympic soccer team for the London games, with Craig Bellamy, Ryan Giggs and Micah Richards revealed as the three over-23 players in the squad (from the BBC).
This decision by Stuart Pearce to leave out the popular former England skipper has caused much debate already and divided fans as to whether he should and should not have been left out.
Those who agree with the decision cite his decline in ability that comes with being 37 years old and playing in Major League Soccer as opposed to a major European league.
Some have even questioned whether he was even that good in the first place.
I personally have nothing but the utmost respect for Beckham. He has been the model professional throughout his career, a fine role model for the sport and for England. He is also perhaps the most polite and friendly professional athlete I've had the pleasure to meet.
Add this to the fact that he was a major part of the campaign to land the games in London in the first place, a lot of people thought it was almost simple courtesy and a given to have Beckham lead Great Britain in the Olympics as a fitting final chapter in his illustrious international career.
And as much as people would have loved to see Beckham included from a sentimental and entertainment standpoint, if they could sit back and think about it as a pure footballing decision, they may begin to agree with the decision to leave him out.
Three over-23 players is not a lot, so not only did Pearce have to pick three he thought were the best, he also had to fill in positions of need in his young squad.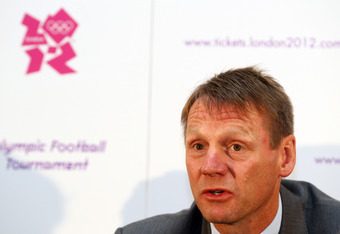 Julian Finney/Getty Images
Craig Bellamy provides the best British attacking option (when not considering those who traveled with England to the Euros), and with defense an area of weakness in the squad over midfield, the inclusion of Micah Richards proved necessary (Rio Ferdinand may have been an option if Alex Ferguson has not ruled him out of Olympic consideration).
This ultimately left the choice of Giggs or Beckham for the midfield spot, an area of Team GB that should be a strength assuming Gareth Bale and Aaron Ramsey are included.
Ryan Giggs perhaps carries as much of a sentimental value as Beckham does in that the legend of British soccer has never qualified to play in a major international competition for Wales, whereas Beckham had the honor of captaining his country at them.
Add this to the fact that Giggs is still delivering fine form in arguably the world's top league for Manchester United, the decision becomes a slightly easier one.
While the standard of Major League Soccer is higher than most people in Europe realize or give it credit for, it still does not come close to the Premier League, although one argument for Beckham on the different leagues is that Becks is in midseason sharpness, while Europe is still to begin its preseason.
That said, the final nail in the coffin perhaps came when Pearce went to the States to watch Beckham play in person, the LA Galaxy were resignedly beaten by the New York Red Bulls and Beckham, by his own admission had a poor game.
It may not prove popular with a lot of people and take a small shine off the appeal of the squad, but Stuart Pearce has selected the men he sees fit to best represent Great Britain at the Olympics and gives the host nation the best chance for gold.