Stop the 'Greg Jackson Fighters Are Boring' Madness
June 29, 2012

Ethan Miller/Getty Images
There are certain inevitabilities in mixed martial arts that I have come to accept over the years.
Dana White will say things he probably shouldn't say. Nick Diaz will do things he definitely shouldn't do.
Mike Goldberg will yell, Josh Koscheck will get booed and Cecil Peoples will turn in scorecards that make us want to pull our hair out.
And after a Greg Jackson fighter gives a boring performance, critics will descend upon the Internet like dingoes to an unwatched baby carriage to spread their venom across cyberspace.
That's where we find ourselves today, after Clay Guida turned his UFC on FX 4 fight with Gray Maynard into a track meet and tried to hit-and-run his way to victory.
Fans were quick to decry this as the work of Jackson's safety-first mantra, with UFC president White saying to Ariel Helwani post-fight, "Some goof put it in his head that running around in circles might win him the fight." Now roundtable discussions are being posted on websites across the country, and podcasters have their B-block topics penciled in.
Even Strikeforce middleweight champion Luke Rockhold chimed in on the action, saying on a conference call (h/t MMA Junkie) to promote his upcoming fight with Jackson-trained fighter Tim Kennedy that he's, "... not a fan of Greg Jackson gameplans, so I just hope that [Kennedy] comes out and fights me in the middle, and fights me everywhere."
We've seen this storyline play out before, most recently when Carlos Condit won the UFC interim welterweight title over Nick Diaz with a stick-and-move game plan. And, just as they are doing now, fans were quick to put Jackson on blast for a boring fight (that frankly wasn't very boring at all).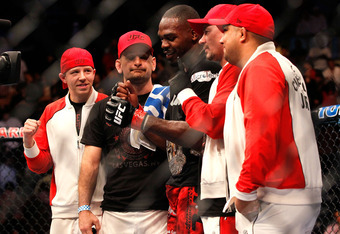 Kevin C. Cox/Getty Images
But every time this criticism reaches a fever pitch, I can't help but shake my head and marvel at how silly it all is. Like most generalities, the "Greg Jackson fighters are boring" storyline is easy to poke holes into. And if you pump the brakes and examine it for a second, you realize just how silly it is for a few reasons.
1. Jackson trains a lot of fighters, and most of them deliver night in and night out.
Jackson/ Winkeljohn MMA is a huge gym, and fighters from all over the world travel to Albuquerque to seek out their coaching. And when you have so many fighters under your banner, it's inevitable that a few of them are going to put on a snoozer from time to time. But when you declare that Jackson coaches fighters to be boring, you conveniently forget to mention a few people.
Jon Jones seems to finding new and more vicious ways to finish fights, be it by face-shattering elbow strikes from the guard or spine-adjusting standing guillotine chokes. And if he keeps it up, he'll have more finishes than he is years old by next year.
Brian Stann has knocked out three of his last four opponents and hasn't seen a fight go to decision since he dropped down to middleweight in mid-2010.
Leonard Garcia has earned two Fight of the Nights in his last three fights, and his game plans consist of throwing 100 mph fastballs down the middle of the plate and daring his opponents to hit them as far as they can.
Travis Browne is a highly regarded up-and-coming heavyweight, and he added both a Submission of the Night and a Knockout of the Night to his resume in the last year.
Hell, Cub Swanson earned Knockout of the Night on the very same card that Guida and Maynard fought.
In fact, start listing the Jackson fighters who you think are boring, then make a list of Jackson fighters who you are happy to see on an upcoming fight card. I promise that the latter list will be a lot longer than the former.
2. We fans have a "What have you done for me lately?" mentality.
MMA fans seem to suffer from this unique form of amnesia where they can't remember anything past the previous 15 or 25 minutes that they just watched.
Going into UFC 143, Carlos Condit had knocked out three straight opponents, and even his prior split decisions were fun to watch. No one was noticing that it was Jackson sitting in his corner as he starched Dan Hardy and Dong-Hyun Kim to the tune of back-to-back Knockout of the Nights.
But as soon as Condit shifted his style to adapt to Diaz's blitzkrieg punching—and avoiding a brawl was exactly what Condit needed to do to win that fight—suddenly he was a boring fighter.
The same goes for Guida. And look, I won't defend what you saw on Friday as watchable or good. He tried the game plan that Frankie Edgar used to best Maynard, but he didn't do it well, and we suffered as a result.
But Guida has been one of the most reliable fighters when you need a good scrap for the last several years. It was in just his last fight that he was teaming up with Ben Henderson to put on a fight that we were pining over. If only that fight had been on the UFC on Fox's national broadcast, we moaned, that's a fight we want casual fans to see and be introduced to the sport with.
So in one fight, Guida goes from putting on a performance (with Jackson in his corner) worthy of being an ambassadorial effort for the masses, to a boring point-sparrer. This is the biggest problem with the boring Jackson stigma—it's a self-fulfilling prophecy. Fighters can give dozens of exciting performances, but as soon as they put on one sub-par outing, it must be Jackson's fault.
Frankly, that makes no sense.
3. Critics see everything through GSP-tinted glasses.
It's no secret that Georges St-Pierre has hit a bit of a rough patch with the Internet faithful. The much-maligned welterweight champ hasn't finished a fight since 2009, and he has placed a premium on takedowns, positional control and a general aversion to risk.
As Jackson's most famous fighter, St-Pierre has become a poster child for what fans think they hate about Jackson's camp. And I won't defend him here, as discussing St-Pierre's title reign deserves more than a couple of token paragraphs.
But I caution you, the fan, to not let your disappointment with St-Pierre's recent fights color your opinion of entire group of fighters, or a coaching staff, or a coach because I really believe that that is what has happened here.
Game plans are a necessary part of success in mixed martial arts, and having a game plan usually doesn't mean circling away from your opponent and peppering them with jabs. And the next time that one of Jackson's fighters fails to entertain—and with so many fighters seeking him out, there will be a next time—let's keep the discussion on the fight itself and not turn it into the same old song and dance.
Generalities are easy to write, but they rarely tell the whole story.