NHL Free Agency and Trade Rumors: Player Tracker and Recapping the Latest Buzz
June 29, 2012

Christian Petersen/Getty Images
The frenzy of NHL free agency is slowly reaching a boiling point, so what is the latest buzz? The trade whispers, free-agent buzz and other transactions are slowly emerging as the start of free agency slowly approaches.
Here is a tracker you can use to keep up with the latest rumors, signings and other news.
Updated: Saturday, July 1, 2012 1:50 PM, ET
Justin Schultz Agrees to Terms With Edmonton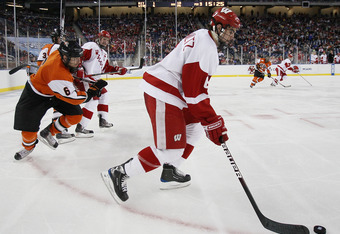 Elsa/Getty Images
 

The Edmonton Oilers have agreed to terms with Justin Schultz. More details to come.

— Edmonton Oilers (@NHL_Oilers) June 30, 2012

 
Marty Brodeur to Test Free Agency
Devils' financial situation has prevented GM Lou Lamoriello from committing to re-sign Martin Brodeur so he will test market as UFA

— Rich Chere (@Ledger_NJDevils) June 29, 2012
Bobby Ryan Wants Out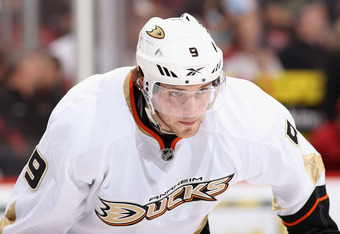 Christian Petersen/Getty Images
New Puck Daddy: Bobby Ryan's casual trade demand rocks Anaheim Ducks yhoo.it/LPXKH9

— Greg Wyshynski (@wyshynski) June 23, 2012
Bobby Ryan is sick of being thrown into trade rumors whenever the team plays poorly, so he has asked to be moved if the Ducks don't want him. Ryan was set to meet with general manager Bob Murray so the two sides could talk about a potential deal or Ryan staying in Anaheim.
If he is traded, it could be linked to Zach Parise signing in a new city or Rick Nash being dealt. With less teams involved, Murray's price for Ryan could go up, but the situation could be so toxic that Murray could opt to move Ryan as soon as possible just the same.
Rick Nash: Will He Stay or Will He Go?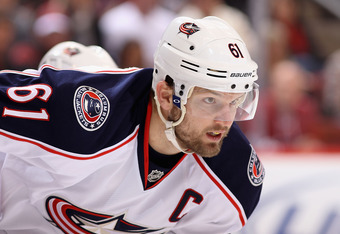 Christian Petersen/Getty Images
At this point, the Rangers and Flyers are the top contenders in the Nash-Stakes. 
Rick Nash to Flyers? Talks could be attempt to leverage Rangers dlvr.it/1nchpM

— Sean Gentille (@seangentille) July 1, 2012
If you thought Howson's asking price for Nash was high before, you can gain some new perspective when you consider that Howson turned down the Islanders' complete set of draft picks for the No.2 overall. This rejection came from the general manager who is hoping to rebuild his team with young players.
Rick Nash wants to leave, fans around the world want Nash to be traded already, but Scott Howson is negotiating with potential buyers like Nash is the second coming of Wayne Gretzky.
No one is saying that Nash should be given away but he is not worth Ryane Clowe, Logan Couture, Jason Demers and a first-round pick. He also is not worth Chris Kreider, Ryan McDonagh, Derek Stepan and a first-round pick.
Once Parise signs for whichever team he chooses, Nash movement should increase because teams will show more desperation.
Alberta Acquisitions to Impact Trade?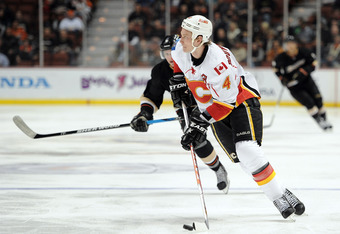 Harry How/Getty Images
The Calgary Flames completed a sign and trade (see below) for Dennis Wideman. Now that he is signed long-term, the Flames are likely going to attempt moving overpaid and underperforming defenseman Jay Bouwmeester.
Here is an excerpt from the Edmonton Journal.
Blues head coach Ken Hitchcock knows Bouwmeester from coaching him at the 2006 Olympics and the 2004 World Cup of hockey. Bouwmeester has his critics, mainly because he doesn't put up nearly enough points for his skating ability and puck-handling skills, but you're not going to change a player who's nearly 29. Bouwmeester is a shutdown blue-liner who played an average of 26 minutes a game last season. He makes a truckload of money — $13.2 million US over the next two years — but as long as the Blues can send some money and likely at least two players to Calgary, they can live with it.  
Bouwmeester has a bad contract, but with the salary cap ceiling at $70.3 M, teams can live with a contract that horrendous.
Doan Headed Out of Desert?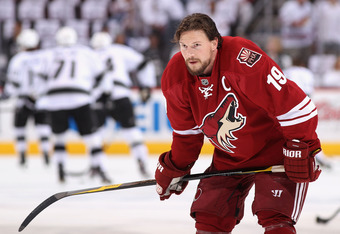 Christian Petersen/Getty Images
To reiterate, Shane Doan will not be signing with anyone until July 8, at the earliest. More here: bit.ly/LFvvoA

— David Pagnotta (@TheFourthPeriod) July 1, 2012
Zach Parise As a Penguin?
Penguins gained 2 million cap space in Staal trade. They are in position to offer front loaded contract to Zach Parise and pair him with #87

— John Buccigross (@Buccigross) June 23, 2012
Zach Parise is set to become the top free-agent, but could he end up playing for the Penguins? The Pens unloaded a ton of cap space and could offer Parise the ability to play with his friend Sidney Crosby, a boatload of money and an opportunity to contend for the Stanley Cup for the foreseeable future. 
Hearing NJD GM Lou Lamoriello to meet with Zach Parise today, one final time before Parise is scheduled to hit UFA market 12 noon tomorrow.

— Bob McKenzie (@TSNBobMcKenzie) June 30, 2012
Many Suitors for Suter?
Here is the latest news on Ryan Suter from Joshua Cooper of The Tennessean
Poile said he talked with pending unrestricted free agent defensemanRyan Suter by phone this week and, through those discussions, believes the All-Star will circle back to Nashville after hearing offers from other teams.

"Ryan is going to have a look on July 1, and based from talking with him, I'm sure he's going to come back to us" to talk, Poile said. "I'm not going to say if it's July 1, or July 2, he's going to come back to us. We're going to talk about what's out there and how that compares with the situation in Nashville."

Suter's agent, Neil Sheehy, said that they will not ask teams to come to them to negotiate. Sheehy will be based in his office in Minneapolis. Suter will be based out of his home in Madison, Wis.

"We have no plans to do that," Sheehy said. "We will be in two separate places. We have no plans of doing a dog-and-pony show, which is not Ryan's personality."
Suter is the top defenseman of the free agency class so expect teams to line up with sizable offers. Top contenders for Suter include the Detroit Red Wings and the Pittsburgh Penguins.
Matt Carle Headed to Free Agency
Also on IT: @Real_ESPNLeBrun reports PHI dman Matt Carle likely to go UFA on July 1.

— Bob McKenzie (@TSNBobMcKenzie) June 28, 2012
Other Major Non-Free-Agent Signings 
Sidney Crosby
#Pens and Sidney Crosby agree to terms on 12-year, $104.4 million contract extension bit.ly/Lj00Tf

— Pittsburgh Penguins (@pghpenguins) June 28, 2012
Jonathan Quick
Kings agree to terms with Jonathan Quick on a 10-year extension. Like Crosby, can't be signed until Sunday and goes into effect in 2013-14.

— Dan Rosen (@drosennhl) June 28, 2012
Below is Bleacher Report's Free Agency Tracker. The following will list prominent UFA'S and RFA's and will be continually updated as players are signed to deals. 
B/R's NHL Free Agency Tracker 2012

 

Notable Un-Restricted Free Agents

Player

Team

11-12

12-13

New Deal

   New Team

Zach Parise

NJD

$6.0      

 

 

 

Ryan Suter

NSH

$3.5

 

 

 

Alex Semin

WSH

$6.7

 

 

 

Ryan Smyth

EDM

$6.25

 

 

 

Martin Brodeur

NJD

$5.2

 

 

 

Martin Biron

NYR

$875K

$1.3
2 Years
NYR

Josh Harding

MIN

$750k

$1.9

3 Years

MIN

Lee Stempniak

CGY

$1.9

$2.5

2 Years

CGY

Blair Jones

CGY

$525k

$650k

2 Years

CGY

Shane Doan

PHX

$4.55

 

 

 

Dustin Penner

LAK

$4.25

 

 

 

Travis Moen

MTL

$1.5

$1.8
4 Years
MTL

Teemu Selanne

ANA

$4.0

 

 

 

Jarret Stoll

LAK

$3.6

$3.250

3 Years

LAK

Barret Jackman

STL

$3.625

$3.25

3 Years

STL

Dennis Wideman

WSH

$3,937,500

$5.25

5 Years

 CGY

Matt Carle

PHI

$3.437

 

 

 

Hal Gill

NSH

$2.25

$2.0

2 Years

NSH

Jaromir Jagr

PHI

$3.3

 

 

 

Olli Jokinen

CGY

$3.0

 

 

 

Ray Whitney

PHX

$3.0

$4.5

2 Years

DAL

Jiri Hudler

DET

$2.875

 

 

 

Paul Gaustad

NSH

$2.3

$3.5

3 Years

NSH

Samuel Pahlsson

VAN

$2.65

N/A

N/A

Modo, SEL

P.A. Parenteau

NYI

$1.25

 

 

 

Cory Sarich

CGY

$3.5

$2.0
2 Years
CGY

Justin Schultz

ANA

N/A

$3,775,000

2 Years

EDM

Notable Restricted Free Agents

 

Shea Weber

NSH

$7.5

 

 

 

Erik Karlsson

OTT

$1.3

$6.5

7 Years

OTT

Tuukka Rask

BOS

$1.25

$3.5

1 Year

BOS

Matt Duchene

COL

$3.2

$3.5

2 Years

COL

Steve Downie

COL

$1.85

$2.65

2 Years

COL

Cory Schneider

VAN

$900K

$4.0

3 Years

VAN

Evander Kane

WPG

$3.1

 

 

 

Ondrej Pavelec

WPG

$1.15

$3.9

5 Years

WPG

Shane O'Brien

COL

$1.1

$2.0

3 Years

COL

Kris Versteeg

FLA

$3,083,333

 

 

 

Carey Price

MTL

$2.75

 

 

 

Mike Green

WSH

$5.25

 

 

 

Jakub Voracek

PHI

$2.25

 

 

 

Michael Del Zotto

NYR

$1,087,000

 

 

 

Sam Gagner

EDM

$2.275

 

 

 
For up to the minute updates click the button below