Spain vs. Italy Predictions: Players Most Likely to Take Man of the Match Honors
June 29, 2012

Jasper Juinen/Getty Images
While there's nothing like bringing the Euro Cup title back to your home country, winning Man of the Match in one of the biggest games ever isn't too shabby, either. 
That will be the goal for every all-world superstar who takes the pitch on Sunday. Not only to win the tournament, but to do everything in his power to dominate.
With that being said, predicting who will step forward as the ultimate player in the ultimate match is no easy task. It's not like Spain and Italy are short on ridiculously talented players.
Nonetheless, here I am and here's my shot at predicting Sunday's Man of the Match. 
3. Gianluigi Buffon, GK, Italy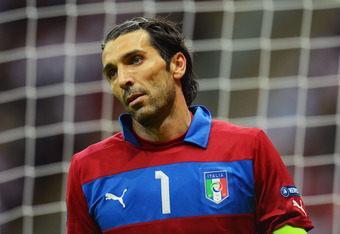 Shaun Botterill/Getty Images
With the way Spain dominates possession, yet doesn't have a reliable striker, doesn't it make sense that Buffon, who is having a terrific tournament, would just rack up an inordinate amount of saves? 
The 34-year-old appears back to the form that saw him win the 2006 World Cup, and if he gets the chances, he'll stifle Spain and take home the honor. 
In order to really up the performance, I'm predicting Buffon adds a blocked penalty to his accomplishments of the match. 
2. Xavi, M, Spain
Xavi has yet to score a goal, and he hasn't even dished out an assist, either. Nonetheless, the all-world midfielder is the absolute engine to Spain's attack. 
In five matches this tournament, the Barcelona midfielder has completed an insane 92.8 percent of his passes (465 of 501), which is a fairly ridiculous number. 
Not only that, Xavi is completing 4.2 key passes and 2.2 accurate cross per game, easily the best numbers on the Spain squad.
Xavi may not score a goal against Italy, but if he continues to play like he has been, it's only a matter of time before he racks up multiple assists. 
Spain needs a striker, but Xavi is the ultimate table-setter and the world will continue to be impressed by him on Sunday. 
1. Andrea Pirlo, M, Italy
You name it, Pirlo has done it. 
A ridiculous number on his passing percentage? Check. A goal off a free kick? Check. Multiple beautiful assists? Check. A goal-line save on defense? Check.
There's not much else Pirlo can do to surprise us, but as long as he continues his immense amount of success, and if Italy comes out on top, there's no question he'll be the deciding factor.
Mario Balotelli, with his terrific play as of late, is also an option here, but I'm not ready to trust the Manchester City star for more than two or three games in a row.