2012 NBA Draft Order: Updated List of Selections for All 2 Rounds
June 28, 2012

NBA fans rejoice—the best day of the year has arrived.
A holiday for hoops lovers everywhere, the 2012 NBA draft is officially underway.
Kentucky's Anthony Davis and his awesome unibrow are the top prizes to be had on Thursday, but they aren't the only quality assets up for grabs. This is one of the deepest draft classes in recent memory, with several All-Star caliber players at each position.
From big men like Davis and Thomas Robinson to explosive wing players like Michael Kidd-Gilchrist and Bradley Beal to quality point guards like Damian Lillard and Kendall Marshall, there are top-notch players all over the board.
The New Orleans Hornets have the first overall pick, and it's no secret that they will be selecting Davis. After that, there is an infinite number of possibilities for the rest of the draft.
It's sure to be a chaotic and drama-filled night, so buckle your seatbelt and brace yourself for the madness. We will be updating every pick as they happen, so stay tuned to Bleacher Report for all the latest news and analysis.
First Round
1. New Orleans Hornets: Anthony Davis: PF/C, Kentucky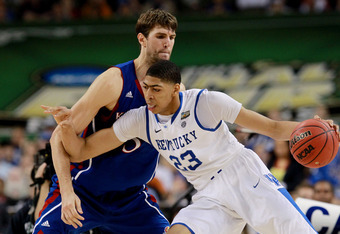 Ronald Martinez/Getty Images
No surprise here, as the Hornets selected the clear-cut best player in this draft.
Davis has everything an NBA superstar needs: size (6'10", 7'5" wingspan), athleticism, sound fundamentals and an intense competitive fire.
He's a shot-blocking machine thanks to his pterodactyl wingspan and impeccable timing. Offensively, he's got a well-rounded skill set.
Davis will likely be a top-five NBA player in a few years. Paired with Eric Gordon, the Hornets now have a very bright future.
2. Charlotte Bobcats: Michael Kidd-Gilchrist: SF, Kentucky
For the first time in history, one school has produced the top two picks in the NBA draft.
There were plenty of rumors suggesting Charlotte would trade this pick, but for now, Michael Kidd-Gilchrist is a Bobcat.
If they hold on to him, I love this pick for Charlotte. After their 7-59 debacle last season, it needs a highly competitive player who leads by example. Kidd-Gilchrist does just that.
He plays harder than anybody in the draft, and with his insane athleticism and work ethic, he should have a stellar NBA career.
3. Washington Wizards: Bradley Beal: SG, Florida
The Wizards got the man they wanted, and with former No. 1 overall pick John Wall already on the roster, they now have one of the most promising young backcourts in the NBA.
Beal is an assassin from behind the arc, he can get to the rim whenever he wants and he has a high basketball IQ. With his strong build, explosive leaping ability and gorgeous shooting stroke, Beal will be a perennial all-star in this league. 
4. Cleveland Cavaliers: Dion Waiters: SG, Syracuse
In the first major surprise of the draft, the Cavaliers went with Waiters.
Everyone knew that the Cavs coveted Beal, but with him off the board, they decided to take the second best shooting guard available. Like Beal, Waiters is a powerful guard who excels at finishing at the rim.
He is an explosive athlete who has the potential to be a Dwyane Wade-type player. Paired with reigning Rookie of the Year Kyrie Irving, the Cavaliers now have a dynamic young backcourt of their own.
5. Sacramento Kings: Thomas Robinson: PF, Kansas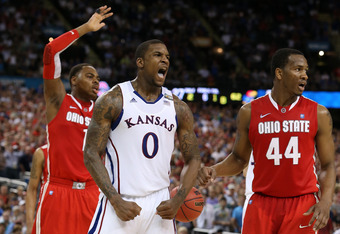 Jeff Gross/Getty Images
The Kings needed a high character player who's ready to contribute right away, so the Robinson selection makes perfect sense.
He is an Amar'e Stoudemire-type player with incredible strength and explosive athleticism. He finished second in the NCAA with 11.8 rebounds per game last season.
Get ready to see Robinson and DeMarcus Cousins terrorize teams on the glass next season.
6. Portland Trail Blazers (from Brooklyn): Damian Lillard: PG, Weber State

The Blazers were looking for both a point guard and a knockdown outside shooter, so this is the perfect selection.
Lillard is a pure scorer, averaging 24.5 points per game last season. He's also an unselfish passer with good vision.
This is an excellent selection by Portland, who both filled a need and got an incredibly talented young player. Lillard has all the tools to be an All-Star in this league.
7. Golden State Warriors: Harrison Barnes: SF, North Carolina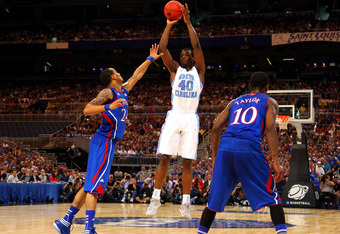 Dilip Vishwanat/Getty Images
The Warriors didn't exactly need another scorer, but they got one in North Carolina sharpshooter Harrison Barnes.
Barnes is a smooth shooting forward with good length and athleticism. I doubt he'll ever be an all-star, but he should be able to put up points for a long time in this league.
With Steph Curry and Klay Thompson, Barnes gives the Warriors a promising young core.
8. Toronto Raptors: Terrence Ross: SG, Washington
A slight surprise here, as most people had Ross going in the 10-15 range.
That said, Ross is an incredible talent. I think he'll end up being the second best shooting guard in this draft behind Beal. He's a knockdown shooter, he's got good size and, as you can see in the video above, he's insanely athletic.
It will be interesting to see how he meshes with DeMar DeRozan, but I think the two can make it work.
9. Detroit Pistons: Andre Drummond: C, UConn
Andre Drummond is absolutely massive (7'0", 280 pounds, 7'6" wingspan), and he should form a menacing frontcourt duo with Greg Monroe. 
He's very raw offensively, and his work ethic hasn't been ideal in the past. He's just 18 years old, though, so if he receives some proper guidance, he could end up being a monster in this league.
10. New Orleans Hornets (from Minnesota via LA Clippers): Austin Rivers: SG, Duke
I'm not quite sure how I feel about this pick. I like Rivers as a player, but with Eric Gordon already on the roster, I'm not sure where he fits in.
Rivers is a guy who needs the ball in his hands to succeed. He's got a vicious crossover and a smooth jumpshot, but he's undersized, not particularly athletic, and I'm expecting him to get killed on defense.
Neither Gordon nor Rivers can play the point, so the Hornets may be planning to bring him off the bench like San Antonio does with Manu Ginobili or the Thunder do with James Harden.
Either way, New Orleans will be a fascinating team next season.
11. Portland Trail Blazers: Meyers Leonard: C, Illinois
Leonard measured out as the tallest player at the NBA combine, but he's the definition of a beanpole at 250 pounds.
He can run the floor, but can also play the post, which makes him a perfect complementary piece for Portland's first pick in this draft, Damian Lillard. 
Once he hits an NBA strength training regimen, Leonard is going to put on some muscle pretty fast. He's an impressive athletic specimen with a wealth of moves, but he needs to grow into his frame.
Either way, he'll look pretty good on the court with Lillard and LaMarcus Aldridge.
12. Houston Rockets (via Milwaukee): Jeremy Lamb: G, UConn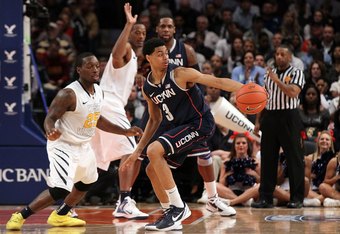 Jim McIsaac/Getty Images
Nobody really knew for sure if the Rockets would be making this pick at No. 12 with all the rumors swirling around their potential moves, but Houston made a good one in Lamb.
Along Goran Dragic and Chandler Parsons, he gives the Rockets a young core to work with in the future. His versatility was one of his most valuable assets in college, an aspect of his game that will only continue to develop in the NBA.
Lamb is a great shooter, but he also has the height and explosiveness to finish at the rim among taller defenders. He plays solid defense and will be a lockdown defender if he adds some strength to his near seven-foot wingspan.
13. Phoenix Suns: Kendall Marshall: PG, UNC
Well this gives some indication as to what is going to happen with Steve Nash this offseason.
Marshall is the best pure passer in this draft. He's the perfect guy for the Suns at No. 13. The former Tar Heel is a great transition passer, which will be magnified in Alvin Gentry's offensive run-and-gun scheme.
He's not as good of a shooter as Nash, but he makes everyone around him better. He's not an explosive athlete, but that never stopped Nash from becoming an MVP point guard.
14. Milwaukee Bucks (via Houston): John Henson: PF, UNC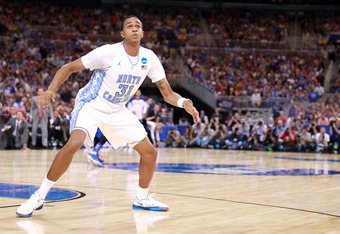 Andy Lyons/Getty Images
Henson, a two-time ACC Defensive Player of the Year, is the prototypical defensive specialist. He'll give the Bucks exactly what they need in an imposing big man in the paint.
Plenty of people have criticized Henson for his lack of offensive game, but it consistently improved throughout his college career. It's still average, but you don't need a scoring big man in the middle when Monta Ellis and Brandon Jennings are in the backcourt.
He's a relentless shot blocker and rebounder, but questions regarding his strength have been brought up. That's nothing that can't be fixed during the few months of the offseason.
15. Philadelphia 76ers: Maurice Harkless: F, St. John's 
Harkless was the Big East Rookie of the Year and is a good player to add to one of the youngest corps in the NBA.
At 6'9", he's better near the hoop than he is on the perimeter. That's what the 76ers need, though, as their lack of interior presence killed them against the Boston Celtics in the playoffs.
He's long and tall enough to guard power forwards, but quick enough to guard small forwards. It will be interesting to see how Harkless meshes with the rest of the young guns in Philadelphia.
16. Houston Rockets (from New York): Royce White: F, Iowa State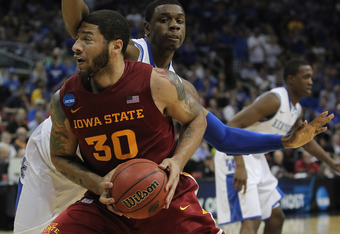 Jonathan Daniel/Getty Images
It comes as a surprise to see White off the board this early, but that doesn't make him a bad pick.
He can play virtually any position from the 2 to the 4. He's a point guard in a big man's body and led his team in assists last season.
One of the knocks on White is that he is extremely afraid of flying and deals with some other anxiety and off-the-court issues too.
He's an undeniable talent thanks to his versatility and size, so he'll be one of a kind if he can keep it together.
17. Dallas Mavericks: Tyler Zeller: C, UNC
It's never a bad thing to have two seven-footers on your roster, and Zeller gives the Mavericks exactly that.
He gets down the floor in a hurry, which doesn't exactly play to the Mavs offense, but he excels in the half-court game too. Dallas was mediocre in the rebounding department last season, but Zeller will help to turn that into one of their strengths.
Zeller is a good shooter to boot. Not many teams in NBA history have had two seven-footers who can work the post and the mid-range game.
18. Houston Rockets (from Minnesota via Utah): Terrence Jones: F, Kentucky
The rich get richer. The Rockets got a guard and a forward with their first two picks and acquired another forward with Jones. 
I'm excited to see the chemistry between Jones and Royce White, as both are extremely athletic and versatile. The combination actually makes me scared for the rest of the league in a few years.
Jones is a great passer and a lefty, making him ever-dangerous in the post. His ability to step out to the perimeter and knock down shots makes him a great player to pair put alongside Jeremy Lamb and White.
19. Orlando Magic: Andrew Nicholson: F, St. Bonaventure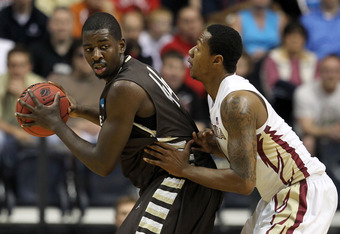 Jamie Squire/Getty Images
Nicholson was the Atlantic-10 Player of the Year and can play all over the basketball court. He has very soft hands which helps him in the post and in terms of passing, but he can also shoot.
He's not going to make Orlando forget Dwight Howard, but at 6'10", he'll be a great option down low if he can establish himself as a consistent rebounder in the NBA.
One area he bests Howard in is perimeter shooting. He can step out to the three-point line and knock down shots, or drive into the paint and throw it down.
Versatility is what the Magic were looking for, and versatility is what they got.
20. Denver Nuggets: Evan Fournier: G, France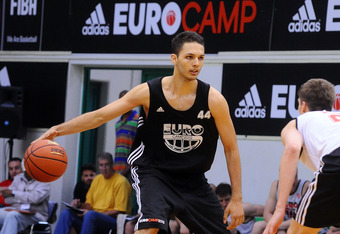 Roberto Serra/Iguana Press/Getty Images
Fournier is the first international player taken in this draft, and at 19 years old, he'll be a great shooting guard in the NBA.
He can penetrate successfully, but also knocks down mid-range shots consistently. He has great size for a shooting guard at 6'7" and is a great scoring option for the run-and-gun Nuggets on the wing.
Fournier is a bit weak for an NBA shooting guard, but he's young. That's going to change with time.
The Nuggets got Kenneth Faried last year in Round 1 and are hoping that Fournier pans out just as well.
21. Boston Celtics: Jared Sullinger: PF, Ohio State
Jared Sullinger is as skilled a big man that you were going to find in this draft class. However, there is a reason he slid to No. 21. He is slow, a little undersized, and has back concerns.
That said, he just gets it done on the court. He knows how to score and rebound, and brings a nice physical presence.
This is a valuable piece for the Celtics as they figure out if Kevin Garnett will be returning, or if this team will have to completely retool their frontcourt.
22. Boston Celtics (from LA Clippers via Oklahoma City): Fab Melo: C, Syracuse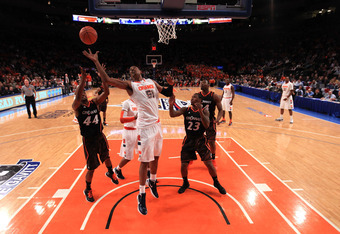 Chris Trotman/Getty Images
Well, the Boston Celtics didn't settle with just adding Jared Sullinger to their frontcourt. With the second of their back-to-back picks, they grabbed Fab Melo.
The 7'0" Melo is full of potential. He is athletic and active. He is a solid rebounder, but he will need lots of work refining his offensive game and his man-to-man defensive skills.
Melo is raw, but he should be able to provide some valuable minutes right off the bat.
23. Atlanta Hawks: John Jenkins: SG, Vanderbilt
John Jenkins is one of the premiere shooters in this class. He has a quick and high release, and he is deadly when he releases it.
He is not the most athletic shooting guard, and he is not going to break down defenders off the dribble. That said, he can take it to the rack when he gets a seem.
There will always be a spot on a roster for a shooter as deadly as Jenkins, but he will have to improve his overall game to be a starter.
24. Cleveland Cavaliers (from LA Lakers): Jared Cunningham: G, Oregon State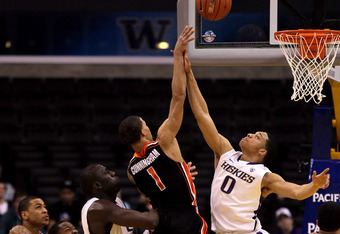 Stephen Dunn/Getty Images
All the speculation suggests that this pick was made for the Dallas Mavericks, and if that is the case, the Mavericks are getting an exciting prospect.
Cunningham is supremely athletic. He can get to the lane at will, and he can finish in highlight fashion. He is also a good ball handler, and could develop into a point guard.
So go ahead and speculate away about what this means about the Mavericks interest and/or hopes of signing Deron Williams and their own free-agent, point guard Jason Kidd.
25. Memphis Grizzlies: Tony Wroten, Jr.: G, Washington
Wroten is a terrible shooter. That is the only reason he was still around for the Grizzlies to take at No. 25.
Wroten is an excellent athlete. He can penetrate and defend. He also has great court vision and excellent passing.
If he ever wants to be a starter, he will have to improve his jump shot, but if he does that, he is an All-Star level talent.
26. Indiana Pacers: Miles Plumlee: F, Duke
Plumlee is an athletic 7'0". He is a good rebounder, and can run the floor. He needs to get much better finishing around the rim and on his man-to-man defense, but he is a hard worker.
Plumlee has plenty of aspects of his game to pick apart, but their is always room on the roster for an athletic big man who isn't afraid to work hard.
27. Miami Heat: Arnett Moultrie: PF, Mississippi State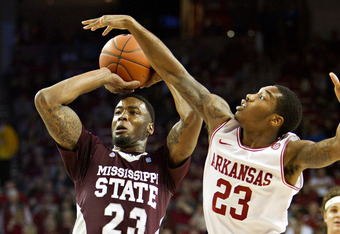 Wesley Hitt/Getty Images
Moultrie is a big man that knows how to get up and down the court. He is strong and fast and has a ton of upside.
This was a great value pick. Plenty of mocks had Moultrie as a lottery selection. Moultrie will have to improve his outside shot, but he will be able to find a role right away. He is a solid defender, but could stand to improve his shot blocking.
28. Oklahoma City Thunder: Perry Jones: PF Baylor
Just like their partners in the NBA finals, the Thunder walk away from this draft with a player that many mocks had going in the lottery portion of the draft.
Jones' fall is likely attributed to recent medical red flags, but there are conflicting reports as to how much these will limit him.
If they don't, the Thunder just got one of the best steals of the draft. Jones is a skilled big man. He needs to add strength and intensity, but he is an exciting prospect.
29. Chicago Bulls: Marquis Teague: PG, Kentucky
The Bulls drafted someone that will help them with point guard depth as Derrick Rose recovers from his knee injury.
Teague is a good ball-handler. He is a solid passer, but could definitely stand to improve his court vision. He has good range on his shot, but needs to improve his consistency. He is quick enough to take defenders off the dribble.
He has a good attitude and is a hard worker, and he should fit right in with this Bulls roster.
30. Golden State Warriors (from San Antonio): Festus Ezeli: C, Vanderbilt
The Warriors secured a big body for their frontcourt. Ezeli is pushing 7'0" and 260 pounds. He is solid around the rim. He knows how to rebound and finish, and he has a decent post game.
It is just everything else he needs to work on. Ezeli's hands are about as soft as a brick, and he plays defense like someone who has bricks for hands. If Ezeli gets enough playing time, he will foul out of his share of games.
Ezeli has big-time potential if he develops, but he has some work to do to get there.
Second Round
31. Charlotte Bobcats: Jeff Taylor - F, Vanderbilt
32. Washington Wizards: Tomas Satoransky - G, Spain
33. Cleveland Cavaliers: Bernard James - C, Florida State
34. Cleveland Cavaliers (from New Orleans via Miami): Jae Crowder - SF, Marquette
35. Golden State Warriors (from Brooklyn): Draymond Green - SF, Michigan State
36. Sacramento Kings; Orlando Johnson - SF, UCSB
37. Toronto Raptors: Quincy Acy - PF, Baylor
38. Denver Nuggets (from Golden State via New York): Quincy Miller - SF, Baylor
39. Detroit Pistons: Khris Middleton - F, Texas A&M
40. Portland Trail Blazers (from Minnesota via Houston): Will Barton - SG, Memphis
41. Portland Trail Blazers: Tyshawn Taylor - PF, Kansas
42. Milwaukee Bucks: Doron Lamb - G, Kentucky
43. Atlanta Hawks (from Phoenix): Mike Scott - PF, Virginia
44. Detroit Pistons (from Houston): Kim English - G, Missouri
45. Philadelphia 76ers: Justin Hamilton - C, LSU
46. New Orleans Hornets (from Washington via Dallas): Darius Miller - F, Kentucky
47. Utah Jazz: Kevin Murphy - G, Tennessee Tech 
48. New York Knicks: Kostas Papanikolaou - F, Greece
49. Orlando Magic: Kyle O'Quinn - C, Norfolk State
50. Denver Nuggets: Izzet Turkyllmaz - C, Turkey
51. Boston Celtics: Kris Joseph - F, Syracuse
52. Golden State Warriors (from Atlanta): Ognjen Kuzmic - C, Spain
53. Los Angeles Clippers: Furkan Aldemir - PF, Turkey
54. Philadelphia 76ers (from Memphis): Tornike Shengelia - F, Belgium
55. Dallas Mavericks (from LA Lakers): Darius Johnson-Odom - SG, Marquette
56. Toronto Raptors (from Indiana): Tomislav Zubcic - F, Croatia
57. Brooklyn Nets (from Miami): Ilkan Karaman - Turkey
58. Minnesota Timberwolves (from Oklahoma City): Robbie Hummel - F, Purdue
59. San Antonio Spurs: Marcus Denmon - G, Missouri
60. Los Angeles Lakers (from Chicago via Milwaukee and Brooklyn): Robert Sacre - C, Gonzaga