Wimbledon 2012 Predictions: TK's Men's and Women's Picks, Day 5
June 28, 2012

Paul Gilham/Getty Images
Can things get any more exciting at Wimbledon?
This has been a great tournament so far, and I think it will continue to get better and better. Will there be another upset, like Rafael Nadal losing, in Friday's matches?
I wouldn't count on it, but you never know.
My record is now 25-14 after a pretty dismal fourth day. I will try to do much better on Day 5.
Here's my look at Friday's matches.
No. 1 Novak Djokovic vs. No. 28 Radek Stepanek
Could Stepanek add Djokovic's name to the list of players headed home? He has the serve-and-volley game to do it. I think it will be a tough match for Djokovic, but now more than ever, the top players will be weary of upsets.
Winner: Djokovic in four sets
No. 12 Vera Zvonareva vs. Kim Clijsters
Two years ago, Zvonareva knocked off Clijsters on her way to reaching the Wimbledon final. Could history repeat itself? No. Clijsters has looked much better, and when she is on her game, she is simply the better player.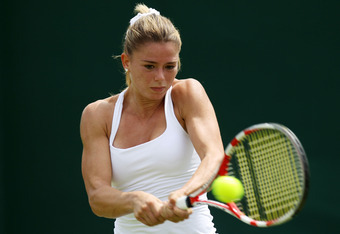 Clive Rose/Getty Images
Winner: Clijsters in two sets
No. 12 Nicolas Almagro vs. No. 18 Richard Gasquet
Almagro is coming off another tough match, while Gasquet cruised in straight sets in his last match. Gasquet tends to play well at Wimbledon.
Winner: Gasquet in four sets
Viktor Troicki vs. No. 15 Juan Monaco
Tricky Troicki will give Monaco a tough match. Troicki seems to have a habit of playing five-set matches, which could catch up to him—just not yet .
Winner: Troicki in five sets
No. 28 Christina McHale vs. No. 8 Angelique Kerber
This is a winnable match for McHale. She has had two tough matches so far, so she's certainly battle-tested. I think Kerber is playing well so far, so I give her the slight edge.
Winner: Kerber in three sets
No. 26 Mikhail Youzhny vs. No. 8 Janko Tipsarevic
This should be a great match. Both seem to be playing well, and both can be streaky in matches and tournaments. I keep thinking Tipsarevic is going to lose early in this tournament, so I'll go with the Russian.
Winner: Youzhny in five sets
Sloane Stephens vs. No. 15 Sabine Lisicki
Two big servers going at it on grass. This is my kind of my match. I think it will be a very close one. Stephens continues to impress me, so I'll go with her.
Winner: Stephens in three sets
No. 17 Fernando Verdasco vs. Xavier Malisse
Malisse does well on grass, so I'm not surprised he's made it to the third round. Verdasco is a very up-and-down player. He seems to be in good form, which means he is probably due for a bad day.
Winner: Malisse in four sets
No. 20 Nadia Petrova vs. Camila Giorgi
Petrova just completed her second-round match Thursday, and it was a dogfight. I'll go with the Italian. 
Winner: Giorgi in three sets
Sorana Cirstea vs. No. 17 Maria Kirilenko
I've seen both of these players look very, very good and very, very bad at times in their careers. Who knows what to expect in this match, but I'll go with the higher-ranked player.
Winner: Kirilenko in three sets