Stephanie Rice: Where She Fits in the US Olympic Swimming Trials Picture
June 28, 2012

Quinn Rooney/Getty Images
By now you might know Australian swimmer Stephanie Rice as the attractive, athletic woman who recently posted a revealing photograph of her attractive, athletic body to Twitter—drawing the ire of her country's more Puritanical factions.
Perhaps you didn't hear that Stephanie Rice is a damn good swimmer, a three-time gold medalist at the 2008 Beijing Games who should loom large again come late July.
Let's get a sense of where this sudden internet sensation fits into the 2012 medal picture and what Americans she'll be up against for London spoils.
400-meter Individual Medley
In 2008, Rice won her first gold medal with a world-record swim in the 400 IM.
American Katie Hoff took bronze in that race, but it it's been another American, fourth-place finisher Elizabeth Beisel, who has emerged as the stronger swimmer over the quadrennium since.
Beisel, a 19-year-old University of Florida student, won the 400 IM at last year's World Championships, with Rice taking third.
On Wednesday, Rice admitted that Beisel is the pre-London favorite, telling Perth Now, "Fast swim . . . Elizabeth is definitely the front-runner along with (Brit) Hannah Miley and there's a gap to the next crew I'm sitting in."
Or perhaps Rice was merely playing head games with her newest challenger?
There's no telling, but if Beisel's current form continues—she won the event convincingly at U.S. trials earlier this week—the intent may not matter.
200-meter Individual Medley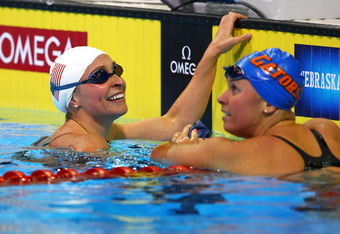 Al Bello/Getty Images
Just like her 400 IM swim, Rice took 2008 Olympic gold in the 200 IM with a world-record time.
And like the 400 IM, Rice has yet to win the event as a major international competition since.
At 2009 Worlds, she finished second behind American Ariana Kukors. Two years later at the 2011 World Championships, Rice also finished directly behind Kukors, except Kukors took third and Rice finished off the podium.
Neither competitor is trending in the right direction, and it'll be interesting to see if Kukors can hold off 400-IM qualifiers Caitlin Leverenz and Elizabeth Beisel for a spot on the Olympic team.
She's still the favorite, but not with the kind of emphasis you'd expect from a former world champion.
Wrap-Up
Rice isn't the dominant specter she was as a 20-year-old world-beater in Beijing. And if a return trip to the podium is in her future, the defending Olympic champ will have to overtake a couple of American swimmers who have had her number in recent meets.