Euro 2012: 5 Strange Coincidences and Theories That May Decide the Tournament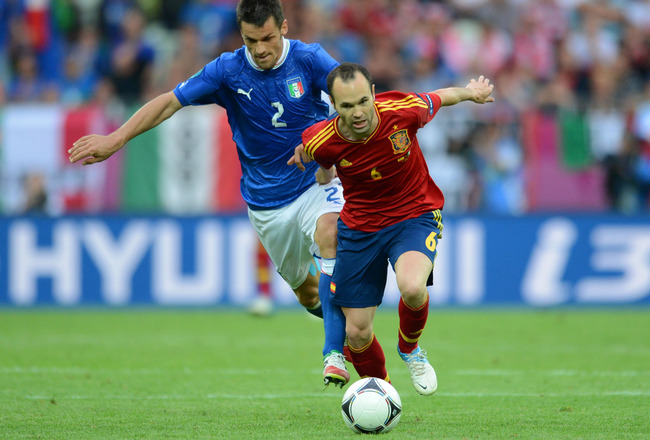 Jasper Juinen/Getty Images
With Spain's thrilling victory over Portugal and Italy's stunning dismantling of Germany in the semifinals, our finals matchup is set for Sunday, a clear indication that the tournament is almost over.
So how did we get where we are? And what will happen in the final?
In the next five slides, I will present five strange coincidences that may explain the answers to both of those questions.
Then again, they may just be random correlations that are akin to superstition.
How you interpret them is up to you.
Two Days Extra Means Nothing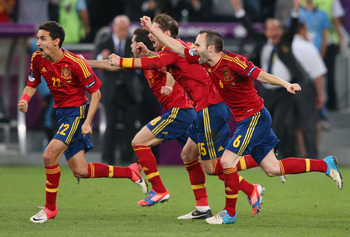 Alex Livesey/Getty Images
After the quarterfinals, pundits worldwide were aghast at the two extra days Germany and Portugal would have over their semifinal opponents.
After all, the last time something similar occurred at Euro 2004, both the beneficiaries won their semis.
So what happened this time?
Both beneficiaries lost.
In fact, as the first semi went on, it was Portugal, not Spain, who seemed to be the ones to tire.
So much for that qualm.
Rest Is Not Always a Good Thing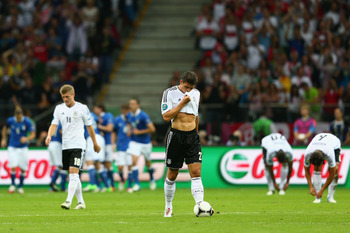 Michael Steele/Getty Images
In Euro 2008, each group had a nation win its first two matches and enter the third group match with a quarterfinal spot wrapped up. Hence, all four decided to rest players in that match in preparation for their quarterfinal.
From there, three of those four (Portugal, Netherlands and Croatia) lost their quarterfinal matches, while the fourth (Spain) won only on penalties.
So how does this affect this year's tournament?
Well, Germany rested Mario Gomez and Lukas Podolski in their quarterfinal match with Greece, only to reinstate them as starters in today's semi.
Both were subpar today as their German team was eliminated.
Perhaps rest really is just for the weary.
Final Rematches Are Typical
Michael Steele/Getty Images
You wouldn't expect it to happen all too often, but finals rematches are actually very common at the European championships.
Since UEFA switched to a 16-team format in 1996, three out of the five tournaments (including this one) have ended with a rematch. That is a 60 percent rate, much higher than the 25 percent rate simple mathematics would suggest.
Thus, perhaps it shouldn't be too much of a surprise that the two finalists ended up both being from the same group.
Scandal in Italy = Great Tournament Success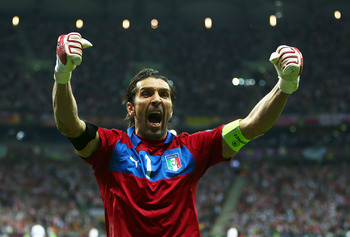 Michael Steele/Getty Images
The last time Italian football faced a scandal the size of the one they face today was in 2006.
What happened that year? They did what few were tipping them to do and won the World Cup, defeating Germany in the semifinals along the way.
This year? Well, they weren't tipped to win the tournament and defeated Germany in the semifinal.
One more victory and it's a carbon copy of 2006.
Spain Has Only Won Major Tourneys the Same Year Rafael Nadal Has Won Wimbledons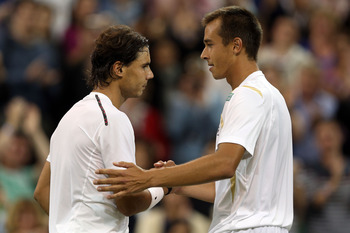 Clive Rose/Getty Images
In the history of their national team, Spain has only won major tournaments at Euro 2008 at the 2010 World Cup.
Coincidentally, Spain's tennis great Rafael Nadal has won two Wimbledons. When did those titles occur? You guessed it: 2008 and 2010.
The kicker? Today, Nadal was eliminated from this year's Wimbledon in a shock loss to Czech Lukas Rosol.
This may just be a coincidence because of the correlation of the eras of great sporting countrymen.
Then again, it could just be a terrible sign for Spain's hopes in the final.
For the latest news in the world of football, follow me on Twitter: @Fw1812
Keep Reading