NBA Draft 2012: 5 Best Options for Charlotte Bobcats' No. 2 Pick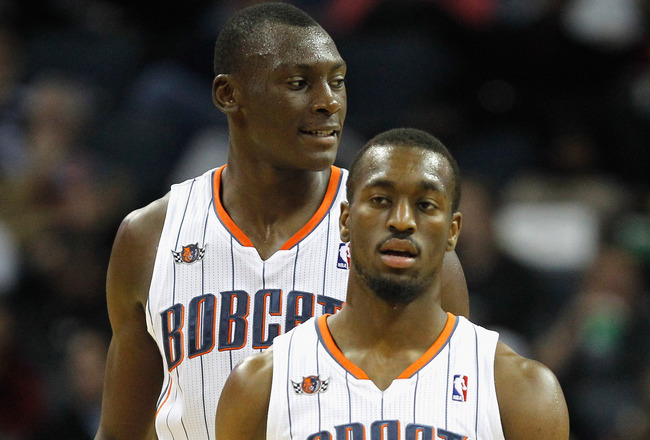 The Bobcats began their rebuild process with two lottery selections in 2011. What will they add with the No. 2 pick in 2012?
Streeter Lecka/Getty Images
The Charlotte Bobcats are in the unenviable position of owning the No. 2 pick in the 2012 NBA Draft.
After recording the lowest winning percentage in NBA history (.106), the Bobcats weren't even given the comfort of the No. 1 overall pick and the assurance that they would get a franchise player to build around in Anthony Davis.
Instead, Charlotte must decide between a plethora of intriguing but unspectacular players to take second overall in Thursday night's draft.
The organization does have another option: They can trade the pick and try to pick up multiple first-round selections to add more young talent to a talent-depleted roster.
Here are the five best options the Bobcats have heading into the draft.
5. Bradley Beal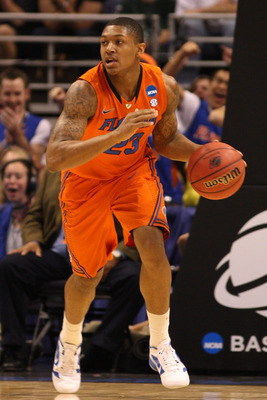 Christian Petersen/Getty Images
Upside
Beal is a deadly long-range shooter with good athleticism and a fearless streak. For a guard, he's a terrific rebounder. He's the top guard in this draft class and projects to be the best player in the draft behind Anthony Davis.
Downside
He might be a bit undersized for a 2, possibly shunting him into the murky "tweener" category. Although he carries a rep for being a dead-eye shooter, he struggled with the three-point shot in college.
Analysis
The Bobcats seem to like Gerald Henderson in the lineup at shooting guard. And having just traded for Ben Gordon, Charlotte really doesn't need any more depth at the 2.
4. Harrison Barnes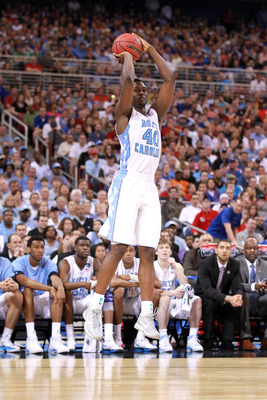 Andy Lyons/Getty Images
Upside
Barnes is already a polished scorer with a silky smooth jumper and immense confidence. He's an excellent athlete and has legitimate size for an NBA small forward. Although he struggled at times to live up to his own hype at UNC, Barnes projects to be better as a pro than he was in college.
Downside
Barnes had a rep for being a prolific scorer, but he left a lot to be desired in his two seasons in college. He relies too much on his pull-up game and struggles to create shots off the dribble. He can be too passive at times and doesn't attack the rim enough.
Analysis
Once thought to be a shoo-in for the No. 1 pick, Barnes has been slipping on draft boards since he began his collegiate career. Though the Bobcats lack a small forward, they really need to hit a home run in this draft to turn the organization around. Barnes feels more like a single.
3. Michael Kidd-Gilchrist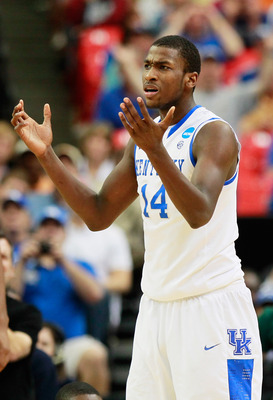 Kevin C. Cox/Getty Images
Upside
Kidd-Gilchrist has an excellent motor and elite athleticism. He defends, rebounds and attacks the rim. He's the type of player that leaves his fingerprints on every game he plays.
Downside
With his lack of a perimeter game, it's doubtful whether Kidd-Gilchrist can ever be the focal point of an offense.
Analysis
If the Bobcats want to bring someone in who can change the culture of the organization, Kidd-Gilchrist is their man. The question they have to ask is this: Is someone who may never be a go-to scorer worth making the No. 2 overall pick and the face of your franchise?
2. Thomas Robinson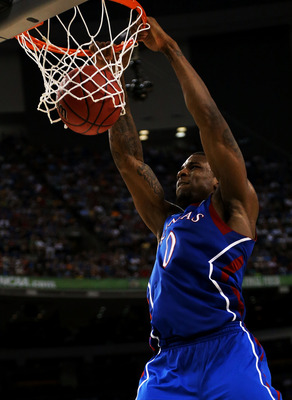 Ronald Martinez/Getty Images
Upside
Robinson is an explosive athlete who's really improved his offensive repertoire. He's very physical with a strong, NBA-ready body. He rebounds well and works hard on every possession.
Downside
Robinson may be a tad undersized for a power forward and he's older than the other top picks in this draft class. He sometimes gets too caught up playing on the perimeter instead of punishing defenders with his physicality inside.
Analysis
As far as safe bets go, you know what you're getting from Robinson. He's going to work hard, rebound the ball and score around the basket. He can come in and be productive from Day 1 and he still has room to grow as a player, especially on offense. If the Bobcats decide to keep the No. 2 pick, they should go with Thomas Robinson.
1. Trade with Cleveland for Multiple First-Round Picks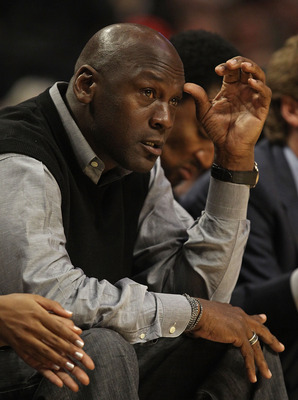 Jonathan Daniel/Getty Images
Upside
The Bobcats can trade the No. 2 and No. 31 pick to the Cavs for the Nos. 4, 24 and 33 picks according to Chris Broussard. The Bobcats are likely to get as good a player at No. 4 as they are at No. 2. No harm in picking up an additional draft choice in the process.
Downside
Two more players will be gone by the time Charlotte is on the board.
Analysis
The Bobcats' roster has more holes than a golf course. With Anthony Davis off the board, there won't be any surefire franchise building blocks left for Charlotte to build around. They're better off trading for multiple first-rounders and adding quality depth to their roster. At the very least, they'll be collecting assets that may come in handy to swing a deal for a legitimate franchise player down the road.
Keep Reading

Charlotte Bobcats: Like this team?