New York City belongs to the Knicks.
That is not an opinion, it is a fact. One could even say that when the Nets were in New Jersey, most people in New Jersey supported the Knicks.
So with the New Jersey Nets officially moving to Brooklyn, how will New York fans react to their new team? How will lifelong Nets fans from New Jersey react to their team moving to New York?
Will the attraction of a brand new state of the art stadium sway fans? What about the potential big-name addition the Nets could have in Dwight Howard alongside Deron Williams?
How will Brooklyn residents react? Will they they switch to the new hometown team in the Nets or stick with their original team the Knicks?
A lot of questions to be asking at this time of the year, but they are all crucial to the future of the Brooklyn Nets.
I asked some of these questions to two friends of mine who live in the Downtown Brooklyn/Brooklyn Heights area. Both are Knicks fans, one a serious basketball nut and the other just a fan of all New York teams, except for the Mets. When I asked them if they will change their allegiances to the Brooklyn Nets, they conveniently answered as such, the serious fan said he would stick it out with the Knicks hoping they get it together, while the not so serious fan said she'll support both while leaning to the better team.
While that may be the definition of a frontrunner or bandwagon fan, it poses the question, just how many fair-weather Knicks fans will defect and support the Nets if they have a great deal of success?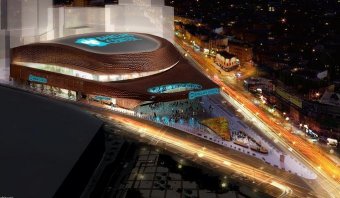 As I detailed in a previous piece, if the Nets play their cards right this offseason, they have the potential to be one of the best teams in the East. And with the Knicks in disarray over coaching changes, Amar'e Stoudemire's off-court activities and everything that comes with James Dolan, it doesn't seem like a stretch to say the Nets could have a better team than the Knicks.
What will fair-weather fans do then? Will they be like my friend and follow the better team or will they stick to their original team?
Another interesting aspect of the move will be how fans from New Jersey will react, particularly if they only supported the team because they were from New Jersey.
Will those fans defect similar to the way Seattle fans did over the Oklahoma City Thunder? Or will they forget about it considering the team only moved a few miles away?
All things considered, it will be an interesting inaugural year for the Brooklyn Nets. From offseason acquisitions and trades to the new stadium in a new city to the new uniforms and logo designed by hip-hop megastar and minority owner Jay-Z, nothing will be done quietly and without attention.