Wimbledon 2012: Rafael Nadal Loss Opens Career Opportunity for Several Players
June 28, 2012

Clive Rose/Getty Images
Rafael Nadal is out of Wimbledon 2012 in the second round, the first time the Spaniard has fallen ahead of the fourth round in any major that he has contested since Wimbledon 2005. Lukas Rosol, a 6'5" Czech player, pulled off the upset in a five-set match, and he is now through to the third round at the All England Club in his Wimbledon main draw debut.
Nadal was the second seed at this year's grass court slam, and his early round departure creates a very open draw on his half. Several players now have an opportunity to enjoy a career-best Grand Slam or Wimbledon result.
Rosol has matched his career-best Grand Slam result in making the third round. His only other third-round appearance in a major came at the 2011 French Open. However, Rosol's opponent in the third round at Wimbledon has to be hoping to do some additional damage at the All England Club too.
That opponent is Philipp Kohlschreiber, a player that has twice seen his efforts in a Grand Slam stopped by Nadal. However, the German, who is seeded 27th at Wimbledon this year, now has to be hopeful of pushing through to the quarterfinals. He cannot face a player ranked higher than himself before that round, because other seeds in that section of the draw have already fallen (ie. Feliciano Lopez and Alexandr Dolgopolov).
Although Kohlschreiber might be considered a favorite to make the quarters, it will not be simple for him. If Rosol's victory over Nadal is not a fluke, the Czech could make a name for himself with two more match wins at Wimbledon.
Additionally, Brian Baker is another player vying for what would have been Nadal's spot in the quarters. Baker has made some headlines in the last month for his tremendous comeback on tour. Once a promising prospect, Baker lost several years of competitive tennis due to health problems. He's playing in his first Wimbledon at the age of 27, and he has a winnable match against Benoite Paire of France—incidentally another player that has to think he has a chance to make the quarters.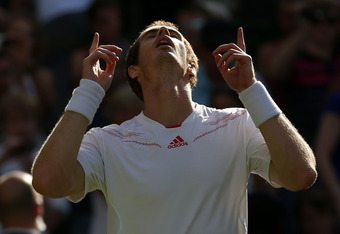 Clive Rose/Getty Images
After all, Paire is ranked 55th in the world, and he's been on the up-and-up lately. That means he's good enough to compete for the final eight at Wimbledon this year, at least in what was Nadal's eighth of the draw.
As far as making the semifinals go, Jo-Wilfried Tsonga now has to feel as though he has a reasonable chance of making it back to that spot in the tournament. Tsonga made the semis last year following a tough victory over Roger Federer—this year the top-ranked Frenchman's route to the semifinals looks a little easier.
But the major beneficiary of the Nadal upset, besides Rosol himself, may very well be Andy Murray. The Scot had fallen to the Spaniard in the semifinals for two straight years, and Murray also lost to Nadal in the Wimbledon 2008 quarters. Murray may think he has a great chance to make the Wimbledon final for the first time in his career, although his route cannot be called easy.
Personally I've wondered what Andy Roddick is packing right now, a player that is below the radar. He won a Wimbledon lead-up event and in terms of career achievements, he is the most accomplished grass courter remaining on his half of the draw now. When playing his best, he makes very few mistakes at the All England Club, and it could take more than David Ferrer, Juan Martin del Potro or Andy Murray to take the American out.
Fair to say that the championship match at Wimbledon now has a very different complexion. It will not be Novak Djokovic versus Rafael Nadal as most had assumed.
What is looks like now is Novak Djokovic vs. Opponent Yet To Be Determined.
There's a couple of guys named Andy that would like to be that opponent. There's also a Frenchman named Jo-Wilfried that could book his second appearance in a Grand Slam final.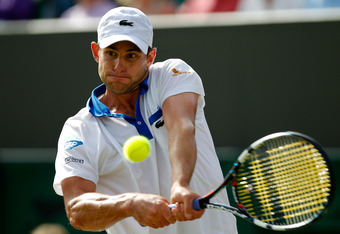 Paul Gilham/Getty Images
Mardy Fish vs. Novak Djokovic? Hopefully not for the sake of competitiveness.
What about David Ferrer vs. Novak Djokovic? I don't see Ferrer holding up his end of the bargain.
Juan Martin del Potro vs. Novak Djokovic? Plausible with some more luck for Delpo as he seems to run out of gas in the majors these days.
Cilic or Raonic or Querrey vs. Novak Djokovic? Not impossible, but anyone predicting that is just taking a shot in the dark.
Who knows, maybe even Brian Baker will make the final. You can then expect a movie called "The Brian Baker Story" to follow not long afterward.
Personally, I am divided. I hope for Murray's sake that he doesn't screw Wimbledon 2012 up, but I also want Roddick to silence his critics by not just making the final but winning the title outright.