Rafael Nadal: Predicting Who Will Take Rafa's Place in Wimbledon Quarterfinals
June 28, 2012

Clive Rose/Getty Images
And just like expected, Rafael Nadal is through to the—wait, what? To who? 
In easily the biggest upset of the year, Nadal was ousted from Wimbledon in the second round by No. 100 Lukas Rosol. Without the talented Spaniard, the bottom half of the bracket is suddenly wide open. 
In place of Nadal's expected spot in the quarterfinals, there are now four fairly unlikely candidates: Rosol, No. 27 Philipp Kohlschreiber, Benoit Paire and Brian Baker.
Let's take a look at who's most likely to advance. 
4. Brian Baker
In his only other Wimbledon appearance in 2005, Baker retired after just two games against Novak Djokovic.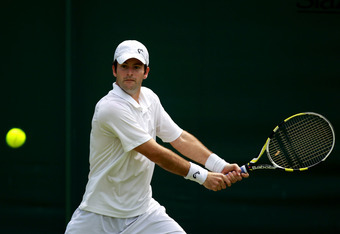 Clive Brunskill/Getty Images
After fighting through qualification this year, the American has looked incredibly impressive through the first two rounds, knocking off both Rui Machado and Jarkko Nieminen in straight sets. 
Next up for the 27-year-old Baker is Benoit Paire, who is coming off a huge win over Alexandr Dolgopolov in the second round. 
It's been a nice run for the world No. 126, but I see him struggling with the Frenchman. (By the way, is there a more perfect name for a French guy than Benoit Paire?)
Speaking of whom...
3. Benoit Paire
After failing to qualify for Wimbledon in 2010, Paire made it in 2011 but was defeated in straight sets by David Ferrer.
Not only did he win his first Wimbledon set, the 23-year-old got past Mattew Ebden and then handled the world No. 21, Alexandr Dolgopolov, in straight sets. 
If Rosol didn't beat Nadal, Paire's win would be looked at as arguably the best upset of the tournament so far. While I expect him to get past the inexperienced Baker, the momentum will eventually stop for Paire in the fourth round. 
2. Philipp Kohlschreiber
Now for the matchup of the guys who beat Nadal. Rosol isn't the only one to pull an upset in the last month over the Spaniard, as Kohlschreiber knocked off Nadal a few weeks ago at the Gerry Weber Open.
But back to Wimbledon. 
After struggling in his first match with Tommy Haas (five sets), the German took care of Malek Jaziri. 
Kohlschreiber, the world No. 30, is easily the most experienced of any of these four players. He has played at Wimbledon every year dating back to 2006, but he's never made it past the third round. 
If he manages to get past Rosol, Kohlschreiber will take out whoever he faces and will make it to the quarterfinals. However...
1. Lukas Rosol
What I saw from Rosol against the second-best tennis player in the world on Thursday was just too impressive.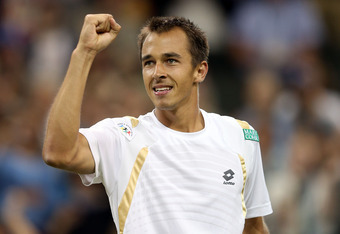 Clive Rose/Getty Images
Despite making more unforced errors than Nadal, Rosol was still able to pull out the five-set win. He was able to do that because of his terrific serving and sheer number of winners.
Rosol, who has the definition of a violent swing, has plenty of shots that go array, but when he's getting his first serve and return shots in, it's a joy to watch his pure power. 
He didn't back down to Nadal. In fact, if Nadal-Rosol was the first ever tennis match you've watched, you would assume Rosol was the better player. He came after Nadal and looked far more up-beat and energetic. 
Don't be surprised if he continues the hot play into the quarterfinals.