Euro 2012 Final: Spain vs. Italy, Farewell Thoughts & Parting Shots
July 1, 2012

Handout/Getty Images
It's been a mystifying month for anyone on the third planet from the sun. Joy and happiness had their fits and starts throughout the European continent and beyond.
All things carefully considered, it was an entertaining football tournament. Not the easiest final assessment for anyone who's genetically inclined to support Italy.
Euro 2012 was bigger than any single person or issue though. The ugly spat of racially-charged incidents during the group phase cannot easily be forgotten but we should make an effort to remember some of the other moments in the month that was June 2012.
Greece sneaking through to the knockout stage. Netherlands crashing out unceremoniously. The hosts (Poland and Ukraine) fighting tooth and nail but falling short. Russia somehow not going through.
Brilliant goals by Welbeck, Ibrahimovic and Pirlo.
Drama and intrigue in great abundance, but most of the games were played with great spirit. No goalless draws during the group phase.
Two heart-wrenching shootouts in the knockout phase.
Italy defying the odds but being outgunned (and finding no luck at all) in the final against an imperial Spanish side.
Football is life. You've heard it before. You prepare for all the challenges you may face throughout the course of 90-plus minutes, but there is always the awkwardness of the moment. Things the borders of your imagination cannot account for. In the end, there is only chaos and the order we attempt to bring to it.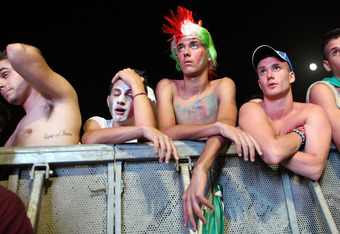 Franco Origlia/Getty Images
After Italy's 2-1 semifinal win over Germany, the headline of La Gazzetta Dello Sport read "Orgoglio D'Italia" in giant font superimposed over a picture of a defiant Mario Balotelli. Translation: Italian pride.
Now there is some global adulation for Mario.
After Italy's penalty kick victory over England, that same paper ran a controversial caricature of Mario as King Kong on top of Big Ben, swatting away footballs. Decidedly racist? No. Criminally insensitive? Yes.
Still something good should be taken away from Mario's brace against Germany. Perhaps a unifying moment for a country, a continent and a world that still have much to learn about tolerance, respect and understanding.
Spain's spellbinding approach must be praised by anyone who loves the game of football (even heartbroken Italy supporters have to marvel). Theirs is a dynamic game that mirrors Brazil's heyday. A style that surely requires tactical preparation, discipline and repetition but demonstrates the purest aspects of the sport: simple joy and artistry.
A tough pill to swallow for Italy in the end. A pill that supporters of 14 other nations had to ingest throughout the month of June.
For Italy though, the selection of a clearly unfit Giorgio Chiellini opened up a Pandora's box of misfortune. It has to be said, Cesare Prandelli could have done a bit better choosing his personnel for the final, but how could he prepare for a hamstring injury to his final substitution (Thiago Motta)?
In the final, 2-nil quickly became 4-nil when the already overmatched Italian side went down to 10 men.
Not saying it doesn't hurt like a gutshot, my fellow Italians and countrymen. All there is left to do is hold your head up high. Take comfort in the fact that this was not the cynical Italy that your friends (and strangers) always give you stick about. Italy played an entertaining brand of football all month long.
Spain are a dynasty. Simple and plain. Respect La Roja Reign.