UFC 148 Preview: Randy Couture Says Roles Are Reversed in Silva vs. Sonnen 2
June 28, 2012

Randy Couture is a smart dude. His body of work throughout his career showed an ability to adapt and to change tactics in order to implement smart game plans depending on the fighter he was facing in the cage on any given night.
That tactical brilliance took Couture a long way. He was never the guy with the biggest skill set. He was never the guy with the kind of raw potential of a Jon Jones. However, he was smart, and that trait helped him become a multiple-time world champion and Hall of Famer. 
So that's why it's important that we listen when Couture talks tactics regarding upcoming fights. Luke Thomas from MMAFighting.com caught up with Couture at Xtreme Couture in Las Vegas to discuss next week's huge bout between Anderson Silva and Chael Sonnen, and Couture discussed why the usual tactical roles found in rematches are probably reversed for this middleweight title fight:
"It's kind of odd," Couture told MMA Fighting at his Xtreme Couture facility recently in Las Vegas, Nevada. "Normally I would say that the onus is on the guy who won the first fight to anticipate the changes the loser is going to make and get the same outcome."

"If you look at Anderson and Chael, Anderson won by triangle choke with two minutes left. He didn't really win the fight. He got his ass whooped - literally - for four-plus rounds," Couture continued, "but it's almost like he was the guy that won. He wants it to go the same minus the triangle."
Couture makes a cogent point here. We know what Sonnen is going to do when he steps in that cage. He's going to do what he always does. He'll look for the first opportunity to drive Silva against the cage with a double-leg and then try to drag him to the ground, where he'll smother him with hundreds of punches and a dirty, physically draining wrestling game.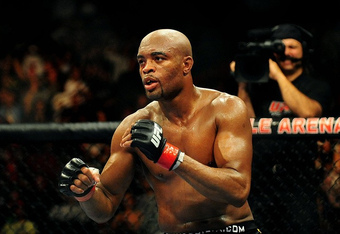 We know Sonnen will do this because it's what Sonnen has done for his entire career. It's what brought him to the dance, what made him one of the best middleweights in the world.
Silva couldn't stop it for the majority of the first fight; why would Sonnen change his plan now? He won't. This time around, it's up to Silva to change the way he approaches the fight, because he has to avoid the very same tactics Sonnen was able to execute the first time around. If he doesn't, there's a good chance he'll spend another 20 minutes or so on his back, and I can't imagine Silva wanting to repeat that process. 
Sonnen's one big change, the one thing he had to do differently, came in the form of submission defense. He brought Vinny Magalhaes—the world champion jiu-jitsu player—into his camp to help him shore up that aspect of his game, to help him avoid leaving his arm in the kind of traps that lead to triangle chokes and armbars.
There's no guarantee Sonnen will be able to execute the same game plan that worked so well in the last fight. And we don't know how much that rib injury affected Silva two years ago.
There's been plenty of talk surrounding this fight, and most of it is personal in nature.
However, we forget that this is still a very interesting clash of styles. And I, for one, can't wait to see how it plays out in the cage.